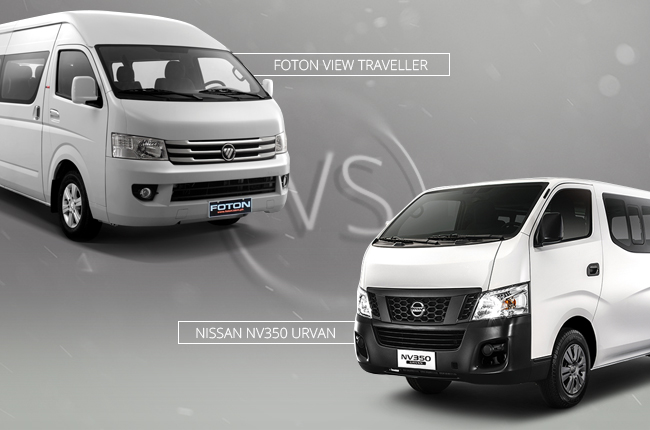 Large vans have been a staple workhorse in the Philippines whether its for personal or business use, to haul passengers, cargo, or both. Two of the most searched models on AutoDeal today happens to be the FOTON View and Nissan NV350 Urvan.
The specific models we've matched are the View Traveller and NV350 Urvan Shuttle, both of which can carry up to 15-passengers, are equally spec'd, and priced around P1.2-million. But which one better suits your needs? This is a head-to-head using the AutoDeal Car Comparison Tool to see which is better at doing what.
Price
At P1,227,000, the NV350 Urvan is the more affordable option by P92,000 compared to the View Traveller. But you do have to consider that the View Traveller is much longer and comes with a bubble roof. This might substantiate its higher price tag of P1,299,000 if there's a need for it.
In terms of sticker price, the Nissan NV350 Urvan Shuttle is the winner in this round.
Performance
While both are diesel powered, the View Traveller has a bigger 2.8L turbocharged Cummins engine that can produce 130 hp and 280 Nm of torque. The NV350 Urvan's 2.5L CRDi with VGS turbo and intercooler, on the other hand, may have a smaller displacement but can churn out 129 hp and 356 Nm of torque. More torque means more pulling power which is essential to moving a full load.
Both engines are then mated to a 5-speed manual transmission. However, only the NV350 Urvan comes with a shift light indicator that notifies the driver when it's time to switch gears for optimum fuel consumption.
With these features, the NV350 Urvan Shuttle is the clear winner.
Dimensions
Both vans can ferry up to 15 passengers but FOTON offers more wiggle and head room compared to the Japanese van. It's 685mm longer, 225mm wider, 295mm taller, and has 555mm more legroom to be exact.
However, there are some minor drawbacks to having a bigger body. The View Traveller's wide turning circle of 12m (compared to the Urvan's 10.4m) makes it harder to maneuver in tight spaces. The bubble top could also be a problem when entering parking building with height limits.
Despite this, the FOTON View Traveller wins this round because when it comes to people carriers, bigger is better.
Interior
The NV350 Urvan Shuttle has an edge when it comes to cooling. It has 12 independent ducts that runs throughout the cabin making vent hogging a thing of the past. But the View Traveller's CD/MP3/USB capable entertainment system is slightly better than the Urvan's basic head unit.
Both vans have fabric seats, but the View Traveller's configuration that's split in the middle by an aisle makes it easier to get in and out of. In comparison, the NV350 Urvan still needs passengers to vacate their seats whenever someone at the back needs to get to the door.
Safety/Technology
Front passengers will appreciate that both vans come with dual airbags. The View Traveller is equipped with ABS with electronic brake-force distribution (EBD). On the other hand, the NV350 Urvan has a load-sensing valve which helps provide equal stopping power whether the van is loaded or not.
The Japanese marque boasts their "Alagang Nissan" program which offers affordable parts and servicing at dedicated dealerships nationwide. Also, if owners registers their new van as a PUV, Nissan still honor the 3-year manufacturer's warranty. As for FOTON, the View Traveller is packaged with a 5-year warranty (150,000 km) warranty..
Verdict
There's really not much separating the FOTON View Traveller and Nissan NV350 Urvan. The NV350 Urvan Shuttle definitely has an edge when it comes to pulling power, essential when you're hauling a 15-passengers or a full load of cargo. Then again, the View Traveller is bigger. It might not get you from point A to B as fast as an Urvan, but at least you're comfy.
Despite the P92,000 price difference, it really boils down as to what you need a van for. If it's for a service, delivery, or school bus, the UV350 Urvan Shuttle might be more suited for the job. But if you're looking for something that would ferry people on long distances, the View Traveller's extra size could come in handy.
For more information about the two vans, visit the AutoDeal Comparison Tool.
Latest Review
The GAC GS8 in both 2WD and 4WD variants is a spacious and luxurious SUV that commands everybody's attention.

Competence can only do so much so does the Creta have an X-factor that can help it compete?

3.9

/

5

Brave or foolish? GWM's more bold than anything when it introduced the Jolion to the market.

4.0

/

5
View More Articles