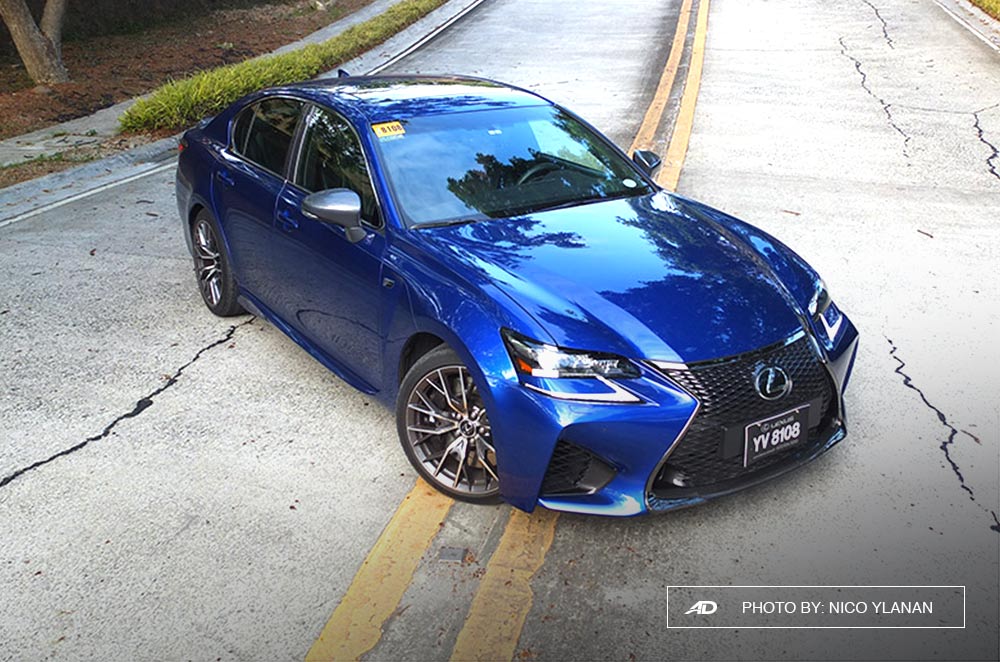 As much as we have a soft spot for GTs and two seater coupes, the simple truth is that they're not practical enough for daily use, especially in our country, the Philippines. While they may be awesome to look at and the feeling of every stoplight being a quick sprint to the next one may not get old for some, the congestion, road hazards, and lack of discipline make for a hectic driving environment that many wouldn't dare venture into with their expensive paint jobs and multi-million peso machines. So, what do we do? We compromise by finding a vehicle that fits five, has a decent trunk, and is still fun to drive. Well, in this case, extremely fun to drive. Say hello to the Lexus GS F.
Okay, okay, granted the Lexus GS F is still in the realm of above 5-million pesos, but hear us out for a minute. Because in all it Ultrasonic Blue Mica glory, the GS F still does daily duties without a complaint; it's discrete (to the untrained eye), it's comfortable, and it's drivable for all kinds of excursions except off-roading. Oh and it has a naturally aspirated 5.0-liter V8 with 460hp on tap. So there's that.
Performance
Engine Output (HP), Acceleration, Transmission, Handling 5.0/5
Design
Exterior & Interior Design, Quality, Fit and Finish, Ergonomics 4.5/5
Ride Comfort
Cabin Comfort, Suspension, NVH Insulation 4.5/5
Safety and Technology
Convenience Technologies, Active and Passive Safety Features 3.5/5
Value for Money
Amount of the vehicle you get for the price, Fuel Efficiency 4.0/5
What You Will Like
V8 is responsive and good fun
Unassumingly fast
Comfort and materials are top notch
What You Won't Like
Joystick-centered infotainment system
Fuel consumption
How We Do Our Reviews
Naturally, comparisons will arise with the BMW M5, and that's perfectly fine since Lexus has a knack for not playing catch up or even positioning the GS F against the Bavarian in the other corner. Lexus just markets the GS F as a thrilling saloon with a pure heart, and, for us, that makes it a certain kind of special. It's a gift that Lexus offers to the ones who want to go against the establishment. And be pleasantly surprised that they chose the "other" performance full-size sedan.
The first give away that the GS F means business is the set of stacked quad tips at the rear. Combined with the fixed carbon fiber trunk spoiler and carbon fiber touch at the bottom of the front bumper, and you have an unassuming large sedan that's quite literally a sleeper. The F sport badging is done subtly, and lends further to the idea of the sporting intentions. 19-inch wheels wrapped in Michelin Pilot Super Sports are an eye-catching touch, as are the working vents (no fake ones here) to facilitate engine and transmission cooling. It's an overall exterior package that's unassuming yet bold the longer you stare at it.
On the inside, you get an interior sprinkled with so many materials that each time I entered I noticed something different. From the carbon fiber trim pieces, the leather wrapped steering wheel, to the alcantara/suede combos found almost everywhere except the cupholders, even the fake rivets that hold down the suede above the instrument cluster, there's an awful lot of fine details to admire. Everything also feels fantastically put together, with no creaks, vibrations, or panel gaps to speak of. The seats are equally lovely, as the combination of detail and comfort create a place I'd love to stay in for hours.
The instrument cluster is comprehensively equipped, and it even has a track/lap timer as well as G sensors. The tiny speedometer that mimics airspeed in an aircraft is a cool touch, as it shares the analog clock scheme that Lexus pulls off with each model. The gauges adapt to your chosen driving mode, and paddle shifters are nicely placed with a meaty steering wheel that's a joy to hold. There's also a fully adjustable heads up display (HUD) to inform you if you're travelling below the posted limit. I suppose that's a good thing, as the cabin is isolated from the outside world that seems to be blurring by.
Rear seating is also impressive, as the materials and finish levels continue to the back, complete with additional vents and cupholders. Something your passengers will enjoy as you reach autobahn level speeds.
Fire the GS F up by pressing its starter button and you're greeted by a quick throaty growl from the massive V8. The engine goes up to almost 8,000 RPM quickly, and the sound coming from it reminds us why natural aspirated engines still need to stay. The GS F carries over the 8-speed transmission that was introduced in the Lexus ISF. It's a good enough unit, with enough gear ratios to spread the power evenly, or when you're feeling up for it, in your face. Torque vectoring with selectable modes is a nifty feature, although we expect track users to get the most out of this as we felt no difference during our everyday drives. The driving modes, on the other hand, are easily accessible and open up new opportunities for the GS F to shine. Driven nicely, the GS F wafts along without a complaint regardless of the road surfaces, and the throttle is perfectly manageable in stop and go traffic. Rotate the knob and put the car into Sport or Sport Plus, and the active exhaust opens up its baffles and throttle response quickens, making it surge forward in a steady yet still stately manner, even with the rear wheels slipping and traction control kicking in. All this fanfare for those stoplight sprints. Good fun, indeed.
The GS F is imposing when viewed head on, and especially if seen in your rearview mirror on the highway, at which it would probably be a good idea to move over unless you want your car to be swallowed by the massive spindle grille. At triple digit speeds, the GS F feels even more composed as you can pile on the miles in a short time. At least it felt like a short time since a car like this seems to want you to get to your destination faster. It's solidly planted and weighting of the steering is nice for highway duties. Your passengers won't spill their coffee, and the music coming from the 17 speaker Mark Levinson Surround sound system will be unaffected by your shenanigans.
Shopping duties and errands leave the GS F unfazed as it enters parking slots with little complaint despite its size. Low speed maneuvers are an easy task, and it genuinely feels much smaller than it is, especially once you spend more than a day with it. Parking sensors are there to keep you from hitting anything, and a reverse camera with adaptive guidelines are provided, as well. Pull into city traffic and the GS F is a willing accomplice, duking it out with tiny cars, SUVs, and busses, still able to hold its lane and go for gaps when needed. It also helps that people are still trying to figure out what kind of car you're driving, so a quick flick of the indicator and you have your lane in a jiffy. Simply put, despite its intimidating size and nature of the engine, the Lexus GS F can still be a pussycat around town, purring along as you do your daily duties. Picking up the kids? Groceries? Laundry runs? Not a problem.
Of course, as a car guy, what week would be complete without a quick coffee run up our favorite mountain road? At full gallop with the V8 at full song, the Lexus GS F starts to reveal that it likes a good thrashing once in a while. Rear-wheel drive goodness and its naturally aspirated motor make for a direct connection to each corner that the road throws at you. Engine braking is superb and the brakes offer good feel, but still nothing in comparison to the LC 500. But for its size and weight, the GS F still performs nicely. It's unfortunate, though, that the gearbox is starting to get a little long in the tooth when you push the GS F. Upshifts and downshifts can feel a little off as there is some disconnect from when your depress the paddle shifter.
Despite that little niggle, the GS F holds each corner nicely. There's no washing out or understeer thanks to the trick torque vectoring differential unless you plow into a sharp turn at 200kph. As the corners open up, your foot can actually add more throttle, and knowing the size of the vehicle your driving makes it even more satisfying to string a few corners beautifully. Some people say that full-size performance sedans prefer highway blasts, but taking the Lexus GS F out of its element may surprise you. Steering feel during lively driving is good, but not perfect. It's precise enough for 95% of the corners, but you'll feel a little vagueness at times.Nothing to be worried about, though, as the GS F provides enough driving feel and communication to keep everything safe.
So you've done you errands, just got off work, and took a quick run up to your coffee spot up in Tanay. It's all great fun until you look at your fuel level. Now, people who have the capacity to buy this vehicle don't care about fuel consumption (for us mere mortals though, its 5km/l in the city, 10-12km/l highway), but during the time we had it, it seemed like a full tank was just under 3,000 pesos. And we fueled up a lot. Despite having a 60 or so liter fuel tank, the GS F was sipping gas much faster than expected. But, for the thrills, it was definitely worth each stop. Run it like a civilized person and you shouldn't have a problem.
And so continues my love-hate affair with Lexus' proprietary infotainment interface. This 2016 model had the joystick to navigate the menus instead of a touchpad found in the recent models, and it was finicky as expected. I usually set my music up and drive, never touching the phone after I'm all linked up, and I'm glad Lexus helps me keep distractions to a minimum by discouraging me from even trying to use the joystick while driving. I have learned to use the interface when stopped or at a red light because it distracts my eyes too much.
As my days with the Lexus GS F came to a close, one thing was bothering me the most - there were only 3 of these in the country. Why so few? Those looking for the competitor to this car would be hard pressed to find anything of similar performance lower or even close to this vehicle's Php7,428,000 price tag, especially if it's European. It's a fast car than can be maximized in every way possible. Sure the twin turbo competitor to the GS F has 200 horses more, but it's also almost 2 million pesos more. Number crunching is one thing, but getting your money's worth, or performance per peso, is another. Maybe it's just me, but if I had the money and the means to afford one, I'd get a GS F and use it every single day. It maximizes performance, understated looks, comfort, and space for what I like to do most - living each day to the fullest. If you want legendary Lexus reliability found in a performance saloon, the GS F fulfills this role admirably. Besides, wouldn't it be cool to be the 4th owner of a GS F in the country?
Latest Review
When not everyone can afford the top-of-the-line variants, the middle models shine as they offer you the right balance of features for a fair price point.

4.0

/

5

Day in and day out with the Territory. Numerous adventures showed its true nature, here's a long-term review.

The middle child of the Everest lineup has a lot to offer for those looking to get a feature-packed SUV but are working on a budget.

4.2

/

5
View More Articles