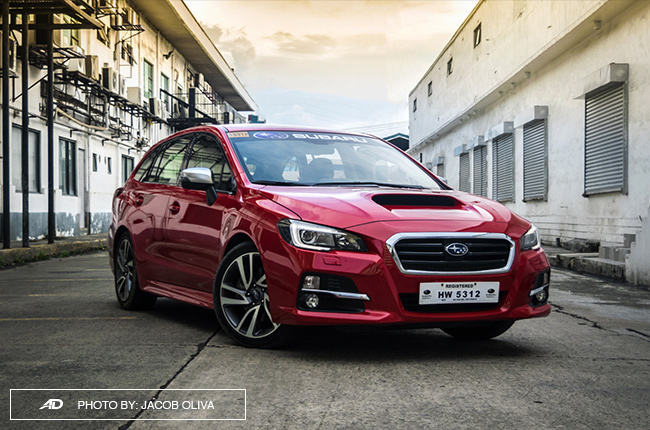 Sporty and looks like it's ready to race – this has always been my answer when someone asks me how I wanted a wagon to look like after seeing the Subaru Levorg. It's the most aggressively designed among all the estates that has ever reached the country; far from the usual family car that my eyes have ever laid on. Remember the Mitsubishi Space Wagon?
While the Levorg's exterior looks are appealing, we can't help but wonder how it performs on the road. To satisfy our curiosity, Subaru Philippines lent us the keys to its sole 1.6 GT-S variant.
Review: 2017 Subaru Levorg 1.6 GT-S
Performance
Engine Output (HP), Acceleration, Transmission, Handling 3.5/5
Design
Exterior & Interior Design, Quality, Fit and Finish, Ergonomics 4.5/5
Ride Comfort
Cabin Comfort, Suspension, NVH Insulation 4.0/5
Safety and Technology
Convenience Technologies, Active and Passive Safety Features 4.5/5
Value for Money
Amount of the vehicle you get for the price, Fuel Efficiency 4.0/5
What You Will Like
Head-turning design.
Spacious cargo area.
Full of intelligent features.
What You Won't Like
High fuel consumption in Sport mode.
Tire Pressure Monitoring System (TPMS) is a bit sensitive.
How We Do Our Reviews
The Levorg shares tons of exterior design from another Subaru – the WRX. In fact, they are built on the same platform and have 2,650mm wheelbase length. The resemblance is undeniable, as seen on the hood scoop, fog lamps, side skirts, hexagonal grille, and hawkeye projector headlamps. We can't help but imagine the Levorg as the WRX's son, with the "facial features" and "height" all coming from the performance sedan parent.
The added space at the back gives the Levorg its own character, making it 95mm (around 4 inches) longer than the WRX. This increase in length might sound off for a sporty-looking car but the sloping roof, shark fin antenna, muscular bumper, spoiler, and dual tailpipes at the back did the trick. It also has an Audi-ish metallic side mirrors that add more distinction to the Japanese estate.
All the sportiness outside is present inside the Levorg as well. The cockpit is driver-oriented, while the whole dark gray-themed cabin is adorned with blue stitches on leather. This design is present on the dashboard, door panels, front bucket seats clothed in perforated leather, and rear seats. The aluminum pedals heighten the sporty demearnor inside, along with the flat-bottom steering wheel that's nicely shaped for the hands.
The white/blue-lit dashboard is legible even on daylight. We just felt a little overwhelmed with the number of displays you can see at the driver's seat especially at night. Still, that's the wager for an intelligent car like the Levorg.
With that said, there's a lot of buttons inside but that's normal if you want a car equipped with features such as hill start assist, idle stop, tire pressure monitor, one-touch power windows, high beam assist, seat heater, traction control, and blind spot monitoring. We specially like the last one; it's your best defense against unsuspecting cars and motorcycles that you might miss on the mirrors.
The Levorg's 7-inch touchscreen audio display is easy-to-use and familiarize with. It also pairs up quickly with your smartphone for music and handsfree voice calls, either via Bluetooth or USB input. Additionally, it serves as the display for the rear-view parking camera.
Another notable trait of the Levorg is its almost nonexistent body roll. You can attribute that to the car's relatively low center of gravity because of its horizontally opposed boxer engine positioned low in the bonnet. Along with its soft suspension that can absorb road imperfections and solid NVH (noise, vibration, and harshness) insulation, it gives maximum ride comfort for both the driver and the passengers. You just have to be careful with steep ramps and ridiculously high speed humps – it only has 135mm of space against the ground.
Speaking of comfort, the dual-zone automatic air conditioning system works perfectly to cool down the entire car even on a hot sunny day. There's also a huge amount of space inside for the front and rear passengers. Leg-, elbow-, and headroom are all sufficient, while the 522L of trunk space can be maximized by folding the rear seats, which can fit a regular-sized mountain bike.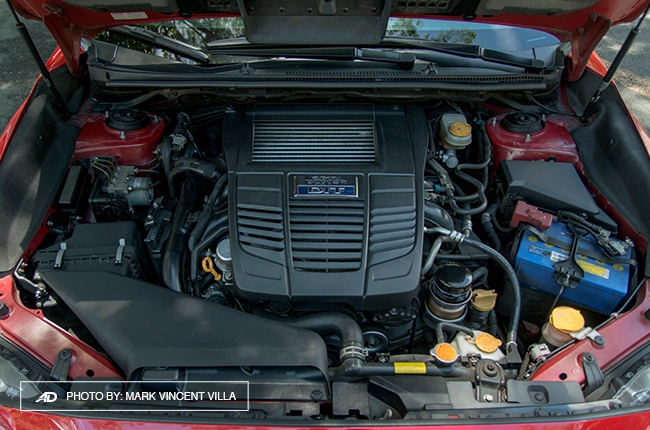 At the heart of the Levorg is a 1.6L turbocharged engine that can produce 170 hp and 250 Nm of torque. We felt that these figures are enough to pull the car's weight with 2 passengers inside. In fact, the ratings are at par with its closest competition, the bigger Mazda6 Sports Wagon.
The powered-up mill is mated to Subaru's Lineartronic continuously variable transmission (CVT) with paddle shifters, which is responsive when driven smoothly but tends to shuffle the ratios when you press the pedal flat. It has 2 drive modes: Sport (S) and Intelligent (I) that can be toggled via buttons on the steering wheel.
Intelligent mode gives you a more relaxed driving feel, giving the optimum ratio of torque and power to save up on gas. This is perfect for stressful city drives where there's no demand for abrupt acceleration. Although, inclines can be a bit of a challenge; good thing its hill start system works perfectly to tackle them. Better yet, this mode yielded a fuel consumption of 7.4 km/l at 20 km/h (heavy traffic), while light traffic at 40 km/h consumes 9.6 km/l.
Sport mode, on the other hand, makes the Levorg perform at its best on the road. It gives higher rpm output for the needed pull, allowing the car to speed up at will. You might want to ease up on using this mode, though, as it will cost you 6.6 km/l of gasoline at an average speed of 90 km/h on the highway.
With its light steering and generous amount of driving visibility at the cockpit, maneuvering through tight spaces is a piece of cake. The steering will get heavier once you speed up, which is essential for a stable ride when you're on the highway. With Subaru's symmetrical all-wheel drive system and traction control equipped, it gave us confidence on the car even at speeds nearing the limit and on rain-soaked roads.
The Subaru Levorg has a price tag of P1,748,000 – almost P100,000 less than its Japanese rival, the Mazda6 Sports Wagon. It's still a family car, yes, but with its sporty design, intelligent features, ample interior space, and relaxed driving characteristics, it's perfect for those who've always wanted a WRX but must consider space for a child stroller; or those who want an eye-catching car but need to stop by the supermarket to buy a month-worth of groceries. If only Subaru can bring the 2.0L variant here, I won't think twice of getting one myself.
Latest Review
The GAC GS8 in both 2WD and 4WD variants is a spacious and luxurious SUV that commands everybody's attention.

Competence can only do so much so does the Creta have an X-factor that can help it compete?

3.9

/

5

Brave or foolish? GWM's more bold than anything when it introduced the Jolion to the market.

4.0

/

5
View More Articles