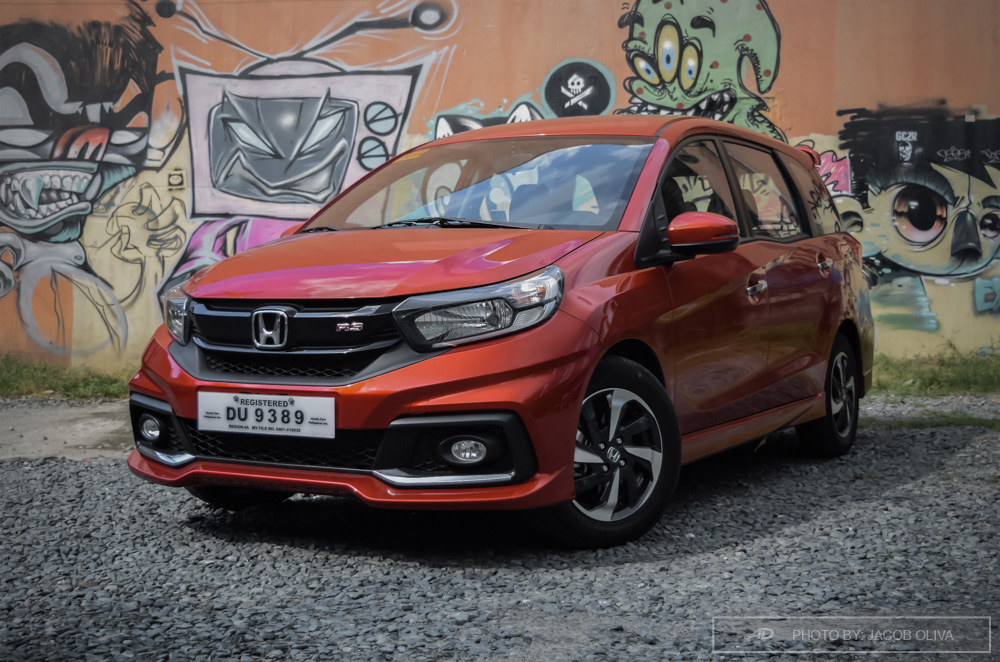 If you're in the market for family cars, 7-seater mini-MPVs can easily come as top choices. They have more space and seats than sedans and hatchbacks, while keeping a lower price tag than that of bigger MPVs and SUVs.
The cars in tight competition within this segment are the Suzuki Ertiga, Toyota Avanza, and the Honda Mobilio. Among the 3, the Mobilio is arguably the best-looking with its sporty exterior design, moreso, when Honda Cars Philippines, Inc. (HCPI) gave it a refresh recently.
With its new look, the Mobilio is still bold and different than its rivals but one question remains — is aesthetic really its only edge over its competitors? HCPI lent us a top-of-the-line 2018 Mobilio 1.5 RS Navi variant and here's what we think.
Review: 2018 Honda Mobilio 1.5 RS Navi
Performance
Engine Output (HP), Acceleration, Transmission, Handling 3.5/5
Design
Exterior & Interior Design, Quality, Fit and Finish, Ergonomics 4.5/5
Ride Comfort
Cabin Comfort, Suspension, NVH Insulation 4.0/5
Safety and Technology
Convenience Technologies, Active and Passive Safety Features 4.0/5
Value for Money
Amount of the vehicle you get for the price, Fuel Efficiency 4.0/5
What You Will Like
Cupholders are present up to the last row.
Flexible seat configuration and ample space.
Commendable fuel consumption figures.
What You Won't Like
No daytime running lights (DRLs).
No Cruise Control feature.
Air conditioning system can be improved.
How We Do Our Reviews
The new Honda Mobilio is literally a face- and nose-lifted version of the old one, as the changes in this car are mostly found on its fascia, particularly its eyes (headlamps) and nose (hood). The slightly raised bonnet also gives the car a beefier appeal.
The multi-reflector halogen headlamps, on the other hand, is now more angular compared to the curvy teardrop shape of its predecessor that was derived from the Brio. Plus, the addition of the LED clearance lights puts an exclamation point to the styling at night. This is a good move for Honda, as it veered away from the small hatchback's design, which I think is way better. Sadly, this mini-MPV doesn't come with daytime running lights.
To complete the aggressive aura of the Mobilio, this RS Navi variant gets a glossy black wing grille — a solid upgrade from the curvy chrome split version of the outgoing model.
As for the rest of the exterior design, everything remains the same (bumpers, RS badge, chrome tailpipe tip, and tail gate spoiler) except for the redesigned 15-inch aluminum alloy rims and a new paint job called Phoenix Orange Pearl, exclusive to the RS Navi variant. Its slightly reddish orange hue matches the Mobilio's new bold look.
Aside from the face, the biggest revamp in the Mobilio is in its overall interior look. Again, the curvy Brio-ish styling is replaced with the classier and driver-oriented cabin design of the Honda City. Also, we can't help but smile with the non-soft-touch buttons of the air-conditioning system (the City has a touch control panel for a/c, which I find difficult to use when on the move). Of course, plastics are still present but the fit and finish don't look and feel cheap.
The blue stitching of the outgoing Mobilio RS Navi's seats has also been replaced with orange that goes all the way back to the last row. I love how it looks and how it complements the clean blue/white color theme of the dashboard. The 7-inch touchscreen Navi head unit looks fine as well and can easily connect with smartphones via USB and/or Bluetooth.
Since it's an MPV, the Mobilio has a flexible seat configuration. The 2nd and 3rd row back rests can be folded if you need to put more luggage inside the car. To further stretch the space, you can tumble both rows all the way down, enough to fit 4 huge luggage with room for more.
One of the best traits of the Mobilio is its ample head- and leg-room. It's enough to fit 7 individuals (including me) that stand at 5'8 and below, however, taller people have to adjust. Good thing the middle seats can slide into position, which means legroom for both 2nd and 3rd rows can be adjusted as needed. As for the elbow-room, it's fairly okay but people with heavier built may need to compromise when seated at the rear.
It's also worth mentioning that the Mobilio's suspension is superb as it's able to absorb road imperfections, which adds comfort to all occupants of the car. There's body roll, yes, especially when doing long corners but it's minimal and won't really bother you at all.
The air conditioning does its job well during not-so-hot parts of the day, but it needs to work harder when under noontime heat, probably because of the large windows and lack of glass tint.
The Mobilio RS Navi shares the same engine with the Jazz and City — a 1.5L i-VTEC gasoline mill that can produce up to 120 hp and 145 Nm of torque. This power rating was at least 17 hp and 9 Nm more than its mentioned competitors. It's more than enough to pull the car's weight, while the CVT was on-point, giving the correct amount of torque as the situation demanded.
This was true even when the car's fully-loaded: 7 people with their knapsacks or 5 persons with the 3rd row tumbled and filled with luggage. Yes, there is noticeable decrease in pull on flat roads, but the Mobilio was able to deliver. Uphills were a bit difficult, good thing there were paddle shifters so we could easily downshift as needed.
The Mobilio's steering also felt light, which enabled me to tackle tight city corners without breaking a sweat. Along with its unimpeded driving visibility, this made the car easy to maneuver through heavy traffic even with its size.
During high speeds, the steering felt heavier, resulting to a stable and composed highway cruise. Although, it could have been better if it had Cruise Control for a more effortless drive along the expressways.
Even without Honda's ECON button, the Mobilio registered decent fuel economy figures — heavy EDSA traffic at an average speed of 15 km/h read 4.9 km/l, while (rare) light traffic at 60 km/h accrued 12 km/l. On the other hand, highway stint at 90 km/h ran 16.9 km/l.
The 2018 Honda Mobilio 1.5 RS Navi sells at P1,029,000. Yes, it's at the top of its segment when it comes to price tag, which is at least P71,000 higher than the top-of-the-line Avanza. This can be a huge amount for some people considering the things you can buy with it, such as a 3-day beach getaway for the family or a brand new 13-inch 128GB Apple MacBook Air.
However, does its overall design, cabin features, creature comfort, and road performance make up for that price difference? I definitely think so — more than enough for me to put this car on top of my list if ever I'll go for a 7-seater.
Latest Review
The GAC GS8 in both 2WD and 4WD variants is a spacious and luxurious SUV that commands everybody's attention.

Competence can only do so much so does the Creta have an X-factor that can help it compete?

3.9

/

5

Brave or foolish? GWM's more bold than anything when it introduced the Jolion to the market.

4.0

/

5
View More Articles