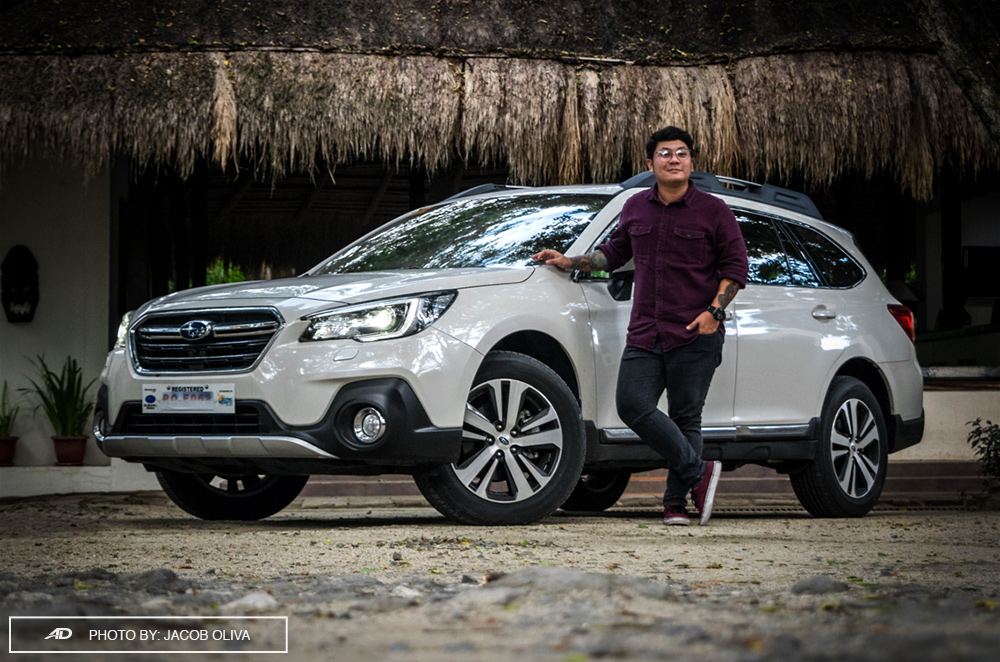 Sleepers – while this word sounds really attractive during cold nights when the rain pours and a cup of warm chocolate drink awaits, it has a different meaning when referring to cars. Sleeper cars are the types that don't appear fast, but actually are. Best examples are most UV Express vans, which, by their nature as people-haulers, look sluggish and won't even reach legal speed limits. But lo and behold, they are road-eating machines that are oftentimes hazardous to other road users.
Okay, I'm just half-kidding there, but you probably can name a few sleepers based on that description. I, on the other hand, have experienced its perfect example – the Subaru Outback 3.6R-S CVT with EyeSight.
Review: 2018 Subaru Outback 3.6R-S CVT with EyeSight
Performance
Engine Output (HP), Acceleration, Transmission, Handling 4.5/5
Design
Exterior & Interior Design, Quality, Fit and Finish, Ergonomics 3.5/5
Ride Comfort
Cabin Comfort, Suspension, NVH Insulation 4.5/5
Safety and Technology
Convenience Technologies, Active and Passive Safety Features 4.5/5
Value for Money
Amount of the vehicle you get for the price, Fuel Efficiency 4.0/5
What You Will Like
Powerful engine and thrifty highway cruiser.
Exemplary ride comfort.
Myriad of high-tech features, including EyeSight.
What You Won't Like
Brakes could be improved.
Too much chrome.
Design needs update.
How We Do Our Reviews
Even without careful inspection, the Subaru Outback appears as a family vehicle; a rugged yet classy crossover that can transport a family comfortably from point A to point B. It's a parent's car, so to speak, and I even heard someone calling it a grandpa car.
At a certain point, I'd agree with the typecasting. The Outback is huge in size, even bigger than the Forester and certainly than the XV. It also has the longest wheelbase among the three Subaru crossovers at 2,745mm. The size classifies it as a perfect family vehicle, but wait until you see how much it offers inside the car (more on that later).
For its design, the Outback is inline with Subaru styling such as the sweptback hawkeye headlamps and hexagon grille, although it departs from the Forester with its lighter top, bigger roof rails, and lower 213-mm ground clearance. The copious chrome on the car suggests a more dated Subaru design, as opposed to the less-chromed all-new XV. Unfortunately, as I've said many times in my review, I'm not a fan of chromes. It doesn't make the Outback look bad though, but it's like a P50 cup of coffee; it's okay but it isn't something to rave about.
What's worth celebrating though are the plethora of LEDs that the Outback has. The headlights, taillights, and fog lamps are all LEDs, keeping it up to the date with the rest of the Subarus. Also new in the 2018 Outback is the grille, which now has smaller slats, and the design of the 18-inch aluminum alloy wheels.
While the Outback's exterior design is calm and looks to be content with a regular eight-to-five work, the 3.6L V6 Boxer engine suggests otherwise. It's overflowing with power – 260 metric horses and 350 Nm torque, to be exact – and it's a delight when you get to sit behind the steering wheel. And this is coming from someone who just drove the Mustang for a week before the Outback.
Out on the open concrete, the Outback isn't hesitant to send the mentioned power figures towards all four wheels. It's eager to move forward, even from standstill, and hesitation is welcome without delay. The lineartronic CVT won't make you feel empty-handed, whether during low, mid, and high speeds. It also has X-Mode, which controls the Outback's speed and power delivery to the wheels for better traction on light to medium off-roads.
That was during my use of Outback's Intelligent mode, which is meant to give the Outback a more gradual acceleration to conserve on gasoline. However, it breathes new life when put to Sport and Sport Sharp, like that feeling when that P50 coffee cup has been spilled all over your pants. It's more alert, decisive, and will give you what you want with your heavier accelerator input. And just in case that's not enough (which is really rare), this car has steering-wheel-mounted paddle shifters so you could control the virtual gears manually.
With that engine size and behavior, the Outback was surprisingly thrifty. Highway runs at steady 90 km/h at the cruise control consumed 20.2 km/L, while slower paces at around 60 km/h clocked in 12.4 km/L. However, heavy traffic proved to be its greatest rival as it consumed 6.4 km/L at an average speed of 15 km/h.
While the Outback's engine performance excels like a Promil kid, its brakes could be improved and could use summer school. Sure it has disc brakes on all four, but the brake pedal feels spongy and would need more input from the driver for the discs to bite better. It took some time to get used to, but once you get the hang of it, you'll be fine.
Nevertheless, the great engine performance is coupled with driving ease, primarily because of three things: wide driving visibility due to the A-pillar corner windows, light dynamic steering feel, and the famed Subaru Symmetric All-Wheel Drive (AWD). The latter accounts to precise handling, and ensures traction even when tackling curves at speeds.
What's even great about the Outback is its host of interior amenities for the driver and four passengers. The overall cabin has that premium feel due to the high-quality materials used. The dashboard's clad with soft stitched leather, and so are the seats, door cushions, steering wheel, gear shifter knob, and central console box cover. Sans the piano black plastics by the gear shifter, the trimmings at the front cabin works well, and I personally love the brushed metal accents by the center console.
Almost everything's electronically-aided in the Outback. I don't need to list them one by one, but what I can say is that the features are more than a handful, and they make the whole driving and riding experience a whole lot better.
Also new to the 2018 Outback is the Subaru EyeSight, which is also found in the Levorg and XV. It's a host of driver-assistive technologies that aim to make driving easier and safer. This isn't my first time to be able to use EyeSight in real world; you can read about the benefits of EyeSight in this separate feature.
In the Outback, the EyeSight works like a charm, and I couldn't be any more relieved that the media unit has this on board. Another thing to be thankful for is its two other cameras (aside from the rear), which are located up front right below the star-spangled Subaru logo and underneath the right side mirror. They give extra visibility, and are very useful when going through tight alleys.
All the tech features in the cabin are paired up nicely with ample space both in the front, the rear seats, and the trunk. The rear seats are very roomy, which could probably seat four (but you can't since there are only three seatbelts) It also has rear A/C vents and ISOFIX tether anchors, while the back rests can be reclined for maximum comfort. Together with the proximity sensors and a lot of airbags, being inside the Outback felt cozy, safe, and secured. As for the trunk, well, just look at that massive space.
What makes the Outback more comfortable is its soft suspension. As it is a crossover rather than a body-on-frame midsize SUV, it isn't bouncy and well-balanced. It works well for the car, allowing you to tackle any types of roads. To further complement that, NVH is well-isolated inside the car, leaving you to enjoy the crisp and detailed sound coming out of the Harman-Kardon speakers. What a bummer.
This package of powerful engine, extremely comfortable ride quality, plush interior, and myriad of features comes with a price, though. At P2,408,000, the Outback is admittedly at the pricier side of crossovers. It's definitely not for everyone, but the Outback 3.6R-S isn't just any other car. It's an all-in-one deal that's best for car-buyers who want to get the most out of their money. And with the addition of EyeSight, this car just got much, much better.
---
Specifications
Performance
260 hp @ 6,000 rpm
---
Summary

| | |
| --- | --- |
| Name | Subaru Outback 3.6R-S CVT with EyeSight |
| Body Type | Crossover |
| Price | ₱2,408,000 |
| Transmission Type | CVT |

Engine

| | |
| --- | --- |
| Engine Size | 3.6 L |
| Displacement | 3,630 cc |
| Number of Cylinders | 6 |
| Number of Valves | 24 |
| Transmission Category | Lineartronic High Capacity CVT with SI-Drive (3 operating modes) |

Performance

| | |
| --- | --- |
| Drivetrain | Symmetrical All-Wheel Drive |
| Max Output (HP) | 260 hp @ 6,000 rpm |
| Max Torque (nm) | 350 Nm @ 4,400 rpm |
| Acceleration Rate | 7.6s |
| Top Speed | 235 km/h |

Economy & Environment

| | |
| --- | --- |
| Fuel Type | Gasoline |
| CO2 Emission | n/a |
| Fuel Capacity | 60 L |
| Fuel Consumption | n/a |
| Range | n/a |

Dimensions

| | |
| --- | --- |
| Length | 4,820 mm |
| Width | 1,840 mm |
| Height | 1,675 mm |
| Wheelbase | 2,745 mm |
| Turning Circle | 11.0 m |
| Ground Clearance | 213 mm |
| Wading Depth | n/a |
| Trunk Capacity | 512 L |
| Max Cargo | 512 L |
| Number of Doors | 5 |
| Number of Seats | 5 |

Safety & Security

Driver's Airbag
Front Passenger's Airbag
Side Airbag
Curtain Airbag
Knee Airbag
Electronic Brake Distribution
ABS

With Electronic Brake-force Distribution (EBD) and Brake Assist

Immobilizer
Security Alarm
Stability Control
Electronic Door Locks
Speed Sensing Door Locks
ISOFIX
Lane Departure Warning System
Blind-Spot Detection System

Features

| | |
| --- | --- |
| Cruise Control | |
| Front Parking Sensors | |
| Rear Parking Sensors | |
| Leather Upholstery | |
| Push Start Button | |
| Wheel Size | 18 in |
| Wheels Metal Type | Aluminum Alloy |
| Airconditioning System | Dual Zone Automatic Climate Control |
| Entertainment System | 8-inch Audio and Multi-Information Touchscreen Display with 8 Harman-Kardon speakers |
| Connectivity | Aux, Bluetooth, and USB |
| Navigation Ready | |
| Warranty | 3 Years (100,000 km) |
| Keyless Entry | |
| Roof Rack | |
| Sunroof | |
| Electric Adjustable Seats | |
| Power Steering | |
| Power Windows | |
| Power Outlet | |
| Steering Wheel Audio Control | |

Technology

| | |
| --- | --- |
| Active Park Assist | |
| Hill Start Assist | |
| AWD Modes | S-AWD with X Mode |
| Tire Pressure Monitoring | |
| Heads-up Display | |
| Power Liftgate | |
| Start-stop System | |
---
Just One More Step To Get Your Quote
Find out more info, request a brochure, or request a quote by sending an inquiry below
Latest Review
In times when fuel prices are as erratic as the stock exchange, that blue Toyota badge means a lot.

4.1

/

5

Here are our first impressions after spending a few hours driving and getting up close and personal with the Ford Transit minibus.

The Toyota Fortuner is a mainstay on Philippine roads, and for good reason, but how does it stack up after the competition has introduced several key rivals.

3.8

/

5