The Ford EcoSport was a game changer when it was introduced back in 2014, providing an SUV-esque stature without the hefty price tag. Competitors followed suit and in the process, created a whole new segment.
Five years later, Ford tries to maintain its lead by introducing the refreshed EcoSport. I took a 1.5L Titanium to keep the 'spirit' of the older model, and drove it in the city on weekdays, weekend, rush hours, day and night to find out if this new iteration is a worthy successor.
Light steering
One of Ford's signatures is the light electric power-assisted steering and the EcoSport is no different. Tight city turns are a cinch that driving through Pasay and Cubao area wasn't a chore. You can even drive it with just your pinky but that's not recommended, I'm just saying - it's that light. It's also responsive that ninja tricycles, motorcycles, and pedestrians who cross the road under an overpass can be easily dodged.
Compact Size
The EcoSport essentially maintained its size, dubbed as a Fiesta on stilts before. Together with the light steering, it makes for a nimble car on traffic and parking spaces.
It's the same story inside. It's not roomy, but far from being cramped, at least for the average Pinoy who's 5'7 and below. Horizontally, it's generous enough. I'm a big dude but I didn't have any problems both as a driver and passenger.
Ride Quality
Have you experienced driving through EDSA while talking to one of your passengers and suddenly the asphalt runs out and you can hear your passenger's voice shaking from the bad road? Doesn't happen with the EcoSport. You will still feel the bumps, but it's comfortable enough that your soul won't leave your body just to get some comfort.
Tech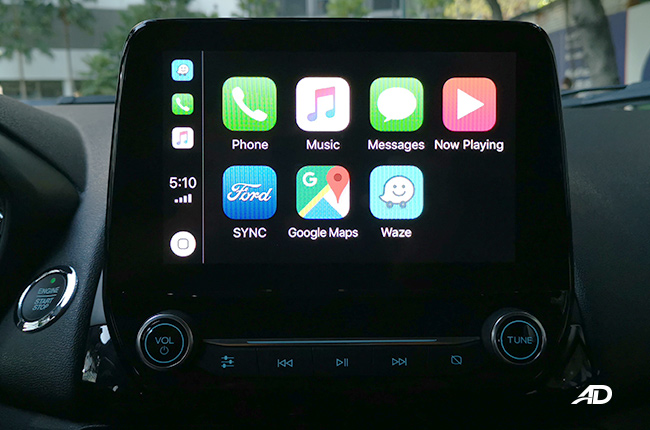 The unarguably best part of the EcoSport is the amount of tech it has. The 8-inch touchscreen is not just a gimmick since it has SYNC 3 that allows you to use Apple CarPlay and Android Auto. Never get lost in the city again as you can use Waze and see it on that large screen.
There's also a reverse camera with guidelines, keyless entry for when your hands are full, power door locks in case you're in a hurry and forgot to lock the doors, and the following basic safety features that should be standard across all cars in the Philippines: 6 airbags, hill start assist, ABS and EBD.
Price
The sticker price of P 1,100,000 is a tad more than the previous model, but that's understandable considering inflation, exchange rate, and the judges on Idol Philippines.
If you stack it up against its top competitors, the EcoSport comes out more affordable. If you check out the specs side-by-side, the EcoSport turns out to have more value for money, even with the tech amenities alone.
Just One More Step To Get Your Quote
Find out more info, request a brochure, or request a quote by sending an inquiry below
Latest Features
Combining power, versatility, good looks, and dependability, the Ford Everest meets the needs of active Filipino families.

Dad's are usually protective of their children, it is important to establish trust with your father in order to take the family's horse out of the stable for your next outing.

A must if you want to survive driving in congested cities and busy intersections.