The Volkswagen T-Cross is the newest crossover to join the brand's vehicle in the lineup. It brings with it a youthful design, an affordable price tag that many will appreciate, and an emphasis on safety as it comes with autonomous emergency braking. That being said, here are five things to like about the newest global model to join the ranks of Volkswagen Philippines.
Youthful and bright dashboard design
As the Volkswagen T-Cross is a more youth-oriented crossover it takes a different approach to its interior design language. Instead of the regular black and gray dashboard designs that you would normally see in other vehicles, the T-Cross comes with a splash more color. We aren't talking about special accent stitching or small plastic panels, we're talking about color-matched accents that are prominent on the dashboard.
Whichever color you choose for your Volkswagen T-Cross you will find it also spread across your dashboard. The accent panels take up a good portion of the dash, extend to the sides of the doors, and can even be seen near the center console. That being said, the addition of color in the cabin helps set the crossover apart from its competitors in terms of interior design. A splash of color in an otherwise seat of beige, gray, and black.
A unique set of seats
Steering away from the monotone and plain seats of its competitors, the Volkswagen T-Cross has chosen a much brighter design choice for its seats. Its seats come in with a two-tone design that helps give it a modern look. You have a dark gray color for the main parts of the seats with a white accent fabric for parts of the perimeter that is followed up by color-keyed accent stitching as well. While still subtle it adds a sporty appeal to the vehicle which matches well with the youthful vibe that it's trying to showcase. A great addition to the crossover that sets it apart from its competitors by adding a bit of contrast into the cabin and overall giving it a much brighter look.
Sunroof for natural lighting
If you are a fan of natural lighting, the Volkswagen T-Cross does not disappoint as it has a large sunroof. This lets a good amount of natural light into the cabin which further brings emphasis to its bright interior feel. Worry not, however, when it comes to the heat as there is an automatic sunshade that does well to help stop the heat from creeping into the cabin. If you also want a bit of fresh air, you can also choose to open up the sunroof for a bit of a natural cool breeze.
Touchscreen infotainment system with gesture control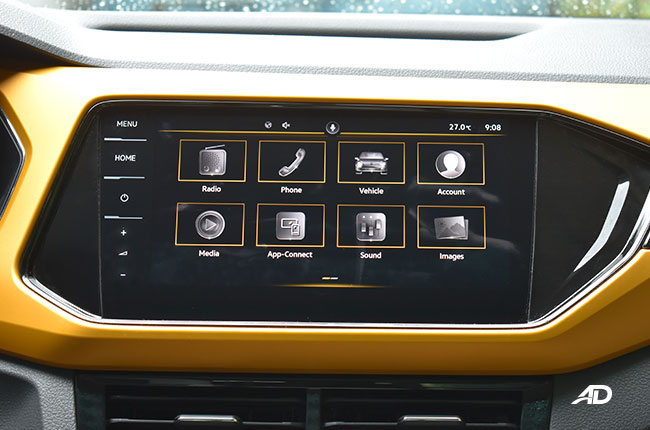 One aspect that helps uplift the cabin of the Volkswagen T-Cross is its touchscreen infotainment system that also comes with gesture control. The infotainment system fits well within the cabin of the crossover and even gives it a touch of premium feel thanks to its user interface. Aside from this, the inclusion of gesture control also helps give a modern and tech-packed feel to the crossover as this feature is normally available in higher-end vehicles. While it may take some time to get used to its functionality, it's still a neat feature to have and is one that helps set the crossover apart from its rivals.
Rear air vents with USB ports
A saving grace especially for the rear passengers, especially in the tropic climate of the Philippines, is a pair of rear air vents. While these not only help cool the occupants at the rear it also helps cool the cabin quicker than that of a vehicle without it. On top of this, it also comes with a pair of USB ports, the first being a standard USB Type-A port while the other is a USB Type-C. The addition of the Type-C port is an industry for its segment as no other has it yet. That being said, this matches well with modern devices as a good majority have already shifted to Type-C being the port of choice for their charging and data transfer needs. It's also a great addition for the rear passengers as they don't have to rely on the front USB ports to charge their devices.
Get the best deal - Choose multiple dealerships to compare offers!
You can compare quotations simultaneously from multiple Volkswagen dealerships. Select your preferred dealers from the list below.
Compare quotations from multiple dealerships in minutes.
Check vehicle and color availability.
Find info on special offers and promotions.
100% Hassle-free with no obligation to purchase.
Latest Features
Priced right, engineered to be driven, and polished premium, the Mazda3 makes for a great daily driver for enthusiasts.

Cars come with the latest and greatest tech now with adaptive, automatic, and advanced systems, but is it worth it?

We created a quick list of cars you can buy today that will give you the most amount of horsepower for the lowest price.
View More Articles