When we're talking about underrated brands in the Philippines, Peugeot tends to sit on the top of our heads. Looking at the stats, the French marque does have a cult following here in the country, but we want to see more of these vehicles on the road.
Perhaps it was the price tag that made a few customers flee for a bit. Peugeot is not as known as other Japanese brands like Mazda or Toyota, but we're here to give you five reasons and features that may change your mind to give Peugeot a chance. So, we'll take the 3008 Crossover today and run you through those five things that make it a glamorously competitive crossover for the Philippine market.
Style
Just look at it. There's nothing like it in the industry. At this point, Mazda's wonderful design is already burned into our retinas, and Toyotas may leave the heart wanting for some models. It's Peugeot that loves to evoke emotion in a driver's heart whenever he or she walks up to it. Surely its beauty will depend on the eye of the beholder, but you cannot argue that its style is something else in a sea of similar large grilles and headlights.
An interior out of this world for this world
It's always the same story whenever we step into a car's interior that's not from Peugeot, it's always the same story. First off, you have a dashboard that houses all of the radios, air conditioning controls, steering wheel, and gauge cluster. We add points if the brand decided that a flat-bottom steering wheel is added, or if a digital gauge cluster is included, but we rarely see something as special as the 3008.
If you get the chance, step inside and feel the interior, don't even focus on the dashboard just yet. All the controls, buttons, and surfaces are well backed and engineered to feel good. Following that, open your eyes and see just how gorgeous it looks. Why be impressed? Where else will you see an octagonal steering wheel paired with a gorgeous gauge cluster and a large floating infotainment system? On top of that, what about the metal buttons that click to tell you that you've activated a feature? Or how about that digital gauge cluster that's oh so smooth to use? Whether you're zoomed in or out, there's something to appreciate in the 3008. In fact, it does look like a spaceship in some regard.
Speaking of that infotainment system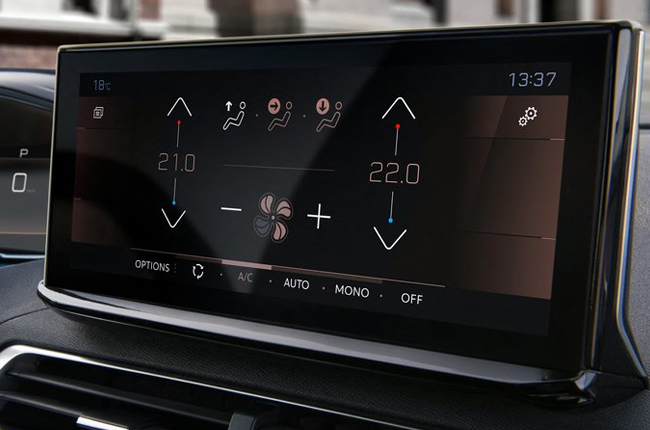 Peugeot fitted a 10-inch touchscreen in the 3008, which allows you to view any media and interact with any menu while being wowed at the same time. Apple CarPlay and Android Auto are on board for this model, and it'll be quite the experience to check the map on such a large display.
Challenging other rivals' infotainment systems is, well, challenging, but Peugeot's bringing the big screen to the fight, and side-by-side, it looks like it stands more than a good chance of competing.
Refined ride, refined drive
While you may not know it, Peugeots are some of the better-driving cars out there. It comes part and parcel with the brand's European roots. Since roads and regulations on cars in Europe are among the strictest in the world, the average vehicle from a European manufacturer tends to be on the better-built side of things. The 3008 is a European model as well, which bodes well for its chassis dynamics and its engine.
At speed, you can expect it to hold 100 km/h with no issue and with a good sense of stability. If you dare to go faster, the car will remain planted and not feel like it's at the limit. After all, this car was also built to withstand high speeds on the vast European highway network, and then settle into towns and cities with ease after the fact.
A price tag that's not-so-European
So what will this car cost you? Four million? Three million? Nope, lower. Peugeot has done its work and moved some facilities closer to the Philippines, which allows us Filipinos to enjoy a starting price of only P2,090,000, and it tops out at P2,090,000. So regardless of if you're getting the top-spec trim or the entry-level trim, you get the best 3008 that Peugeot has to offer in the Philippines.
In comparison to its other rivals, the 3008 is well-equipped, beautifully designed, well-engineered, and reasonably priced. If been on the fence about a European machine for quite some time, or if you want a different experience, then Peugeot could fit the bill.
Get the best deal - Choose multiple dealerships to compare offers!
Select up to 5 dealerships and compare their offers
Over 70% of dealers reply within 1 hour
100% hassle-free with no obligation to purchase
Latest Features
Battery banks that can jump-start your car. Here are the top five best we've seen available online.

We list down the most fuel-efficient sedans for city drives in the Philippines, ranging from small to mid-size models.

When it comes to all-electric crossovers, BYD knows their stuff. They know what it takes to make electric great.
View More Articles