Why get the most expensive option in the lineup when the base model actually gets you the same car, but for less? Base models will be the most affordable, but can they present a better value compared to the top-of-the-line, or mid-range offerings out there in the market?
Are top-spec or mid-range models even worth considering if you can definitely get the same car for much less but with some extra bits? Here's a general overview and guide to help you sort through the dilemma.
A better exterior?
Manufacturers might try and pull a fast one on you if you are a sucker for good-looking cars. Others may even tell you that it's the best-ever car it's ever released, but in truth, those sentiments are only reserved for the poster child of the lineup or the top-of-the-line flagship variant.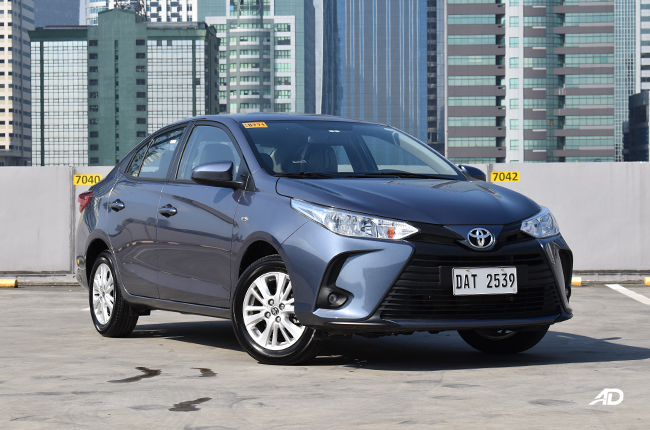 *Toyota Vios XLE shown*
With all the trimmings, it's easy to get persuaded into buying a top-spec offering. Some car buyers with a finite budget would rather do the modifications themselves instead of letting the factory do it for them. Others would prefer a factory-fresh fully-kitted-out model. The choice is yours whether you want to get the top-of-the-line model just for looks alone. It's certainly a selling point especially for sportier cars or cars that are begging to stand out like the Toyota Vios.
A better interior?
Base models of more affordable cars almost always come with an interior made from either polyurethane (PU), plastic, or fabric. To get the car down to a certain price point, manufacturers will often install these bare materials.
Once you step up a few levels and opt for a bigger or more premium model, you'll likely get similar refinements to the top-spec trim levels, but not all of the goodies and features. This, of course, varies depending on the brand and model you're picking.
*Honda City S CVT interior shown*
The higher you go in price, the better the interior becomes in most cases. Some brands will install soft-touch materials like leather or dense foams to make the interior more comfortable. In addition, you may even see a splash of color added and the cloth trimmings replaced with leather. If the base model you have is compared to a very special top-of-the-line variant, then you might find some accent colors to give a little more life to the cabin.
It depends on your tolerance for comfort. If you're willing to sit on cloth and rest your arms on plastic, that's not a problem at all. Some people don't really mind a base model because the plastic may get scratched, but it doesn't tear as leather or soft-touch sidings and dashboards do.
More tech?
As you scale up in price, you also scale up the features that are available with the car you want to purchase. Base models will often only come with just the essentials, which means a radio, or basic head unit, paired with a 2 or 4-speaker audio system. You may also find a ton of blank switches in a base model. A lot of brands will omit more advanced features and save them for the top spec.
You may lose out on features that are on the mid-range models like a rear-view camera or parking sensors. We're seeing a lot of cars come with reverse cameras, but base models often miss these features to meet a certain price point.
It's important to note that you won't just be driving inside a car, you might even consider getting stuck in your car "living" in it. Given a tight parking spot, traffic, and long drives, having a better head unit or a better view of what's around you could make the difference between struggling with your car, and actually enjoying it. Of course, if you don't need the added tech, then by all means go for a base or lesser variant. It all depends on what set of features you are looking for and what is important to you.
More safety?
New Car Assessment Programs (NCAPs) don't normally test out the base variants of new cars. While we can argue that the chassis of a base model is shared with the top-of-the-line variant, the new NCAP ratings take active and passive safety features into consideration as well.
Vehicles like the Ford Ranger, come with something called forward collision mitigation, a feature that allows the vehicle to sense if there is an obstacle ahead. The system will warn the driver. Other cars like the Isuzu D-MAX also come with a similar feature, and the vehicle can brake on its own to avoid a crash. These active safety features are reserved for the top-of-the-line variants, and radars do not come cheap.
Aside from that, the airbag count in a base model will definitely be lower than the top-of-the-line offering. Only brands like Toyota give consumers the option to choose between 3 or 7 airbags in most variants, even the base trim for some nameplates. Other cars, however, its either all or nothing. Safety equipment is usually pay-to-play, and there are a lot of manufacturers that skip certain items in order to keep the price down.
Are base models worth it?
Truth be told, unless you want to buy a lot of cars for the lowest price possible and populate a fleet, then we'd advise that you at least get a better-equipped unit. It doesn't have to be the top-of-the-line model, it can be a mid-range variant instead.
If you'll be using your car as a personal form of transportation, we think that it'll be better if you invest a little bit more and buy a mid-range model that you can afford since a lot of the features in cars nowadays are geared towards practicality and convenience. Amenities like a reverse camera or a better infotainment unit just make your life easy, while other items like extra airbags, traction control, and stability control will keep you safe. The features that most brands bundle in their midrange models will be enough to give you an easy, if not a good time.
Consider what you need, then cross-reference it with our car guides to see what specifications are most important to you. You may even head on over to our variant comparison guide articles in order to determine what variant is right for you.
Latest Features
With a powerful 3.0-liter diesel under its hood, it could be advantageous for the Ford F-150 nameplate in the Philippine automotive market.

Filling up with a full tank of gas all the time can be expensive, so is a partial tank the answer? Let's explain.

Filipinos love the Alphard, but why not give the Kia Carnival a shot?
View More Articles