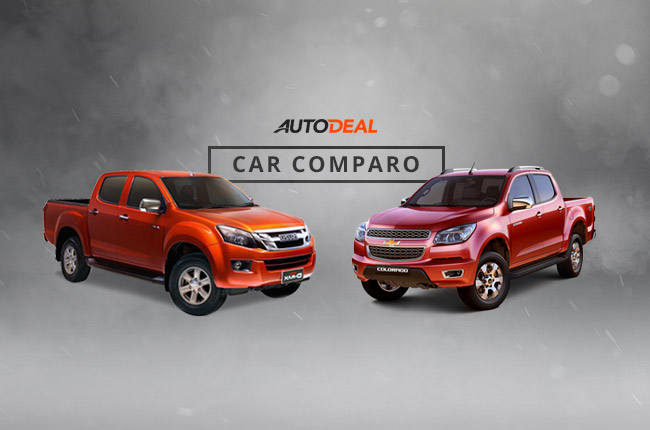 Pickup trucks are tough workhorses that have evolved into lifestyle vehicles that many of today's car buyers sought for. Of all the available choices in the market, there are two models that are closely matched in terms of looks – the Isuzu D-MAX and the Chevrolet Colorado.
To make the comparison exciting, we matched the 4x4 top-of-the-line variants of both models, the Chevrolet Colorado 2.8 4x4 AT LTZ Tracker Pro and the Isuzu D-MAX 3.0 VGS LS 4x4 AT. This way, we can compare all the goodies that we can get on both pickup trucks and check which one has more value over the other.
Price
The Isuzu D-MAX takes this round with a P168,888 advantage on the price. It's available at a price tag of P1,430,000 while the Chevrolet Colorado can be bought for P1,598,888. The extra cash you'll save on the D-MAX can be used to buy accessories to accentuate its mean appeal. The sizeable gap may be because of some features that the rival doesn't have and that's what we're about to find out.
Performance
Under the hood, there's quite a big difference between the two, especially with their capacity and power ratings. The D-MAX is powered by a 3.0L VGS engine that can produce up to 163 hp and 380 Nm of torque. It's then mated to a 5-speed automatic transmission with sequential shift. On the other hand, the Colorado runs by a smaller 2.8L Duramax Turbo-Diesel engine, coupled to a 6-speed automatic transmission with Active Select. Ironically though, it has a bigger maximum output of 200 hp and its class-leading 500 Nm of torque.
This immense advantage in the output of the smaller Colorado engine is enough for it to win this round, as that extra power can add extra speed and pull especially when you need it.
Dimensions
When it comes to size, it's a close fight between these two monstrous trucks. The Colorado is longer and wider with 5,347 mm and 1,882 mm, respectively. Its ground clearance is also higher by 10 mm which will allow it to traverse rougher roads and deeper bodies of water with its class-leading 880 mm water wading depth. However, the D-MAX is a wider and longer rear bed with 1,530 mm and 1,485 mm, respectively. It also has a major advantage with its payload capacity of 1,085 kg – 178 kg more than what the Colorado can lift.
The rear bed is one of the main features of pickup trucks. The bigger and tougher rear bed of the D-MAX is enough for us to award this round to the Japanese brand.
Interior
Both cars are adorned with interior amenities and features that aren't found in older pickup trucks. The seats are wrapped in leather and equipped with rear parking sensors with camera. Moreover, both cars have keyless entry systems that will allow you to conveniently enter the car without pushing any button on the remote.
Lastly, the entertainment systems in both pickup trucks are somehow parallel – 7-inch touchscreen multimedia and navigation ready head units that can be controlled via the steering wheel. With both having almost the same features, we call this round a tie between the two.
Safety/Technology
While both vehicles have the standard dual front airbags, Anti-Lock Braking System, and electronic brakeforce distribution, the Colorado is notable with its immobilizer and security alarm that it comes standard in. However, the D-MAX makes up for it with speed sensing door locks – a cool feature that is quite handy when driving in the city.
There's a tight gap between the two, but we will deem this round as a tie.
Verdict
With 2 ties and 2 rounds that goes to the Japanese pickup truck, the Isuzu D-MAX 3.0 VGS LS 4x4 AT is an easy runaway winner when it comes to the specs sheet. It's one tough pickup truck that's packed with features and can carry more stuff on its rear while a keeping a price that's way lesser than its rival.
Although, if you have that money to spare, the Chevrolet Colorado 2.8 4x4 AT LTZ Tracker Pro isn't a bad choice. It's faster and more powerful even with its smaller engine, which is something that you can also consider when buying a vehicle.
For the complete comparison details of the models above, check out the AutoDeal Car Comparison Tool.
Latest Features
Battery banks that can jump-start your car. Here are the top five best we've seen available online.

We list down the most fuel-efficient sedans for city drives in the Philippines, ranging from small to mid-size models.

When it comes to all-electric crossovers, BYD knows their stuff. They know what it takes to make electric great.
View More Articles