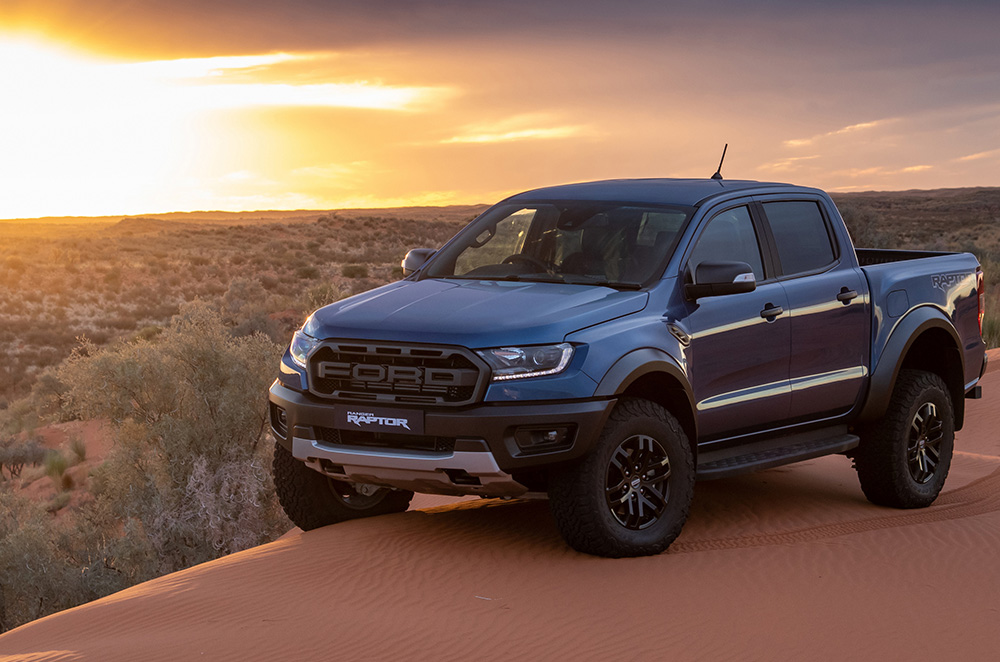 The year was 2008. A never-before-seen truck stood at the starting line of Baja 1000, which is regarded as one of the most grueling off-road endurance races in the world, designed to go through Mexico's challenging deserts. The huge vehicle looked quite familiar, but still a stranger with the humongous letters spelled out on its grille that's synonymous with a Blue Oval logo and a rich American automotive history: FORD.
It would have been a tough day for a rookie like the F-150 Raptor, but it was relatively a success – it finished third overall in its class and Ford consequently sold around 7,000 Raptors the following year as an indirect result of that victory.
The way the first Raptor (pictured above) was introduced that year was dramatic, which is quite a word to use to describe a hardcore off-roader designed to represent the brand's "Built Ford Tough" catchphrase. It's kind of like how Lebron James entered the NBA back in 2003. It was celebrated, especially by the Cavaliers that's among the bottom teams of the NBA at that time. He was a superstar rookie, as a lot of people put it, and had a fair share of lovers and haters from then on.
Except that, Ford wasn't a losing brand when it comes to the Baja 1000 off-road races. Just a year before the Raptor's introduction, the American brand brought home eight championships, which made them won the most number of four-wheel titles than any other manufacturer in 2007.
Now, why would a winning team enter a race with a truck that has not proven anything yet (aside from its undeniably-imposing design)? Because they could, and they thought the Raptor could win, too. They weren't wrong about it.
The Raptor is a sports truck. And just as fierce as its name sounds, it's built to go fast in off-road tracks such as the mentioned Baja 1000 in Mexico, or jump over obstacles in the Dakar rally races in South America – and finish them in one piece. More than just a trophy truck with its badass aesthetics, the Raptor is equipped with performance parts that are developed to do exactly what the truck was built for.
The first-ever Raptor had a naturally-aspirated 310-hp 5.4L gasoline V8 paired with a six-speed automatic transmission. It was then upgraded to a 411-hp 6.2L V8, replacing the less-powerful predecessor. In the next-generation Raptor, however, a 450-hp 3.5L twin-turbocharged V6 took over the previous bigger engine in order to improve fuel economy and reduce weight. The transmission has also been replaced with a 10-speed automatic transmission.
To complement the powerful power plant inside the bonnet, the Raptor has always been fitted with a sturdier chassis than a regular F-150 truck. Its suspension is upgraded to long-travel Fox suspensions to be able to withstand impact from fast off-roading. Its latest iteration, the 2019 Raptor, has terrain management system as well, with six modes to choose from: Normal, Sport, Weather, Mud/Sand, Rock Crawl, and Baja mode – the latter is in memoriam of the Raptor's early success. These are basically presets for all the different driver assist and stability control systems, as well as steering feel, throttle and transmission mapping, ABS modes, the locking differential, and a few other things.
Why are we excited about the Ranger Raptor?
There's no denying that the Raptor's fame is on a global scale, and it's natural for car nuts (like us!) to go gaga over this high-performance pickup truck. To our disappointment, however, it never occurred to Ford Philippines to bring the F-150 line of pickup trucks, let alone the Raptor version of them. Maybe because of practicality issues, or maybe size, we're not entirely sure. If only importation rates are bearable, we would gladly import one ourselves, but that's a different story.
So, when the news of a Ranger Raptor came out, it's like a dream turned reality. Finally, we can get our hands on a Raptor, albeit, in a midsize truck body. More so, when the coveted nameplate officially landed on Philippine dirt.
Yes, yes, we heard you, the F-150 Raptor is different from the Ranger Raptor. However, the only difference between the two is mainly its size and the power plant that resides under the hood.
The Ranger Raptor that we got here is based on the facelifted 2019 Ranger, but with performance upgrades to make it worthy of its Jurassic nameplate. As such, the Ranger Raptor gets similar equipment from the bigger F-150 Raptor, such as the long-travel Fox suspension, the 10-speed automatic transmission, and the terrain management system with Baja mode.
Perhaps the most important (and most intriguing) part of the Ranger Raptor is its 2.0 biturbo diesel mill (or twin-turbo, they're interchangeable) that churns out 210 hp and 500 Nm of torque. I've mentioned this before, but despite the small engine, the Ranger Raptor is even more powerful than the previous five-cylinder 3.2L Ranger Wildtrak.
With the Ranger Raptor now in Ford dealerships, the car buyers in the Philippines are given a chance to own a Raptor but in a more practical way. It's still huge, yes, but at least it's smaller by inches and could probably fit mall parking lots, unlike the American counterpart. Parts availability and maintenance costs of the Ranger Raptor are something we have yet to get feedback on, but just by looking at the surface and its ridiculously-low introductory price of P1,998,000, the hyped-up pickup truck sounds like a good deal.
Latest Features
Here's a quick guide on how to contest a No Contact Apprehension Notice of Violation specific per city.

Remember that road surfaces can get slippery when wet and driving in the rain takes more concentration than driving in the dry.

Getting insurance for a modern MPV like the Geely Okavango is the right call to make. Here's how much it would cost.
View More Articles