There are many places you can get your car serviced, provided your car is a relatively common model and there are mechanics that are familiar with the model. However, when faced with the choice of either the dealership service center or a third-party service center, which do you pick? Do you go for the casa and its cast of experienced technicians? Or do you head for the talyer to get your maintenance requirements addressed? There are pros and cons for both choices, and neither choice is totally wrong. Let's digress.
Expertise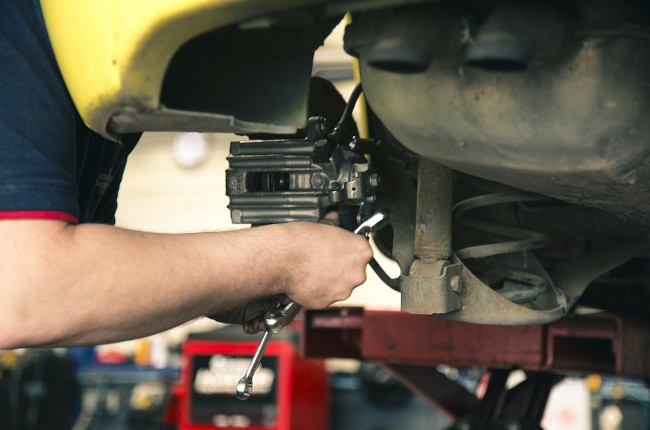 Dealership
First thing's first. You need to make sure that the person you're talking to is trained or experienced enough to work on a car. The dealership will definitely have trained mechanics on-site all the time, so you don't have to worry about finding the right person at your local casa. These mechanics are accredited by the dealership and brand to work on cars, otherwise, why would they be in the dealership working on cars in the first place?
Third Parties
Meanwhile, third-party garages can sometimes be hit or miss. Be wary of the skill and the experience of the mechanics. Unless the garage has been in business for quite some time, or they've successfully worked on your car or the particular model, you might want to reconsider. Do some research, get reviews and feedback.
The bottom line is unless you've known this mechanic and the shop since before, chances are you might be rolling the dice on your car. At least in the casa, you will be able to trust the mechanics there and have someone to go after in case there is an issue that arises. On top of that, you also get assurances that their equipment is complete and suitable for your vehicle.
Warranties and aftersales support
Dealership
If you have a new car, it will still likely carry a warranty to go along with it. During the warranty period, it will be best to get your car serviced at the casa so you don't violate any terms of agreements. If you have a service plan that comes with your car, you will be required to bring it to the casa for a service. For example, Mazda vehicles have a 5-years service plan that is more or less free, so why pass up on the opportunity. Other brands are also strict with their service intervals and warranty policies, so much so that they won't entertain any claims if the records are incomplete. This applies to cars that are on the higher end of the market.
On top of all of this, you are assured of a service warranty or to go back if ever a problem or issue arises—most likely for free depending on the issue. You will also get a receipt and a detailed report about your car that you can keep for future reference—it's also a nice bonus for you when you will finally sell the car. Also, the casa will definitely have a set job list depending on the mileage of your car, so a complete and total service will be assured.
Third Parties
Third-party service providers, however, are a different story when it comes to the guarantees that they provide post service. Bigger and more reputable names in the industry usually carry a service warranty. Usually, the service warranty will last for about a week to a month depending on the company. Other service providers, however, might not even bundle a service warranty in, so if the service was conducted improperly the client might not be assured of a free back job.
You may need to specify the services that you would like to avail of when going to third parties. Consult your manual on the jobs that you need to conduct before laying out what needs to be done—usually, it's not just an oil change.
Going to third-party service providers could possibly violate the terms and service agreements in your vehicle's warranty, but there are brands that are more lenient with regard to this. It is important to do your research and read the fine print of your warranty and service agreement with the brand. Typically, going to a third party for your service won't outright violate the terms and conditions, but just be cautious and make sure that the parts you are using aren't fake or will cause harm to your vehicle.
Parts availability
Dealership
This could be a bit controversial. While there are quite a few specialist shops in the market, sometimes the parts that you need are not commonly available in third-party service and repair shops. Sometimes, these items have to be ordered and may take a while before it arrives. That being said, any brand worth their salt must have a stockpile of replacement parts or a network of suppliers and logistics providers that can deliver components to their service centers at a moment's notice. Going with the casa is usually the best option if you need a repair, as a third party might not have the parts on hand or the sources to get those parts to you—on top of improper installation.
Third Parties
However, there are times when a third party is able to stock up on parts and have them on hand. While more unlikely than the casa, there are a few things that one should consider when getting parts from third parties. The first is that the parts that could be going into your car are of replacement quality, meaning that it's not made by the original equipment manufacturer (OEM). While these parts can last a long time and are typically made and licensed by the brands themselves, you might not get a service warranty as stated prior. There is also the possibility that the part won't be installed properly. The key is to make sure that the shop you're going to knows what they are doing. That being said, it's a good alternative to the casa if the part you are looking for is not immediately available.
That being said, it really depends on the parts you need, and the brand that you are dealing with—not to mention the expertise required to conduct mechanical repairs.
Product selection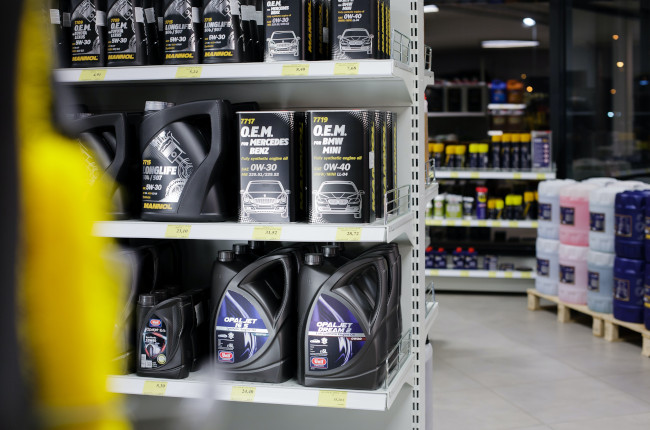 Dealership
Authorized service centers will have a selection of oils and products for you to buy and install in your car. Accessories are also available in quite a few dealerships. However, the options may be a little bit limited as these parts and consumables need to be approved and tested before making it to showroom floors. Given that, you might not be able to choose the brand of fluids that will be changed out during your preventative maintenance schedule or the selection will be a bit thin. Typically, genuine manufacturer-approved lubricants, coolants, and other items will be on display, and they will be tailored to your model. If you want to get a high-performance oil, it may be a bit difficult to do so unless the dealership that you go to has a partnership with the particular brand you are looking for—the same goes for accessories as well.
Third Parties
Meanwhile, third-party providers can be more flexible with the brands that they sell and provide. However, you are not totally assured that these products will work with your car as there is a chance that the manufacturer doesn't recommend these products. When going with a different brand of oil, make sure that you know what you're getting into and make sure that the oil you are using has been tested in your car or comes from a reputable manufacturer. However, for parts and accessories, you may have to go to a different shop or a different aftermarket accessories dealer, as many third-party shops only provide maintenance and repair services, while there are a few that are exceptions.
You get what you pay for
Dealerships
With all the service done, it's now time to foot the bill. Big brands will have overheads to deal with, resulting in a price that is more expensive than your typical talyer. Not to mention that on average, the price of a part in the casa costs more because of other costs and taxes that they have to account for, along with the manpower of their organization. In return, you pay for the assurance, warranties, expertise, and peace of mind whenever you get your car serviced in a casa. Genuine and recommended motor oils will be available. Advanced services and repairs can be conducted, and parts are more often available. You pay for all of that, and while you drive off with your wallet several bills thinner, you at least know that you're confident that the work conducted is good.
Third Parties
Third-parties, meanwhile, will charge you less on average for a standard service. Being smaller in size means that these organizations can function at lower price points. With less manpower to provide for and less overhead to take into account, the benefit is that you can get a price that is easier on your wallet. Just take note and be careful of the things we've mentioned in this article. You can pay for peace of mind, but you can save money if you put in the effort.
Latest Features
Priced right, engineered to be driven, and polished premium, the Mazda3 makes for a great daily driver for enthusiasts.

Cars come with the latest and greatest tech now with adaptive, automatic, and advanced systems, but is it worth it?

We created a quick list of cars you can buy today that will give you the most amount of horsepower for the lowest price.
View More Articles