The compact crossover segment is a competitive segment and has been continuously expanding with a wide range of options. With the entry of several competitors manufactured in China, the battlefield has been heating up. Two great additions to the segment are the Chery Tiggo 7 and MG RX5, with both models standing proud with its distinctive looks and features that can potentially capture the hearts of several buyers today. While these compact crossovers are indeed on the affordable border, the real question is how both vehicles will stack up against each other. Let's have a thorough look at both models, shall we?
Exterior
On the outside, both vehicles do boast in terms of good looks. Starting off with the Chery Tiggo 7, which leans towards the unconventional. You get a pair of trident xenon headlamps, which are shaped in a stylish sense, its overall frontend is well-accentuated by its simple yet elegant double arched and wavy grilles. Going over the side, the Tiggo 7 features such well-planted body lines, therefore, flaunting the somewhat curvaceous profile of the crossover. The amount of black plastic cladding is also quite abundant, given that this is a crossover. For the wheels, it gets a set of 18-inch alloys, which mind you, is different from the photo shown above. The rear, on the other hand, maintains the sleekness as exhibited on its frontend.
The MG RX5, on the other hand, looks quite contrary to the Tiggo 7, given that it leans towards simplicity rather than being design standout. Its simplistic elegance may imply that the RX5 will age quite well in the future. Upfront, it gets a generous amount of chrome, specifically on the grille. Its headlight is basic though it does blend well with the rest of the design, do take note that the range-topping Alpha benefits from full-LED headlamps. Apart from the black plastic cladding, selected variants of the RX5 get a skid plate. As for its side profile, this crossover flaunts its boxy profile, that's further accentuated by some well-planted lines. The windows and door handles are also treated with some strips of chrome, giving it a more classy look to it. Unlike the Tiggo 7, the RX5 can either have a set of 17-inch or 18-inch alloys, depending on the variant you purchase. The rear is quite a stunning view actually, it gets LED taillights which do look good at night. Moreover, the rear bumper also gets a skid plate which is synonymous with the frontend.
Beauty is subjective, that's why it does depend on the eye of the beholder. That said, we personally think that it's a matter of taste on whether among these two you think is the better looking one.
Winner: Tie
Interior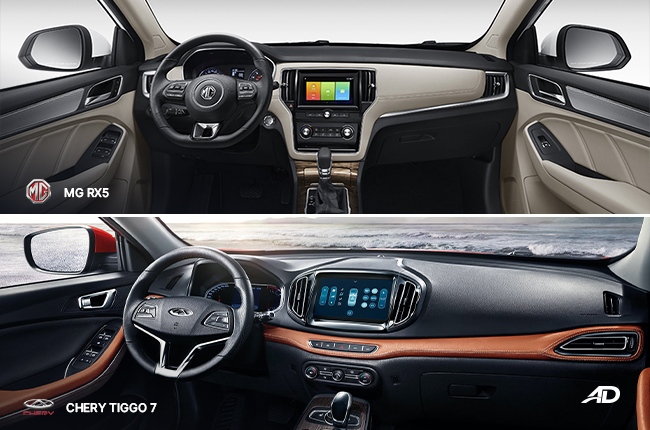 Inside, both vehicles have a well laid out interior, though there are indeed some contrasting elements which make both models stand out on its own. The Chery Tiggo 7 and the MG RX5 get a fair amount of soft-touch materials as well as hard plastics. Although we do commend the overall layout of the MG, as it does exhibit a well-appointed cabin. The Tiggo 7 has a more simplified cabin than the RX5's, it's less flashy but it still manages to please its driver and passengers.
The seats of the Chery Tiggo 7 are upholstered with PVC, which does look and feel like leather. As for the MG RX5, you're going to have to step up to the midgrade Style up to the range-topping Alpha in order to get a taste of those leather seats, which is a few pesos away from the Chery Tiggo 7. Though that extra amount of money justifies for more equipment. Do take note that both interiors exhibited above may differ from the actual unit.
Convenience features of the Tiggo 7 include steering wheel audio controls, a sunroof, push start button along with smart keyless entry, and many more. While the MG RX5 boasts a number of standard convenience features as well, including a front sliding armrest, a cargo lamp, a retractable cargo cover, and much more.
In terms of space, both compact crossovers shall serve its passenger with an ample amount of room for passengers and storage for your valuables. However, for this round, we're giving the crown to the Chery Tiggo 7 given its much attainable comfort creatures at a lower price point.
Winner: Tie
Technology
Both vehicles get two large infotainment systems, a 9-inch touchscreen for the Chery Tiggo 7 and an 8-inch touchscreen for the MG RX5. However, the MG's infotainment stands a bit higher than the Chery's, given its standard Apple CarPlay integration. Though it doesn't mean the Tiggo 7's infotainment is that bad, in fact, it still gives you a screen mirroring feature, enabling you to preview your phone through the 9-inch screen. Lastly, both of these mentioned infotainment systems are paired with a 6-speaker audio system.
Nowadays, phone integration has played a significant part in a driver's journey. That's why the MG RX5 wins this round once again, as that Apple CarPlay phone integration gives today's buyers the better convenience of projecting its phone through the infotainment screen.
Winner: RX5
Power
In terms of powertrain, both models are powered by a small 1.5-liter engine that's turbocharged. Figures of the MG RX5 are quite higher, with figures equating at 167 hp and 250 Nm of torque. Now, the said mill could either be paired with a 6-speed manual or a 7-speed automatic, which is good, considering that there are still a few enthusiasts who support the traditional stick shift.
Going towards the Chery Tiggo 7, its 1.5-liter turbocharged engine 145 hp and 210 Nm of torque, which are also good numbers and should perform well on both the city and highway. The said mill is then paired with a 6-Speed Dual-Clutch transmission.
Either way, you go, both vehicles have absolutely capable power plants, therefore allowing you to cruise the roads with ease and confidence. However, with the full-blown comparison of both cars' performance aspects, we've therefore come to choose the RX5 as the crowning winner, given its more extensive amount of power, plus, there's a manual option if you're still into that.
Winner: MG RX5
Safety
Both vehicles have standard airbags for both the driver and passenger. Now for the RX5, in order to acquire the side units, buyers must step up to the range-topping Alpha, which costs a bit extra compared to the Tiggo 7 and other variants of the RX5. Though notably, both models come standard with ISOFIX child seat anchors, engine immobilizer, and Anti-lock Braking System (ABS). Lastly the Tiggo 7 and RX5 benefit from standard parking sensors along with reversing camera.
Now for safety, the Chery Tiggo 7 wins this round, given that the following safety equipment is more attainable if we are to face off the Tiggo 7 with RX5's entry-level automatic trim.
Winner: Chery Tiggo 7
Verdict
Honestly, you can't go wrong on either of these compact crossovers. Gladly, the Chery Tiggo 7 and MG RX5 offer the right amount of looks, practicality, features, and performance, although, on paper, the MG stands as the winner of this head to head. With three variants to choose from, the RX5 gives buyers a wider range of options to choose from, which includes a traditional manual. Prices might be slightly higher, but that increase justifies a more uprated engine along with additional features.
Don't get us wrong the Tiggo 7 is still worthy of your hard-earned money, especially if you are on a tight budget. It also fulfills its role of transporting its passenger in a smooth and comfortable manner, along with the accompaniment of numerous standard features, how we just wish it has Apple CarPlay phone integration for a more seamless infotainment experience, though we have to consider that the car also comes at a significantly more affordable price tag as compared to the RX-5's top of the line or mid-range offering. In order to sum it all up, the sole variant of the Tiggo 7 only goes for P1,195,000 while the MG RX5's pricing ranges from P1,058,888 up to P1,228,888. That being said, the Tiggo is only a bit more expensive than the base RX5, with a difference of only P136,112 but it is better equipped and more affordable than the mid variant of the RX5 by P33,888.
Latest Features
Make sure to signal and do a quick shoulder check before merging to know where you are and where the traffic is around you before you transfer over into a different lane.

We get dealers to bid on your car, all you have to do is choose the best offer.

Unsure about the Number Coding scheme in the Philippines? Our complete guide provides comprehensive details on everything from coding days to window hours in all locations affected by the Nu...
View More Articles