Today, crossovers have been becoming more and more affordable. It was just a few years back when options were only limited to some mainstream brands. Now, the subcompact crossover segment is growing, and entering the battlefield are some brands including Chery with its Tiggo 2. Notably, this model is by far one of the most affordable entries in the segment, with its entire line of variants sitting just under P800,000.
Now, if you're seriously considering this model, then lucky you as we are here to closely go through its trim levels and compare each spec by spec. By that, you'll be able to further evaluate and pick the proper variant for you.
A good old stick shift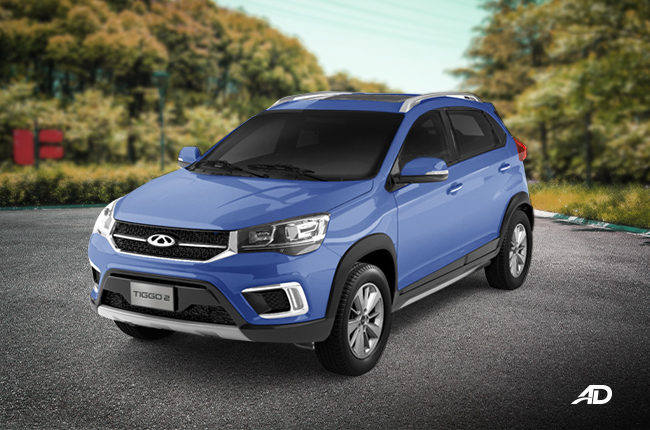 The Chery Tiggo 2 is still being offered with a traditional 5-speed manual transmission that is then motivated by a 1.5-liter 4 cylinder, naturally aspirated gasoline motor that produces 106 hp and 135 Nm of torque.
On the outside, one of the key design features of the Tiggo 2 MT includes halogen headlights with LED daytime running lights, 16-inch alloys, and rear fog light. Inside, the subcompact crossover features a simple yet functional cabin layout, plus, it also comes with a number of standard features such as fabric seats with manual adjustability, manual air conditioning, cruise control, and a 4-speaker audio system with CD and USB function.
Safety and security features, on the other hand, include an Anti-lock Braking System (ABS) with Electronic Brake Force Distribution (EBD), dual-front airbags, ISOFIX child seat anchors, an anti-theft system, engine immobilizer, and a complementary addition of rear parking sensors.
At just P695,000, the Chery Tiggo 2 MT gives you the basic necessities you'd find in an affordable vehicle. Now, with the addition of extra ground clearance and better versatility than your average sedan, this entry-level variant is indeed worthy of your consideration especially if you are looking into buying a brand new crossover on such a tight budget.
Something that's less conventional
While the Tiggo 2 AT retains the same mechanicals as well as other exterior and interior appointments, there are indeed a few additions that do justify its price tag. To start off, the manual gearbox has been replaced with a 4-speed automatic transmission that is then paired with the 1.5-liter gasoline motor. On the outside, it still gets the same aforementioned features above which include the halogen headlights with LED daytime running lights, 16-inch alloys, and rear fog light.
On the inside is perhaps where the obvious changes can be seen. The following upgrades include the infused leather and fabric upholstered seats, the electronic air condition control, and the 8-inch touchscreen that's also paired with a 4-speaker audio system. Notably, all of its safety equipment was carried over from the manual variant, though it is worth noting that this trim now comes with the addition of a reverse camera.
This particular variant is still priced affordably, with it retailing at only P770,000. Now if you want to personalize the exterior just a bit more than the usual, the AT variant can be opted for with the brand's Two-Tone color options which simply composes of selected colors that are reinforced with a blacked-out roof. Plus, it also gives you an orange and black interior theme for that youthful charm. This special trim, on the other hand, can be had at P795,000, which is actually P25,000 more than the standard AT variant.
Verdict
That wasn't as confusing as we thought it would. The Tiggo 2 may not have an extensive variant range, but it does offer the right balance of features in each trim and a lot of safety kit as standard. Therefore, both variants will do, it actually depends if you're more of a stick shift kind of driver or perhaps you'd prefer the convenience of an automatic. Plus, if you want to have a more vibrant and youthful look on your Tiggo 2, then the Two-Tone variant is also worthy of your consideration.
As mentioned, its respective segment is indeed growing with numerous competitors. The Chery Tiggo 2 might be overshadowed by other mainstream options, but it will surely shine in terms of affordability and versatility. Plus, that extra ground clearance is indeed a rare thing to acquire at this price range.
Want to buy this vehicle without leaving the comfort of your home? Try our 'Buy Online' feature and just fill-up the necessary details for your online transaction.
Latest Features
Cars come with the latest and greatest tech now with adaptive, automatic, and advanced systems, but is it worth it?

We created a quick list of cars you can buy today that will give you the most amount of horsepower for the lowest price.

Both are within the same price range but are in many ways different from each other.
View More Articles