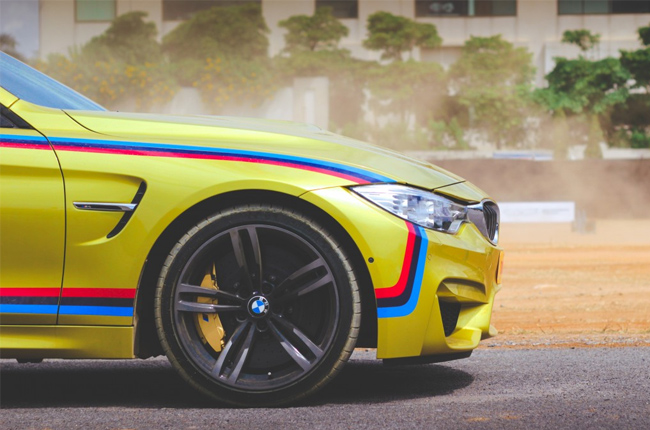 People want to be unique, whether that be in the clothes they wear or the watches that they collect. There's always something about standing out from the crowd and being noticed; we relish the attention and the feeling of appreciation. This extends to our automobiles, too, as the personalization of our beloved cars strengthens our attachment to these machines. This customization can range from aftermarket wheels, performance-enhancing parts, and additional equipment to make driving easier or safer. Oh, and adding a few stickers won't hurt, right?
Let's be honest here, stickers and decals, when done right, can add some visual flair and sense of completeness to car nuts and automobile aficionados. When we mean done right, we mean that the decal or sticker pertains to that car's manufacturer, tuning house, or the part actually exists in the car's specifications. And no, stickers don't add horsepower, no matter what they say. So let's dive into it, shall we? Here is our guide to the stickers and decals that you can put on your vehicle to gain a bit of proper street cred.
STI - Subaru
The three lettered pink badge that you found on Subarus meant business, and the sticker and badging is only given to vehicles worthy of it, embodying the performance that Subaru Tecnica International (STI) is known for. Founded in 1988 by Fuji Heavy Industries, the company that creates Subaru automobiles, STI handles all motorsport activities and performance vehicles of Subaru, slapping their seal of approval to rally-bred machines where 300 horsepower and all-wheel drive is the norm. A Subaru with an STI badge is a force to be reckoned with on and off the road.
Mugen - Honda and Acura
Founded in 1973 by Hirotoshi Honda, son of Honda Motor Company founder Soichiro Honda, Mugen (M-TEC) tunes engines and manufactures parts for Honda and Acura vehicles. Mugen means "unlimited" or "vast", hence the word power after the badge, denoting "unlimited /vast power". Mugen has a myriad of parts ranging from body kits, exhaust systems, and performance engines for Honda automobiles, adding legit performance credentials. They also have a huge involvement in motorsport, tuning and racing Hondas in the Super GT championship, Formula 3000, and even Formula One.
Spoon - Honda and Acura
Spoon Sports (Spoon) was founded in 1988 and specializes in tuning and performance focused parts for Honda and Acura. Named after a long, sweeping corner of the famed Suzuka Circuit in Japan, Spoon has a wide array of aftermarket parts for most Hondas and Acuras, such as suspension, transmissions, braking and cooling systems, and even body kits. Remember the eye-catching 4-piston monoblock caliper found on the Honda Integra? Spoon. The coveted Spoon SW388 wheels are JDM gold, and their VTEC controllers allowed minute adjustments to VTEC engines to extract optimum performance.
TRD - Toyota, Lexus, and Scion
Toyota Racing Development (TRD) is an in-house tuning firm for cars under the Toyota banner. They handle the tuning and improvement of production vehicles and support Toyota's racing endeavors around the world. TRD produces performance components and accessories, which are usually available on vehicles outright, or require specific purchasing at the dealership. TRD also involves itself in motorsport around the world, having a presence in Japanese motorsport, as well as the most prestigious championships around the world, such as NASCAR, FIA World Endurance Championship (WEC), Formula One, World Rally Championship (WRC), and 24 Hours of Le Mans.
Ralliart - Mitsubishi
Responsible for Mitsubishi's rally racing and off-road vehicles, Ralliart is the performance and motorsports division of Mitsubishi Motors. Founded in 1984, Ralliart has been responsible for bringing championship wins under the belt of Mitsubishi, and high performance models and parts to the public.
TOM'S - Toyota, Lexus, and Scion
Established in 1974, TOM's stands for Tachi Oiwa Motor Sport, and is a factory supported racing team and tuner of Toyota and Lexus vehicles. They've worked on creating several special edition Lexus cars, and have stand-alone aftermarket parts such as body kits and performance components for most Toyotas. Motorsport is also a priority for TOM's, being heavily involved in Super GT, Super Formula, and Japanese Formula 3.
Mazdaspeed - Mazda
Mazdaspeed started as an independent racing team in 1967, fielding Mazdas for numerous championships internationally. Mazda Motor Corporation officially assumed control of Mazdaspeed in 1999, with a focus on developing performance oriented models and special parts for consumer vehicles. In 1991, a Mazdaspeed 787B won at Le Mans, the first ever victory for the Japanese team, solidifying their place in racing history.
Latest Features
Should you even consider a driving school anymore? Yes, and here's why.

Regular exposure to the sun and varying weather conditions ruin your car paint. But, are car paint protection products worth it?

Turbochargers are becoming common in today's cars, and turbo lag is an inescapable part of it.
View More Articles