Remember when 'rolling down' car windows literally mean rolling them down with a crank knob? How about seeing a CD holder case inside the glove compartment, which can also be seen strapped on the sun visor-slash-vanity mirror? The glory old days of inconvenience, huh? At least, those of us who can recall these things learned one thing: doing almost everything manually—and, sometimes, strangely.
It saddens us that kids nowadays don't get to experience such things. Yet, we've put that thought of wanting to let young drivers of today get a glimpse of what's good yesterday aside (as there are tons of tasks in the office that needed far more attention). Then, we figured that it might be cool to mess up with kids by showing them some features they've probably never seen before. And so, we listed down a few things that were once standard in cars, hoping to educate today's generation of young drivers.
Dashboard-integrated CD/cassette player
Before USB ports, Bluetooth, and touchscreen multimedia displays became a thing, there was the legendary CD player – or cassette player in older cars. The center console back then was simple; 1-DIN CD players rule long before touchscreens dominated the scene. The presence of these saw the rise of CD holder cases, both in album and sun visor organizer form. It also gave birth to the device known as the 'CD changer,' which we bet most kids nowadays are oblivious of.
Manual windows
There's a slightly odd feeling when you hear someone (especially young car owners) say "roll down your windows," when all you only have to do is push a button and wait for your window to slide down. Back in the days, you have to really work hard and wind (or roll) a crank arm counterclockwise before you could actually feel the outside breeze—then roll it back up, hence, the forearm muscles.
Manual door locks
Who else here is guilty of the satisfaction brought by pulling and pushing down door lock pulls? They are one of the extinct car features today but, luckily, we could still see some old taxi cabs featuring these. There's really nothing special about it, apart from the fact that you'd really know where to locate and toggle the locks. We've encountered some modern cars with the lock controls located somewhere in the dashboard and it took us some few precious seconds to figure out. The good thing is modern door locks come with child lock, which is best for parents.
Manual side mirror adjusters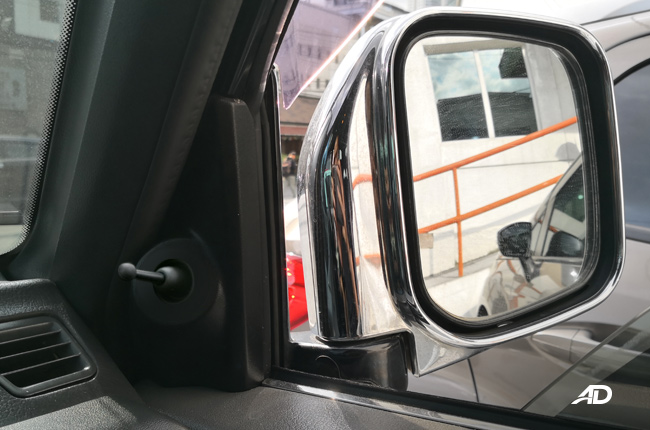 Now, you might want to tell your kids that this is not a toggle switch to some crazy James Bond-car weapon—if they even know who James Bond is. The manual side mirror adjuster that we all just love and hate is a thing of the past now. We're sorry that adjusting the side mirrors back then wasn't that all-convenient as compared to cars today. Yet, it wasn't that hard to operate; you just have to twist, pull, push, and stay calm.
Whip antennas
What whip antennas? From what we can remember, those were lightsabers, or fencing swords if you're the classy type. Back then, there was no way of receiving FM radio frequency better than a retractable antenna on the roof or the A-pillar. Now, go tell your kids about the legend of whip antennas on cars.
Foot-operated parking brakes
One way to engage parking brakes in the past is via a foot parking brake instead of a handbrake. Imagine putting some teenager inside a manual car which features a foot parking brake; imagine the panic on his/her face upon seeing four pedals. Right now, the foot-operated parking brake seems like a taboo, but we were fortunate to find one in the SsangYong Rodius.
Of all the things mentioned here, we can't help but include some car features that are facing imminent extinction. Some stuff that we predict to be gone after a couple of years or so. Sounds like more reasons to be sad, better yet, more stuff to confuse upcoming generations. Here are some car features that are currently endangered due to advancements in technology.
Handbrakes
We have expressed our deepest sympathy to handbrake levers not so long ago, we know, and the introduction of electronic parking brakes is to blame. Soon, we won't see handbrake levers anymore. They will be replaced by these e-parking brakes operated by a finger.
Manual transmission
Automatic transmissions like CVT and DCT are hinting of a possible takeover. Worse, automated cars are being developed overseas, real fast. A moment of silence for manual shift sticks, and so are clutch pedals—soon, maybe even steering wheels.
Keys
Who would've thought even keys will be a target of technology? Most modern cars now feature keyless entry and push start ignition. We mean, do we even have to call these wheeled machines 'cars' without all these?
Latest Features
The new Triton has shed its old name and donned a new face. It's no longer the Strada that we used to know.

Battery banks that can jump-start your car. Here are the top five best we've seen available online.

We list down the most fuel-efficient sedans for city drives in the Philippines, ranging from small to mid-size models.
View More Articles