Whether you're a newbie driver or someone who has driven for years, there are some car features that surprise you when you finally figure out how they work. These features help you realize that your car has unnoticed switches and buttons (with unknown functions) that prove to be very useful.
Here, we list down these unsung talents — it's high time to get to know more about your car.
Lane change turn signal (3-4 blinks)
One of the reasons why some drivers tend to forget the turn signals when changing lanes is because it takes effort to return the lever to its original position. Good thing, most modern cars allow half-toggling the turn signal stick, which engages the signal lights three to four times without leaving its neutral position. What's your excuse now?
Rear-view mirror dimmer
Annoyed by the vehicle behind on high-beam headlights? Just push the small switch under your rear-view mirror to make it dimmer. In newer cars, this feature is electronic, so you just have to press the on/off button.
Fuel tank indicator
If it's your first time to fill your fuel tank, there is a great chance that you'll fumble looking for where the tank entry point is located. Don't worry, the arrow on your fuel meter tells you where you can find it. Good times.
Seatbelt height adjuster
To avoid shoulder marks and sores, most seatbelts come with height adjuster to suit various driver heights. You can find it by the upper base of your seatbelt near the head rest.
Defogger
Defogger buttons (pictured above) are usually found within the control panel of your air conditioning. Use these to remove the fogging in your car's windshield and rear window especially in the early morning.
A/C recirculator
Same as your defogger, the recirculate button is placed together with your air conditioning controls. When it is turned ON, the A/C recirculator doesn't allow air from the outside to enter into your car's cabin. However, it also has uses when it is turned OFF, like allowing the flow of oxygen inside and other practical functions.
Front passenger airbag switch
Some cars come with an ON/OFF switch for the front passenger airbag. It's for one useful reason (and it's not what you're thinking) — to avoid inflicting damage to a child or a pet, sitting in front, when the airbag is launched. The switch is located either in the central dashboard or at the side when you open the passenger door.
Just a reminder, though, we still strongly recommend that the kids be seated at the back as it is safer.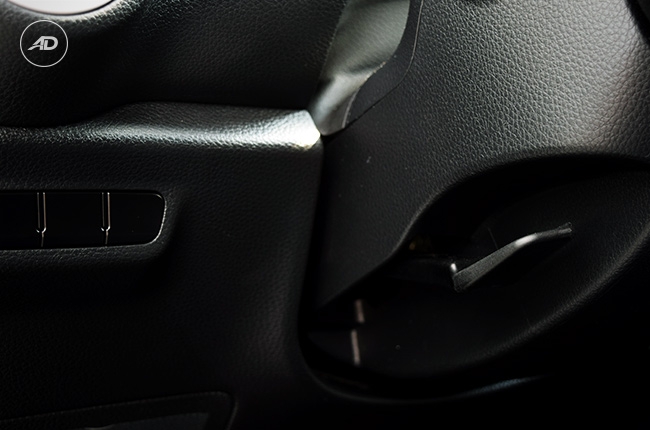 Steering wheel adjuster
To get to your sweet spot while driving, you naturally adjust the seats. However, you can also change the tilt of your steering wheel to suit your height. Some cars, like the Nissan X-Trail, even come with telescopic steering wheels that allow you to adjust its distance from the dashboard.
Rear child locks
Rear child locks are located at the rear doors, near the latch. With this in ON position, the door is locked from the inside to avoid unintended opening. This is pretty practical when you have children riding with you.
ISOFIX tether
Child seats that you attach using seatbelts are a thing of the past, as more modern cars come with ISOFIX child seat anchors that promises sturdier construction. These types of child seats come with tether belts that you can attach at the back of the rear seats.
Trunk tools compartment
Tools and emergency devices are essential things that should be found in your car. Most manufacturers include a set of emergency tools with the cars that leave their showrooms. If you're unsure where to find them, check your car's trunk. They should be there together with your spare tire.
Latest Features
It's always advisable to put just the right amount of oil to prevent any damage from occurring to your car's engine.

Driving while under the influence of alcohol, drugs, and other similar substances will never be okay.

Between the two, which would you pick? The sedan or the hatch?
View More Articles