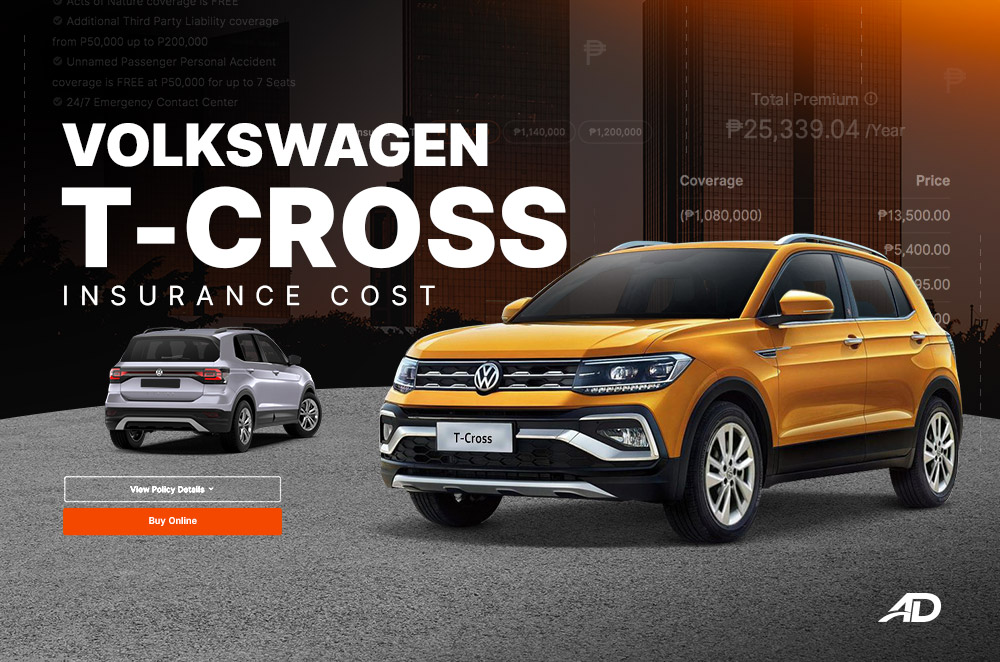 Car ownership is more than just buying the car and keeping it well maintained. There are other things you need to do to make sure that your vehicle is running well and is well protected. Other things such as making sure that your vehicle is properly insured. This holds especially true if you are financing your vehicle or it is under a lease where protecting it from unwanted accidents becomes a top priority.
If you own a Volkswagen T-Cross in the Philippines and you want to get it insured then here is a quick breakdown of how much you will need to budget and save in case you want to insure it. If you are interested in getting car insurance, check out our insurance calculator if you have any inquiries or want to seal the deal with any of our insurance providers. You can get a quote for free with only a few clicks of your computer to get your vehicle protected today. You can also check out the rest of the model lineup of Volkswagen Philippines to see how much they will cost to insure using our insurance calculator.
How much does it cost to comprehensively insure a Volkswagen T-Cross
When it comes to insurance you will want to make sure that you get the best for your vehicle. In this case, getting comprehensive insurance is your best bet for bumper-to-bumper protection. It will also help protect you from expensive repairs that are related to any damages or incidents that may occur. It is important to note that policies will already come with a substantial set of features but the features will come at a price so make sure you pick out the ones that will best suit your needs and your budget.
For the Volkswagen T-Cross, the amount that you will need to pay to insure the crossover will vary depending on the variant of the model you have selected. In general, it will cost you between P23,000 for the entry-level model and P25,000 for the 180 SE AT variant for comprehensive coverage. However, since Volkswagen Philippines introduced a new 180 SE AT with the Advanced Information Display (AID), our insurance partners still haven't gotten around to pricing a policy for the variant, but it is estimated to be around the P26,000 mark or more.
That being said, here is what you can expect the cost will be to ensure your Volkswagen T-cross. Note that these will be the most expensive policies in place with the lowest amount of coverage, we highly encourage you to check out our calculator to compare and contrast other potential offers that might catch your eye from our selection of providers. These policies also don't include the special color options of the vehicle along with its special variant.
Volkswagen T-Cross MPI SE AT with AID - Price on Application (estimated P26,000 or more)
The insurance providers quoting these models include the likes of Mapfre, Malayan, Fortuner General, and FPG Insurance. It is important to remember that each of these providers has its own unique set of benefits and perks to their policies as well as different pricing. With that in mind, we encourage you to compare what they are offering and to check out the benefits of each policy to see which one will fit you the best.
Get the best deal - Choose multiple dealerships to compare offers!
You can compare quotations simultaneously from multiple Volkswagen dealerships. Select your preferred dealers from the list below.
Compare quotations from multiple dealerships in minutes.
Check vehicle and color availability.
Find info on special offers and promotions.
100% Hassle-free with no obligation to purchase.
Latest Features
The Celerio boasts a more recent design with a more fuel-efficient engine, while the Picanto is decidedly cheaper.

Find out who wins as we compared the Suzuki Dzire and the Mitsubishi Mirage G4, two equally equipped sedans that come with frugal gasoline engines.

The Fortuner is everywhere, but is it any good? Here are some nitpicks about Toyota's midsize SUV.
View More Articles