Some things are inevitable – like getting involved in an accident and losing your driver's license. Both suck, and while there's your insurance to cover for the damages in an accident, losing your license is an entirely different story.
Good thing (or is it?) one of our writers lost his wallet, so, he's able to share the step-by-step process of replacing a driver's license.
Step 1: Secure an Affidavit of Loss
Before you go to the nearest Land Transportation Office (LTO) branch, you need to secure an Affidavit of Loss from an attorney-at-law in a notary public office. It will cost you around P100 to P250, depending on where you'll get this legal document.
Bring an identification card to prove your identity, preferably a valid government ID like SSS, PhilHealth, or TIN card. Also, take note of the date you lost your driver's license as it will be included in your affidavit. Have it notarized and make sure that the address in your document is the same as what's indicated on your lost license so you won't have an issue with verification.
Step 2: Go to the nearest Regional LTO Branch
Although it's tempting to go to the not-so crowded satellite LTO Driver's License Renewal Centers (DLRC)—like the one in the Ayala MRT Station—license replacements aren't processed there. Basically, they can be processed anywhere else except DLRCs.
Bring your notarized Affidavit of Loss and proof of identity then proceed to the nearest non-DLRC LTO branch to start your application for a lost license.
Step 3: Get and submit the forms
Go to the Public Assistance and Complaints Desk to submit your Affidavit of Loss, proof of identity, and get the forms. Fill them out as indicated and submit to Window 2 (Student Permit/Driver's License Evaluator) so they could have them verified. Wait for your name to be called.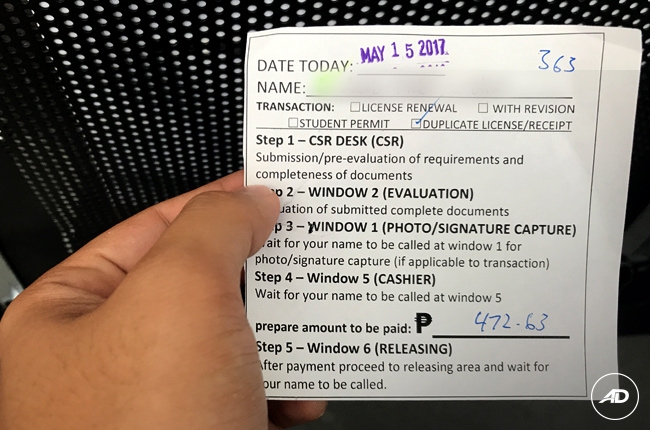 Step 4: Pay at the cashier
At Window 1 (Photo/Signature Clerk), they will give you a sheet that indicates the amount you need to pay. Take note that you won't need to retake your photo and signature as they already have them in their database. If you want to change your photo or address, that will be a different process altogether and may incur additional fees.
You will then be called at Window 5 (Cashier) to pay for the replacement license fee. As of this writing, the amount needed for a replacement license card is P472.63.
Step 5: Get your license card
Wait for your name to be called at Window 6 (DL/SP Releasing) to claim your new license card. Fortunately, the author was able to get his on the same day. In case license cards are not available in your LTO branch, just follow the instructions from the clerk in Window 6. Take note that the validity of your new driver's license card will be the same as the one you lost.
The entire process above will take you as fast as 30 minutes or up to 5 hours, depending on how crowded the LTO district branch is. It's that simple. Although, it's still simpler to not lose your driver's license, so always take care of your belongings.
Latest Features
Both are within the same price range but are in many ways different from each other.

The Chevrolet Tracker presents tempting design details and features that should be given much more attention.

Choosing the right vehicle is hard so we created a list of 10 vehicles that could tick all the right boxes for your current and possibly your future needs as a young professional.
View More Articles