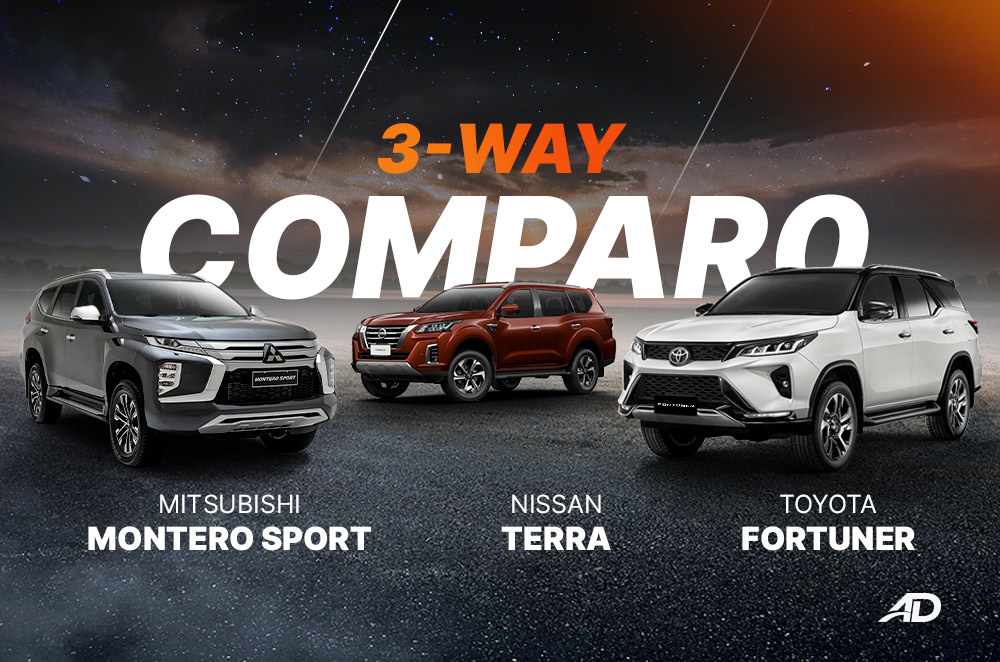 In the SUV segment in the Philippines, the Nissan Terra, Toyota Fortuner, and the Mitsubishi Montero Sport have all become household names in the country. These are the go-to models for those looking to get a feature-packed vehicle that can also double as a reliable family car. That said, these three models have all been recently upgraded and facelifted to become even more competitive than ever. With each model vying for the spot of the "best SUV" in the market, we compare each one in a three-way comparison spec for spec to find out which will come out on top.
Exterior
As technology has evolved, manufacturers have become bolder and better at designing their vehicles. Between the three SUVs, their respective manufacturers have taken different approaches to their design language. These give prospective customers a wider array to choose from that better suits their personal tastes.
The Toyota Fortuner takes a sportier approach to its new design while still giving an updated look it the rest of its model lineup. Its top-of-the-line LTD variant now comes with a different set of LED headlights, a new front bumper, and a redesigned grille to top it all off. This gives the Toyota SUV a much sportier design than its previous iteration further enhancing its already stellar appeal.
The Nissan Terra also takes a step further in its recent update as it now sports a new version of the automaker's V-motion design language. This has given the SUV a more rugged, boxy, and angular appearance compared to its predecessor. The upgrade has also given the vehicle a new set of quad-LED headlights along with a new bumper and a much larger grille than before. Minor changes have also been made to the rear and the sides of the vehicle to overall complement the front fascia.
The Mitsubishi Montero Sport, on the other hand, has improved its dynamic shield design in its latest update. This has given the SUV a much bulkier and boxier front end compared to its older model. Notably, Mitsubishi has moved a couple of the vehicle's lighting elements to its bumpers and has slimmed down its main headlights. Aside from this, the automaker has also reworked its tail lights to become shorter than before addressing the concerns of owners and prospective buyers from when the vehicle first launched in the country.
For this category, we will give it as a tie as each SUV comes with roughly the same exterior equipment over the other and only has negligible differences when it comes to its wheel and tire options. Aside from this, each SUV also has its own design language that is meant to cater to specific prospective buyers.
Winner: Tie
Interior
All the SUVs in this three-way comparison come with leather seats, great cargo space, and a 7-seater occupant capacity. This puts them relatively on equal ground with one another. Their configurations are pretty standard with only slight differences between each one. Legroom across the board is also similar with each one having the third-row being the tightest to fit into. All models with the exception of the Terra come with a power tailgate which puts the Nissan SUV at a slight disadvantage over its competitors.
The new Toyota Fortuner carries over the same cabin layout and dashboard design as its previous version. However, its recent update has given the vehicle a splash of color with its interior as it now comes with maroon accents for its LTD model. The seating material is still soft and comfort is still great with the Japanese SUV. Aside from this, the Fortuner also has Galaxy Black accents that can be found in a lot of its interior trim pieces as part of its update. That being said, the cabin creates a familiar space especially to pre-facelifted owners and everything is still easily within reach.
The Mitsubishi Montero sport also takes the same route as its fellow Japanese counterpart as it carries over the same cabin and dashboard layout as its previous iteration. Mitsubishi has upgraded its digital instrument cluster and has made it customizable. One thing to note is that the second row of the Montero Sport is in a fixed position as such it can only hinge forward to allow passengers to enter and exit the third row of the vehicle. That being said, it does help with cargo management as it helps create a flat floor when needed.
Like its updated exterior, the Nissan Terra has also gotten a few updates to its interior. While its cabin layout remains the same as its previous iteration its dashboard has been given a new look. The updated SUV now comes with a boxier and squared-off dashboard compared to its previous model. The infotainment system has been upgraded to a larger one and the SUV now comes with a new set of gauges as well as a new steering wheel with a flat bottom. Its center console along with the shifter has also been redesigned to give off a much sleeker appearance. A new larger accent trim piece has also been added to the vehicle which now comes with soft-touch material.
For this category, we give the win to the Nissan Terra as it has changed the most in its latest iteration. Not only has the automaker upgraded the exterior looks, but it has also updated the interior to match the new design. This gives owners and prospective buyers a familiar cabin but with a new look.
Winner: Nissan Terra
Technology
In terms of technology, all three SUVs are pretty evenly matched with one another with only slight differences between the two in terms of their functionality and infotainment screen size. All models also feature Apple CarPlay and Android Auto making it easier for the user to connect their smartphones to the vehicle.
The Nissan Terra comes out on top in terms of screen sizing as it has a 9- or 8-inch infotainment system depending on the variant you get. It also doubles as your 360-degree camera monitor giving you a better view of what is around the vehicle. It also comes with wireless Apple CarPlay and wireless charging giving it an edge over its competitors. It has also retained its 11-inch flip-down display for added entertainment for the passengers at the back. Unlike its other competitors, Terra does not have a power tailgate.
Coming in a close second to it is the Montero Sport as it can be head with an 8- or 7-inch infotainment system depending on the variant chosen. Similar to its Japanese rival its touchscreen display also doubles as a display for its around-view monitor. However, the SUV has an ace up its sleeve as it comes compatible with the Mitsubishi companion phone application that lets you control certain aspects of the vehicle with your mobile phone. On top of its out of the three SUVs, it is the only one to come with a 220V rear power socket allowing you to charge and operate larger devices. It also sports a power tailgate for added convenience.
Rounding off the three SUVs in terms of technology is the Toyota Fortuner as it too can be had with an 8- or 7-inch touchscreen infotainment system along with a 360-degree camera. This puts it on par with the rest in terms of functionality and connectivity. Just like its Mitsubishi rival the Fortuner also has a power tailgate.
For this category, we award it as a tie between the Mitsubishi Montero Sport and the Nissan Terra as they both come with unique features that aren't present in the other vehicle. The Nissan SUV comes with a bigger infotainment system, a BOSE speaker sound system along an 11-inch flip-down display for the passengers at the back. The Montero Sport, on the other hand, has its phone application along with its power socket to help it stand out from the rest.
Winner: Tie
Power
Under the hood, all the SUVs in this comparison come with powerful turbo diesel engines and an array of reliable automatic and manual transmissions options.
Coming with a 2.8-liter turbo diesel engine, the Toyota Fortuner comes out on top as the most powerful and as the vehicle with the highest displacement. The Japanese automaker has upgraded the engine to produce more power as it now pushes out 201 hp and 500 Nm of torque. This gives the SUV a more powerful punch compared to the rest of its rivals in this comparison. It is important to note that the Fortuner has a smaller 2.4-liter engine available for its lower variants that pushes out 148 hp and 400 Nm of torque. This puts these variants at a slight disadvantage in terms of power as the other SUVs in the comparison only come with one engine option that produces more power than this 2.4-liter mill.
Close behind it is the Nissan Terra, as it still has its reliable 2.5-liter turbo diesel engine. It still produces 187 hp and 450 Nm of torque just like before. It also carries over its 7-speed automatic transmission and 6-speed manual from its predecessor. It's a tried and tested formula that works well with the vehicle.
Last but certainly not least is the Mitsubishi Montero Sport as it too carries over its 2.4-liter turbo diesel engine. Unlike its other SUV rival, it still maintains its power output from its previous version. This means the Montero Sport still manages to push out 178 hp and 430 Nm of torque mated to an 8-speed automatic or 6-speed manual transmission.
With that said, we award the win for this category to the Toyota Fortuner. Despite its lower power output from its 2.4-liter engine, its 2.8-liter comes out as one of the most powerful engines available in the SUV segment to date.
Winner: Toyota Fortuner
Safety
All the SUVs being compared are in their top-of-the-line trims. This means that they come with all the bells and whistles when it comes to their safety equipment.
For its latest update, the Toyota Fortuner now comes with Toyota Safety Sense, which gives it access to a pre-collision system, a lane departure alert system, and adaptive cruise control. It also comes with standard features such as a host of airbags located in key parts of the vehicle and ABS with EBD. Other safety features for the SUV include a panoramic view camera, front and rear clearance sensors, vehicle stability control, hill start assist control, and downhill assist control.
The Mitsubishi Montero also comes with similar safety features as its Toyota rival but with additions such as a forward collision mitigation system, a blind-spot warning with lane change assist feature, an ultrasonic misacceleration mitigation system, and a rear cross-traffic alert system. It also comes with standard features such as 7 airbags, parking sensors, and a multi around view monitor.
In a similar case to its Mitsubishi rival, the Nissan Terra also carries over some of its features from its previous model. The SUV now has a new version of the brand's Nissan Intelligent Mobility system that gives it access to an around-view monitor, intelligent rearview mirror, forward collision warning, intelligent emergency braking, lane departure warning, blind-spot warning, rear cross-traffic alert, intelligent driver alertness, and a tire pressure monitoring system.
For this category, the Nissan Terra still leads the pack thanks to its Nissan Intelligent Mobility system that gives it access to a great number of safety features. It is also important to note that these features are also available with the 4x2 VL variant of the SUV and some even trickle down to the EL and VE models.
Winner: Nissan Terra
Price and Verdict
When it comes to pricing all three SUVs are within the same range as one another. All three have entry-level models that can be had for a little above the P1,500,000 and their top-of-the-line variants all cost well above the P2,200,000 mark. This puts them on relatively even ground with one another with only a couple of hundred thousand pesos separating them.
In terms of the entry-level variants, the Mitsubishi Montero Sport takes the cake as it has the most affordable model that can be had for P1,568,000. Close behind it is Toyota Fortuner as its entry-level variant can be had for P1,633,000. Rounding it out is the Nissan Terra with its entry-level model being priced at P1,649,000. This makes the Terra the most expensive SUV out of the two in terms of its most affordable models. However, it is important to note that Nissan SUV does come with more equipment standard equipment than the other SUVs garnering its more expensive price tag.
On the other end of the spectrum, the Toyota Fortuner comes out as the most expensive SUV for its top-of-the-line model as it is priced at P2,414,000. The Nissan Terra comes out in the middle with its top-tier variant being priced at P2,354,000, and the Mitsubishi Montero Sport comes out as the most affordable as its range-topping model is priced at P2.298,000. It is important to note that all of these models come with a derivative of a 360-degree camera and several safety features that make them all the more enticing.
Winner: Mitsubishi Montero Sport
Overall verdict
With that said, the Fortuner, Montero Sport, and the Terra all address their own niches in the market and come close to one another in terms of specifications. The Toyota Fortuner now has more power under its hood, the Mitsubishi Montero Sport has gained more tech to match its futuristic design, and the Nissan Terra has gotten a makeover that has also given the vehicle a refreshed interior along with new technology that makes it a great purchase to consider.
The overall win for this three-way comparison goes to the Nissan Terra. It comes in the middle of the pack in terms of pricing, but makes up for it when it comes to the features that it offers. It may still come with the same engine and transmission options from its previous model, but it's a tried and tested formula that has worked well for the SUV and still holds true today with its latest version.
Whichever model you choose from these three, you are guaranteed to get a great SUV that comes loaded with features. Each one comes with a great amount of power under the hood from their reliable and torquey turbo diesel engines, each can seat seven occupants comfortably, and each has gotten new safety upgrades to make them even safer. With that said, it's still down to your personal preferences and budget considerations to pick the one that best fits your needs.
Overall winner: Nissan Terra
Get the best deal - Choose multiple dealerships to compare offers!
You can compare quotations simultaneously from multiple Nissan dealerships. Select your preferred dealers from the list below.

Compare quotations from multiple dealerships in minutes.
Check vehicle and color availability.
Find info on special offers and promotions.
100% Hassle-free with no obligation to purchase.
Latest Features
The price of insuring your car usually varies depending on the model of your choice.

It seems that hybrid cars are starting to normalize in the Philippines.

What do you consider when buying a family car?
View More Articles