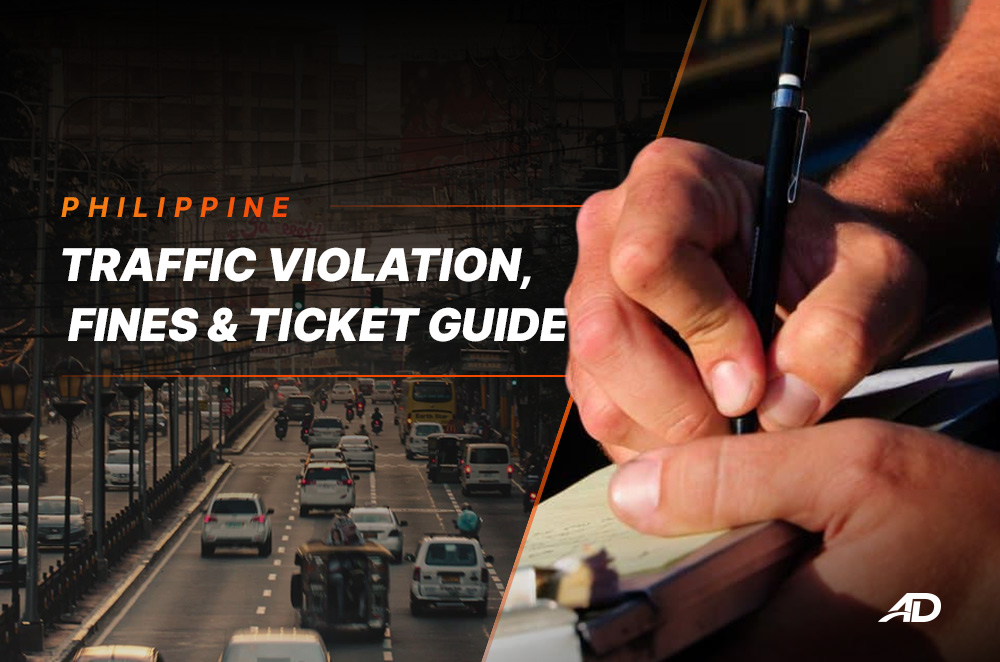 Being apprehended by an enforcer can be a daunting experience especially if you don't know the codes that the enforcer is writing on your ticket. With that said we have created a quick guide to help you out. This guide will have an overview of traffic violations along with the penalties and fines that these might incur. Also included in the guide are non-traffic-related violations that you might get in the event that you are apprehended.
Traffic violations and fines
For traffic violations and their corresponding fines and penalties, we have included a list from the MMDA website. These violations will come with a code tied to them along with a brief description of the violation. The list also includes the fines you need to pay along with any corresponding penalties that might be tied to the offense.
Anti-distracted driving act
One notable violation to be informed of is the Anti-distracted driving act or otherwise known as Republic Act No. 10913. This law was passed in order to for the motoring public to keep their eyes on the road. It was cited that distracted driving was one of the major causes of crashes in the Philippines. As such the act prohibits the following actions while driving
Making or receiving phone calls

Writing, sending, or reading text-based communications

Playing games

Watching movies

Reading e-books

Composing messages

Surfing or browsing the net
How do I pay for these violations?
Depending on who apprehends you and where you were apprehended, you will either need to go to the nearest city hall to pay for your penalties or you will need to proceed to the nearest MMDA headquarters.
Will they confiscate my license?
Depending on your violation the MMDA or traffic enforcers may need to confiscate your license. However, if the offense you committed is a minor one they will often just need to check your license in order to see if you can drive a vehicle.
How do I contest a ticket?
If you think you were wrongly apprehended for a violation you can contest your traffic ticket. You can do this by writing a letter stating what happened to you and state why the officer was wrong and why these allegations for your violation should be dismissed. It is important to note that there is no prescribed form in which you should write a letter contesting your violation, however, it is advisable to make it as an affidavit to help better your chances of winning the dispute. Make sure that you file your contest letter within five days of your violation otherwise it will not count.
These are the following steps that you need to take in order to dispute a ticket.
Draft your letter of contest

File your written contest letter along with a copy of your vehicle's OR and CR along with any other evidence you might have. Also, have an affidavit of your passenger submitted if applicable.

Attend the hearing for your violation

Wait for the decision

Receive the resolution/ decision of your case.

Head to the cashier and pay for any fines you might have

Get your driver's license

Make sure that you have a photocopy of your vehicle's OR/CR at the ready along with the official receipt from the cashier if any payments were needed for your case. Make sure that you also have a copy of the resolution/ decision of your case as well at the ready. Once these are all submitted you can now get your license back.
Aside from the standard traffic violations, there are other laws that you will need to take note of. These can be added to your ticket during your apprehension if you are found guilty of any.
Driving without a license
Before you head out for a drive make sure to always bring your driver's license with you. This will serve as proof that you are qualified to operate a motor vehicle. If you get caught without this critical document, you could face stiff penalties, a suspension of your license, or it could be revoked. That said the Land Transportation Office (LTO) would like to remind motorists that a driver's license is not a right, it is a privilege.
Expect to pay P3,000 for driving without a license.
Not wearing a seatbelt
A seatbelt is one of the most important standard features a vehicle will modern vehicle will have. In the event of a crash, it is designed to hold you in place and will prevent you from hitting other parts of your car and from being thrown out of it. Even for short trips, it's highly recommended that you always wear a seat belt, this applies to both the driver as well as to passengers.
If you are caught not wearing a seat belt you can expect to pay the following fines.
First offense P1,000

Second offense P2,000

Third offense P3,000
Driving under the influence
Driving under the influence of any substance that may hinder your ability to drive the vehicle is very dangerous. If you drive under the influence you will not only pose a danger to yourself but to other road users as well. As such the LTO has imposed stiff penalties for those who break this law.
Expect to pay a fine of P5,000 or more if you are caught along with a possible 12-month suspension to your license for non-professional driver's license holders. For those with professional licenses, this equates to an immediate cancellation of your license for the first offense.
Careless driving
As a driver, you should always be wary of others on the road. Make sure to turn your signal lights when changing lanes and to drive defensively. Failure to do any of these things along with ignoring traffic signs can lead to some serious accidents and increase the chances of you getting a ticket.
Here are the corresponding fines if you are found to be guilty of reckless driving.
First offense P2,000

Second offense P3,000

Third offense P10,000
Driving without a valid vehicle registration
One of the most important documents that you should have a copy of while driving your vehicle is its registration. This is proof that the vehicle you are driving belongs to you are is at least registered by the LTO. If you do not have this document in your vehicle when you get apprehended you are in for a big fine.
Expect to pay a fine of P10,000 or more if you get caught driving your vehicle without a valid registration.
Driving a right-hand drive car
As many of you might already know, the Philippines is a left-hand drive country. This means that the driver's seat and the steering wheel are located on the left side of the vehicle. Driving a right-hand drive vehicle in the Philippines is prohibited according to Republic Act No. 8506. This applies both to private and public roads.
For this violation expect to pay P50,000 and possibly have your vehicle confiscated or impounded.
Illegal vehicle modifications
Driving without properly authorized devices
As the name suggests these are penalties for vehicles that have improper modifications done to them. These mainly revolve around aspects of your vehicle that when modified may pose a safety risk to those around you.
This violation includes:
Modifications to the done to the brake system of your vehicle

Modifications that were done to the lighting system, headlights, corner lights, interior lights, and headlights

Illegal blinkers that aren't amber

Warning devices

Horns

Other modifications that may endanger other road users
If your vehicle is found to have any of the aforementioned illegal modifications prepare to pay a fine of P5,000.
Driving with an improper or unauthorized license plate
When it comes to vehicular license plates may it be official or temporary, the LTO has very specific guidelines for these. If the plates are temporary these must display the dealership that the vehicle was bought in, the region, the MV file, as well as the conduction sticker number of the car. For motorcycles, it is in a similar format but with the MV file number taking center stage instead of a conduction sticker number.
Smoke belching
All vehicles new or old all must pass certain environmental standards in order to be legally allowed to drive on the road. This why all cars must go through emissions testing. If it fails the test, the vehicle will not be allowed to renew its registration. In the event that the vehicle's condition deteriorates after it has initially passed its emission testing, the LTO and the MMDA can still apprehend you for smoke-belching.
If you are apprehended and your vehicle fails the on-the-spot emissions testing prepare to pay the following amount.
First offense: P2,000

Second offense P4,000

Third offense: P6,000
Latest Features
Both are within the same price range but are in many ways different from each other.

The Chevrolet Tracker presents tempting design details and features that should be given much more attention.

Choosing the right vehicle is hard so we created a list of 10 vehicles that could tick all the right boxes for your current and possibly your future needs as a young professional.
View More Articles