The Philippines is known to be a hot country due to it being situated near the equator. Sometimes, it feels like 360 out of the 365 days in a year are hot by default, an exaggeration we know most would agree. Since there are more hot days than crisp, people are often irritable, add up the daily bumper-to-bumper traffic—perfect recipes for road rage.
However, being in a hot climate isn't enough of a reason to act childishly on the road, especially when being apprehended by a traffic enforcer. It is important that we train ourselves in handling our temper, given any situation to achieve proper order on the road. As intellectual people say, you can't put out a fire by bringing in more fire. That said, here are some tips and advice when dealing with a traffic enforcer.
Traffic apprehension protocol
Before we give you tips on how to act cool on a traffic stop, you better make sure you know how traffic enforcers are instructed to apprehend motor vehicles. The Metropolitan Manila Development Authority (MMDA) has guidelines for traffic apprehension. According to MMDA's website, there are seven steps, which a traffic enforcer should carefully observe.
In flagging down a car, traffic enforcers must lead it to an area where traffic will not be obstructed. Enforcers should then inform the driver about his violation courteously and clearly before asking for the driver's license (not confiscate), vehicle registration, and other documents. These documents will then be verified from the Central Database. If there are any existing violations, the driver will be informed, again, courteously. The corresponding enforcer on the scene should accomplish the Traffic Violation Receipt promptly. A copy will be given to the driver, as well as the information about where to pay the corresponding fee.
Believe it or not, MMDA even has a dialogue templated for traffic enforcers to use. Here's their exact example of how an enforcer should greet and converse to an apprehended driver: "Good Morning, Sir/Madam. I am Traffic Officer Juan Dela Cruz. You violated a traffic rule; you obstructed the flow of traffic. Under MMDA law (R.A 7924) I am authorized to confiscate your license should there be a need to do so. May I have your driver's license, please. You are also requested Sir/Madam, not to alight from your vehicle."
Stay calm and don't overthink
Beginner drivers are known to make bad decisions. However, not only beginner drivers but also first time apprehended motorists are also susceptible to panic and overthinking when flagged down by an officer. Remember, overthinking leads to poor decision-making that can make things even worse. Instead, keep it together, hands on the wheel, and wait what the officer has to say. If you know your mistake, good for you. But even if your violation is bad, there's no reason to panic.
Listen to what the enforcer has to say first
Before you try to defend yourself, try to listen to what the enforcer has to say. We know fishy traffic enforcers exist but you can't solve the situation while being hostile and aggressive. As you roll down the window, try to condition yourself or do a short meditation, as it could help you ease your mind. The only time you can contest is after you've listened to what violation you are being stopped. But even so, you have to do it calmly and courteously – even when the enforcer is not calm in the first place. Remember, you can't kill fire with fire.
Remain inside the vehicle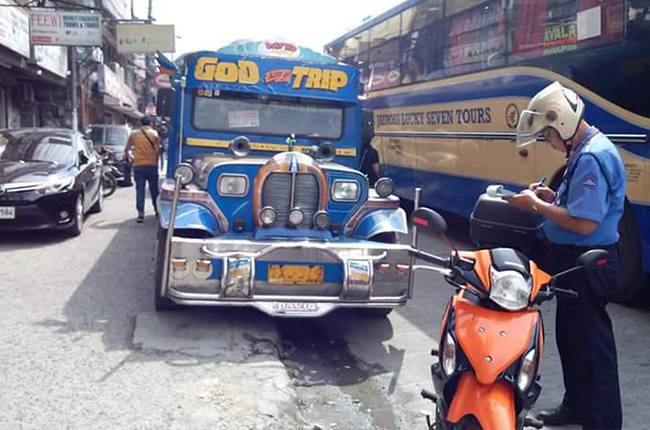 Traffic stops are done considering both the driver's and enforcer's safety. For your safety, you are required to stay inside the vehicle unless you're being stopped for driving under the influence (DUI) or other major violations, including a felony. You will be asked to step out when there's a test to be performed or if you are being arrested on the scene but it could only be done by the local police. When an MMDA enforcer asks you to step out, you have all the right to say no and request for their mission order.
If you notice something suspicious…
Remember that you have the right to ask for the enforcer's name if the nameplate isn't clearly visible. This will be useful if you find anything suspicious in his/her actions. In case you're not convinced about the reason on why he/she is stopping you, you may address it in two ways: 1) you may submit a letter of complaint to the Traffic Adjudication Board (TAB) within five days from when the apprehension took place and 2) you may email your concerns to email@mmda.gov.ph.
If you ever find yourself in an argument, you may directly call 136, which is MMDA's official hotline. You may also dial the Metrobase at 255 to bring up your concerns regarding the person who's responsible for stopping you.
Do not attempt to bribe
Bribing is probably the easiest way to get out of the situation despite being an illegal act. Believe it or not, it is a form of a criminal offense punishable under Articles 210-212 of the Revised Penal Code of the Republic of the Philippines. Yes, bribing the enforcer with P50 to P200 is as serious as possibly getting locked up in jail so you better not plan on doing it. If it is clear that you violated a law, face the consequences and learn from it and don't risk to make it worse.
Be considerate to traffic enforcers
Traffic enforcers are exposed under the sun for almost the entire day, as well as smoke, rain, and sweat. Sometimes, a little consideration is just enough to make the best out of any situation, particularly during apprehensions. If you notice a slight high pitch in his/her voice after flagging you down, greet the enforcer courteously and address your observation nicely. Correct us if we're wrong, it wouldn't hurt to be the better person in a heated situation.
Note: All photos without watermark are courtesy of the Metropolitan Manila Development Authority via its Facebook account.
Latest Features
Here's a quick guide on how to contest a No Contact Apprehension Notice of Violation specific per city.

Remember that road surfaces can get slippery when wet and driving in the rain takes more concentration than driving in the dry.

Getting insurance for a modern MPV like the Geely Okavango is the right call to make. Here's how much it would cost.
View More Articles