In the Philippines, you're bound to hit traffic, and for many of us who are wallet-conscious, a gas-guzzling car just simply won't do in situations like that. There are fuel-saving tips like staying on top of your maintenance or coasting with your vehicle as often as you can and choosing to go at the right moments, however, why not just get a car that does all the fuel-saving for you?
So here's a top 10 list of the most fuel-efficient cars that we've tested on AutoDeal. We'll use the city figure that we get during our testing period in order to curate the list. So without further ado, let's get into it.
Suzuki XL7 & Mitsubishi Xpander Cross - 9 km/L
Kicking off the list is a tie. 7-seaters aren't particularly known for their fuel economy, but we just had to mention these two rivals, the Suzuki XL7 and the Mitsusibhi Xpander Cross are both pretty good in terms of city fuel economy. Sitting in traffic we managed to extract a 9 km/L figure from the two models. Both have 1.5-liter 4-cylinder engines and 4-speed automatic transmissions, and both are plenty capable for your day-to-day tasks and then some. It doesn't hurt to take these sizeable autos out on Metro Manila's streets because they're so frugal. Choosing between the two will depend on if you want a Mitsubishi or a Suzuki. Either way, both are Japanese, and both will give you a good city figure in traffic.
Toyota Wigo - 10.5 km/L
The Toyota Wigo, in many respects, is the quintessential city car for the Philippines. Due to Toyota's prominence in the country, and the brand loyalty that many Filipinos have for the Japanese marque, it only makes sense that one of the most popular small hatchbacks in the market, has quite a bit of good that comes with it. We did get a figure of 10.5 km/L during our testing, and it supremely spacious inside. Carrying all that weight is a small 1.0-liter 3-cylinder motor mated to a 4-speed automatic. The platform is a bit on the older side, however, we will say that if a new transmission option were to be introduced, it could bump this model higher up the list, but it is still pretty good the way it is currently equipped.
Suzuki S-Presso - 11.0 km/L
The tiniest and most affordable, yet tallest small hatchback in the Suzuki family is the Suzuki S-Presso. Based on the Celerio, it has a 3-cylinder 1.0-liter engine that produces just enough power to get it up to speed nicely, but more than enough to net you a figure of 11.0 km/L in the city. Though traffic was lighter during our testing, and the only transmission option available is a 5-speed manual. We can expect a higher figure or the same figure when traffic normalizes, and with the addition of a CVT, which the aforementioned Celerio has.
Suzuki Celerio - 11.1 km/L
The smallest Suzuki nets a figure of 11.1 km/L in the city. With this affordable hatchback, the Suzuki Celerio, you even get the added luxury of an automatic transmission. It's not a 4-speed gearbox either, it's actually a CVT, which is rather advanced considering the price point that this car occupies. Mated to a 1.0-liter 3-cylinder motor, the Celerio won't blow your skirt up or knock your socks off, but it'll save you a few thousand at the gas station per year.
Hyundai Reina & Kia Soluto - 10.8 - 12.0 km/L
Also another holdout from 2019, the Kia Soluto and Hyundai Reina. Both models are based on the same platform and come with the same powertrain. The only difference is the outer shell and the interior bits. You can expect figures of up to 12 km/L for the pair, and performance-wise, we're looking at a 1.4-liter 4-cylinder engine with a 4-speed automatic for the top of the line model. Though, if you do get a manual and incite more driver-involvement, you can expect that figure to drop down slightly, though that just means that clutch work and more practice could be a factor.
Both models are pretty affordable, and you are dealing with different feature-sets depending on the brand that you go with. They're both mostly the same feature-wise, but the big decision that you will have to make is whether you're good to go with a sharper and edgier look or a more subdued and understated look.
Kia Picanto - 12.0 km/L
As the smallest offering in the Kia lineup, the Kia Picanto makes for a great daily driver that is easy on the eyes and easy on the pumps. Filling up this little tyke will all be worth it, as it only sips 12 km/L worth of fuel while stuck in the bumper to bumper traffic of Metro Manila. It's very fuel-efficient even with a traditional 4-speed automatic, and if that's not enough, you can even get a 1.0-liter option, which we reckon could do as good if not better than this tiny wonder from South Korea.
Toyota Corolla Altis Hybrid - 14.2 km/L
The catalyst and the platform that spawned the Corolla Cross, the Toyota Corolla Altis Hybrid still nets top honors for fuel efficiency for 2020. 14.2 km/L is impressive, but mixed with some of the highest highway figures makes it one outstanding fuel-sipper. Equipped with a 1,8-liter gasoline motor and a hybrid system, the Altis makes quick work of stop-and-go city traffic through the use of its EV mode and electric motor. Provided everything is charged well and properly, you can expect 14.2 km/L or more depending on your use with the compact sedan.
Toyota Corolla Cross Hybrid - 16.0 km/L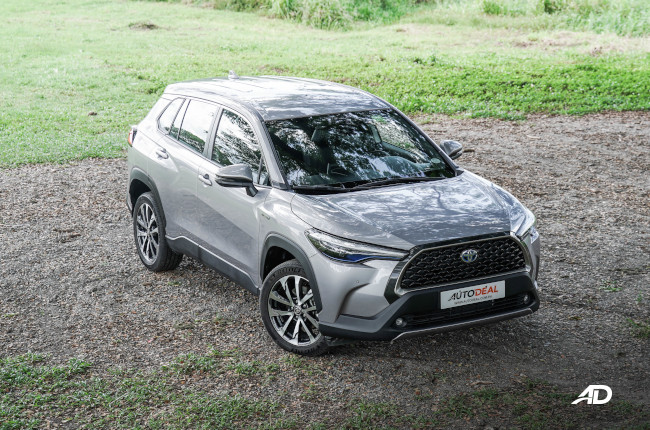 Not trailing too far behind is the Toyota Corolla Cross Hybrid, while its sedan brother, the Corolla Altis gets a lower rating, it could be because of the difference in traffic. We did get the sedan in 2019 when traffic was more normal, and the Corolla Cross so happened to be tested in different circumstances. Still, we cannot deny that even in "new normal" heavy traffic, the Corolla Cross is an outstanding fuel sipper, clocking in at just 16.0 km/L in bumper-to-bumper city traffic.
Hyundai Ioniq Hybrid - 16.1 km/L
It comes as no surprise that a hybrid car still tops our list in terms of fuel economy in the city. A full-on hybrid from Hyundai, the Ioniq is a model built from the ground up with an electric motor and Atkinson cycle engine to match. Fuel efficient as a gasoline engine, and further enhanced by the electric motor, the vehicle sustained 16.1 km/L during our tests and is pretty good as a regular car down the road.
Latest Features
Stored Motor oil can still be used, provided they are within the manufacturer's recommendations of time and storage.

With a ton of features to list, here are five that we use all the time in the Nissan Terra.

For those that want a little bit of everything, the Subaru Outback has the space, the features, and the powertrain for more than just family trips.
View More Articles