More and more car brands have implemented their new price list in accordance to the Tax Reform for Acceleration and Inclusion (TRAIN) Act. This week, find out how the updates from BMW, Chevrolet, and Subaru affected their prices.
BMW quietly introduced its prices this week featuring six-digit increases and decreases. The 1-series, 3-series, 4-series, 5-series, X1, X4, X6 increased its prices by as much as P1-million. In addition, the 7-series had the highest hike ranging from P1- to P1.5-million. The M2 Coupe, X5 M, and X6 M, on the other hand, received huge roll backs.
Chevrolet also updated prices for its vehicles…well, at least for its new ones. The Cruze compact sedan, Malibu midsize sedan, and the Captiva crossover didn't see any movement with their SRPs. Meanwhile, the Spark, Sail, Trax, and Trailblazer all received increases. As for the Colorado and Suburban, car buyers would be delighted to know that its prices dropped by as much as P118,000 and P900,000, respectively.
Lastly, Subaru joined the TRAIN party late this week. It's whole line-up received a 5% change to its SRPs, increasing it by as much as P130,000.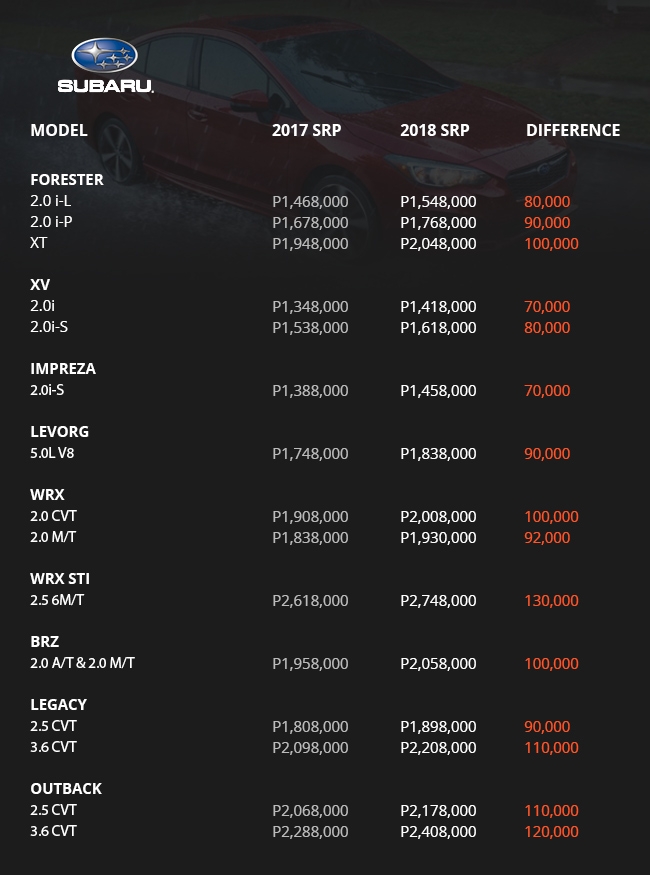 As of this writing, Honda, Toyota, Lexus, Foton, Ford, Mitsubishi, Kia, Mazda, Isuzu, and Nissan have implemented the new excise tax on their price tags.
Latest Features
Power-to-weight ratios are not rocket science. In fact, it's a pretty simple computation if you're willing to take a moment to learn.

The Mitsubishi Strada may not have the biggest bed or the highest payload capacity, but it makes up for that in terms of its driving dynamics.

Unsure about the Number Coding scheme in the Philippines? Our complete guide provides comprehensive details on everything from coding days to window hours in all locations affected by the Nu...