More and more car brands have implemented their new price list in accordance to the Tax Reform for Acceleration and Inclusion (TRAIN) Act. This week, find out how the updates from BMW, Chevrolet, and Subaru affected their prices.
BMW quietly introduced its prices this week featuring six-digit increases and decreases. The 1-series, 3-series, 4-series, 5-series, X1, X4, X6 increased its prices by as much as P1-million. In addition, the 7-series had the highest hike ranging from P1- to P1.5-million. The M2 Coupe, X5 M, and X6 M, on the other hand, received huge roll backs.
Chevrolet also updated prices for its vehicles…well, at least for its new ones. The Cruze compact sedan, Malibu midsize sedan, and the Captiva crossover didn't see any movement with their SRPs. Meanwhile, the Spark, Sail, Trax, and Trailblazer all received increases. As for the Colorado and Suburban, car buyers would be delighted to know that its prices dropped by as much as P118,000 and P900,000, respectively.
Lastly, Subaru joined the TRAIN party late this week. It's whole line-up received a 5% change to its SRPs, increasing it by as much as P130,000.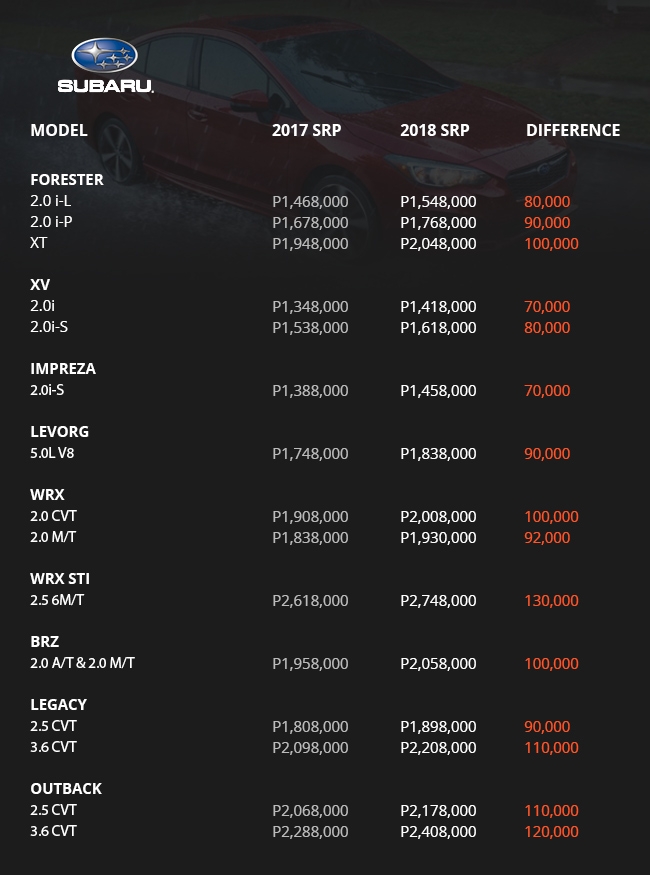 As of this writing, Honda, Toyota, Lexus, Foton, Ford, Mitsubishi, Kia, Mazda, Isuzu, and Nissan have implemented the new excise tax on their price tags.
Latest Features
With the two engine options, it gets a little more confusing to decide which variant is going home with you, so here's our recommendation.

Let's break down the differences between a station wagon and a hatchback.

Today, we talk about the common types of suspensions found on modern cars today and why they're important.