Ford vehicles come in all shapes and sizes for every Juan to enjoy. Whether you're working the farm or driving your family through the sea of traffic, Ford has something that can fit your needs and your lifestyle.
We have a feature on our website's various car guides that allow users to review their automobiles. Only verified buyers get to use this feature so even browsing through can net some pretty interesting anecdotes depending on the vehicle that you're looking at.
As such, we've decided to compile a handful of reviews from some very satisfied customers from Ford Philippines. Take note that there's more to read by visiting our car guides and browsing the content on the page. Some of these reviews were written after six months, and since a lot of shoppers are buying the Ford Ranger and the Territory (Ford Philippines' best-sellers) it's no wonder that there are so many reviews of these two units. Apparently, Ranger owners are quite vocal about how good their cars are, and that's quite understandable given the heritage and the track record of the model.
The first few months of ownership tend to be the most magical. You get the new car smell, the new gadgets, and all the new experiences that come with driving something novel and new. Adapting your car to your new lifestyle is rather fun, and it tends to be a rather novel experience. You'll experience a lot of firsts if you've never owned something similar, and the experience of a new Ford Ranger pushed one of its buyers to call it "the beast."
Mr. S Quillon Harrison took a more balanced and specific approach to his review of the top-of-the-line Ford Ranger 2.0 Bi-Turbo Wildtrak 4x4 AT. Most mainstream vehicles get a lot of features because a lot of consumers pay attention to specifications especially when shopping for an everyday car with a limited budget. Ford has been giving top-shelf features for quite some time now, and as Mr. Harrison puts it, "the amount of technology in it is [on par] with a Mercedes-Benz." The engine and interior of the Ranger are to his liking as well, but like every good reviewer he gave a few cons. We will agree that the 2.0 Bi-Turbo engine tends to get a little thirsty for fuel and that pickup trucks in general offer a less-than-stellar ride when compared to sedans or even crossovers. Overall Mr. Harrison's review states good and bad points in a fair manner.
So with those reviews out of the way, after six months of ownership, what it's like to own a Ford? We're happy you asked because after the new car smell wears off and you get used to the car day-in and day-out, that's where some more critical input creeps in and we have just the feature for that.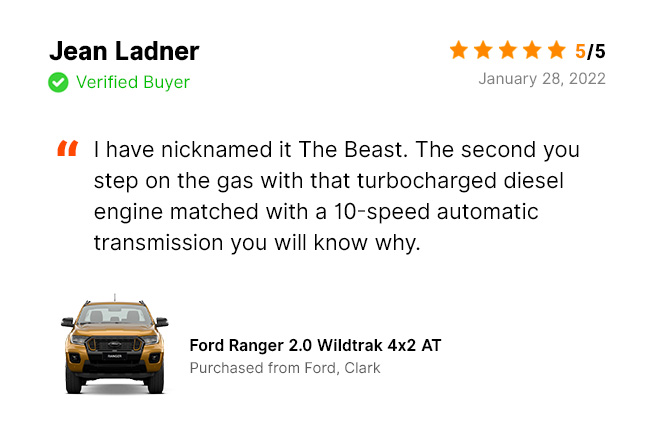 Mr. Jean Ladner was so impressed by the performance of Ford's midsize pickup truck even after six months that he nicknamed it the beast. Yep, diesel engines tend to do that for you. The rush of torque you feel the "second you step on the gas" spoke to Mr. Ladner, and we totally agree with him. With 420 Nm of torque to play with, it's no secret that the Ford Ranger 2.0 Wildtrak 4x2 AT can deliver copious amounts of adrenaline when the accelerator is stabbed with determination. Now we're left to wonder, what if Mr. Ladner got the 4x4 version with 500 Nm of torque? What would be the name of his truck in that parallel universe?
Sometimes, it's better to go with the most capable variant in the lineup. That's the case with Mr. James Canete who purchased a Ford Ranger FX4 4x2 AT. Although he didn't expound much on his personal use case with the 4x2 FX4, for people considering using the Ranger as a farm machine or a trail-ready rover, then it's a definite necessity to have a 4x4 system. Consider your use case whenever you purchase a vehicle and you're sure to live happily with it for a long time.
Then it's on to some complaints. Some cars start to exhibit problems after a few months, and there are some pretty valuable pieces of information from some of our buyers. Mr. Manny Escribir mentioned fogging outside of his windshield and rain in the late afternoon while driving. Perhaps the problem is associated with the inside temperature of the cabin due to the air conditioning system being on and the temperature differential of the outside. An easy way to solve this problem is to turn up the heat a little and face the AC vents away from the windows. Though, we will admit that fog can get even some more expensive vehicles. Other than that minor complaint, Mr. Escribir still gave his car a 4.5 out of 5.0 rating.
Now it seems like we're going on and on about Rangers, but the Territory is making quite a few people smile as well. After six months of ownership, an anonymous reviewer mentioned that his vehicle did not have a new car smell, perhaps during his first few months of ownership. Ford messed up big time in this area! The new car smell is one of the most coveted in the world, it's sad to hear that the Territory he got was ill-equipped in this area. Following that there are a few minor complaints that tend to plague some cars as well, like the push-start button being obscured by the steering wheel. A few of us notice this at times, and the key is building muscle memory to easily start and stop your vehicle's engine. For his complaints with the brakes, however, that's quite normal for a lot of cars especially after the brake rotors have bedded in and the pads are partially worn. After a few kilometers, however, the brakes will work as normal. Lastly, the thud when engaging the reverse gear is not so alien to many cars, but best check with Ford in case it is an issue that can be solved right away.
Latest Features
The Emkoo is something special from GAC in the Philippines. Priced just right and equipped even better, it's a stunner.

Now we have the basics in check. Compulsory Third Party Liability Insurance policies are now available on AutoDeal.

These alternative parking solutions can help keep your vehicle safe in times of severe typhoons and flooding.
View More Articles