There are expert reviews of the Mitsubishi Mirage G4 and Mirage Hatchback and a lot of naysayers that will tell you that it's not that great of a car. However, there are plenty more satisfied owners that have bought and enjoyed their sedan for quite some time now. Since its launch in 2013, the little Mitsubishi was a hit in the ASEAN and the Philippine markets. That being said, a small car with a frugal engine in the hustle and bustle of a busy Metro Manila will pay dividends over the long run, with a reliable track record, a Japanese name brand, and practicality to boot.
While we've gone on about how the Mirage makes sense on Philippine roads, and how it's still a practical pick, take it from the people that actually bought the car and use it. Here's what owners had to say about their Mirage G4 sedans in our owner reviews section of our car guide. If you want to see the reviews, click on the link below.
The Score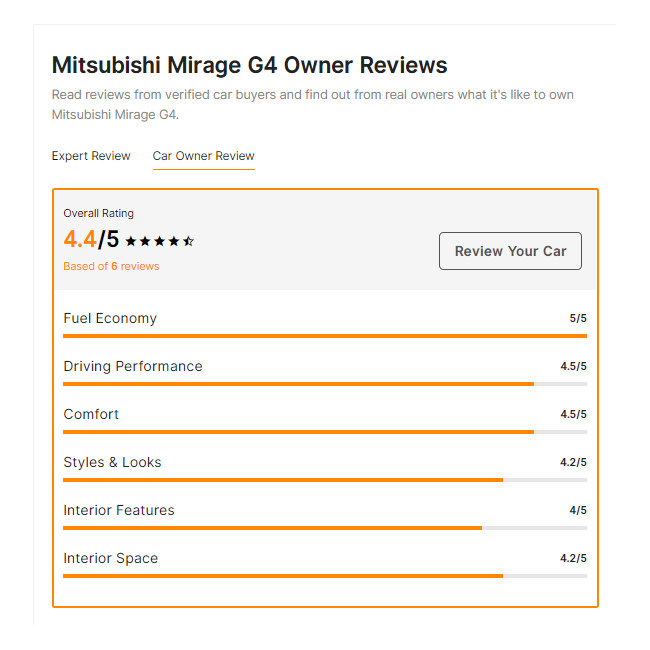 While we're hard-pressed to give high scores to a lot of the cars, but there are some people that are very appreciative of their purchase. In terms of scores, the Mirage G4 was able to score a 4.4 out of 5. The highest rating was the fuel economy score which was rated at a perfect 5 out of 5.
Surprisingly, people also enjoyed the driving performance of the Mirage, giving it a 4.5 out of 5 average. Truth be told, to the average driver, smooth and reliable performance often are top of mind for a car that will be used day in and day out of city traffic. That being said, the Mirage also ranked high in the comfort department. The unibody chassis and Mitsubishi's tried and tested engineering allowed the Mirage to get a 4.5 out of 5 in this criterion.
The rest of the ratings are above 4 points, and the total aggregated score is 4.4 out of 5.
"COMFORTABLE:)"
The smile at the end of the review says it all. A review submitted by an anonymous buyer was simple and straightforward. Considering that fuel economy is a perfect 5 out of 5, we're pretty sure his wallet is also sitting happily in his back pocket or a cubby hole in the car.
As to our experience, riding in a Mirage G4 is not too luxurious, however, it is a respectable ride. That being said, we'd much rather be in a sedan on EDSA than in a pickup truck.
"I love my wine red Mitsubishi Mirage G4 GLX."
Ana Kristine Jacinto says that she loves her car, and quite frankly, the Wine Red is indeed a stunner of a colorway to have it in. It's not your normal color red. It's got a deep hue to it that makes it catch your eye. She scored her car a 5 out of 5.
While it may not be for everyone, the Wine Red of the Mirage G4 does make for a great paint job. Under different lights, it may look violet, and under other lights, the redness shines through. It's a bit of a chameleon in that regard, and it's one of the better colors in the lineup.
"I'm happy that I've got one great car like this."
The review reads as follows:
"This is my third brand of car and I'm happy that I've got one great car like this. It is very economical and the design is unique! Then, experiencing driving different brands of cars made me satisfied! Thank you!😍"
Zenaida Rosario was extremely satisfied with her purchase. It appears that fuel economy and the unique design tipped the balance in favor of the Mirage when she was making the purchase. She also mentioned that she was able to test drive other brands of vehicles through the AutoDeal platform, which connected her to multiple dealerships that were easily accessible to her. The Mirage G4, according to her review, is her third car, and she is more than happy to add it to her garage.
This leads us to an important note. While reading and watching news and reviews of cars that you want to purchase is all well and good, there is simply nothing like getting behind the wheel of the one you want to purchase. There are also other models that directly or indirectly compete with the Mirage, like the Toyota Vios, and even the Nissan Almera. Price-wise, and features-wise, the Mirage sits in a nice spot, granting its owners quite a bit of kit and practicality.
Get the best deal - Choose multiple dealerships to compare offers!
Select up to 5 dealerships and compare their offers
Over 70% of dealers reply within 1 hour
100% hassle-free with no obligation to purchase
Latest Features
Battery banks that can jump-start your car. Here are the top five best we've seen available online.

We list down the most fuel-efficient sedans for city drives in the Philippines, ranging from small to mid-size models.

When it comes to all-electric crossovers, BYD knows their stuff. They know what it takes to make electric great.
View More Articles