Nissan is a popular brand in the country. The Japanese automaker has been around in the local automotive market for quite some time now and has built itself a great reputation. With the brand recently launching a newly refreshed lineup of vehicles in the country, it begs the question, are Nissan vehicle owners satisfied with their purchases?
With that in mind, we take a quick look at what these owners think about their vehicles based on their user-submitted data. This will cover their experiences with the initial purchase of their vehicle to the 6-months later to get a good perspective about after a few kilometers have been put on their cars.
First up we have Mr. Bacuno who recently purchased their Nissan Terra VE 4x2. While they initially bought the unit back in December of 2021, they seem to be already enjoying the SUV as Mr. Bacuno states that it was his best buy of the year and even emphasizes the value for money that the Terra offers.
Next, we have a buyer for the Nissan Navara VL Calibre AT 4x2. Mr. Legaspi, the new owner of the pickup truck seems to be happy with his purchase. He states that the Navara is one of the best pickup trucks available on the market today. He cites that the vehicle looks good and that he feels safe when driving it around every day.
We also have another Nissan Navara buyer, but this time in its PRO-4X AT 4x4 trim level. Mr. Wilson states that he is very pleased with his purchase. However, he does have one criticism about the vehicle as the fuel filler cap is openable from outside the car. As it stands anyone can open it if the car is unlocked. Despite this design oversight, he still seems happy with the purchase.
Now, that the initial buying impressions are done with, we move on to the 6-months of ownership reviews. We start with another Nissan Navara buyer. Mr. Mendoza seems to like his purchase of the pickup truck even after more than six months have passed since he still gives the Navara a 5-star rating all around and a 100% dealer satisfaction score.
We yet again, have another Nissan Navara buy this time with Mr. Sugian and his VL 4x4 MT variant of the pickup truck. So far everything looks good for his purchase as it is another case of five stars all around for all categories. He does have one comment though, but it's not a negative one as he praises the suspension of the Navara and its fuel efficiency as well.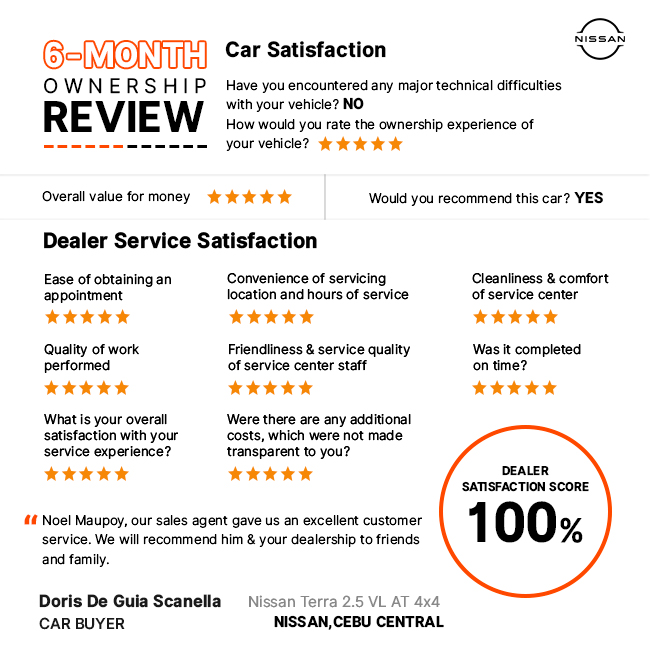 As a quick change of pace, this time we have a Nissan Terra owner review. While it's another case of five stars all around, Ms. Scanella, this time praises the customer service that was given to her by the dealership staff. She cites Mr. Noel Maupoy, their sales agent for the purchase for giving excellent customer service. She even recommends him if you are looking to purchase a Nissan vehicle of your own.
With all things considered, it appears that most Nissan vehicle owners are happy with their purchases. This was right after they bought their respective vehicles and after a 6-month ownership period.
Get the best deal - Choose multiple dealerships to compare offers!
You can compare quotations simultaneously from multiple Nissan dealerships. Select your preferred dealers from the list below.

Compare quotations from multiple dealerships in minutes.
Check vehicle and color availability.
Find info on special offers and promotions.
100% Hassle-free with no obligation to purchase.
Latest Features
Both are within the same price range but are in many ways different from each other.

The Chevrolet Tracker presents tempting design details and features that should be given much more attention.

Choosing the right vehicle is hard so we created a list of 10 vehicles that could tick all the right boxes for your current and possibly your future needs as a young professional.
View More Articles