Shopping for a car nowadays is pretty tough. There's a load of items that you need to consider when making that next big purchase, and for good reason. Buying an automobile is going to make a sizeable dent in your bank account so it is a decision that is not to be taken lightly.
Most buyers would already have a rudimentary understanding of the ins and outs of a car. They too would also be quick to make a decision based on word of mouth recommendations or reviews whether written or on video. First-time buyers would often find themselves inundated with a blessing and a curse called choice. With so many use cases and options out, there isn't a one size fits all solution. So we've compiled a list of things that make a car ideal for a first-time driver/buyer. We're focusing on the core aspects of a car as well as some items that may really help a new car owner pilot his or her new investment.
Manageable size
One of the things that you have to get used to behind the wheel of an automobile is the size of it. Walking is fine, and you have a grasp of where your body begins and ends. When you're a new driver, it's best to get a sense of how big a car is especially with regards to how long and how wide it is.
Now, unless you're a really daring individual, we don't recommend that you shoot for the stars and start with a big van, although, you can. Parking that car will be a struggle, squeezing through tight spaces in the city will be a chore, and simply turning the thing will make you very paranoid. Unless you've developed your senses to the point where something as big as a Ford Transit or F-150 is effortless to pilot, our safest recommendation really is to start off with something smaller and more conventionally sized.
Anything from a small hatchback, subcompact sedan, or crossover is – at least for us – perfect examples of very manageable cars. Though you can go up in size and get a small MPV like the Suzuki Ertiga or Mitsubishi Xpander. Midsize SUVs, Sedans, Crossovers, could come with a bit of a learning curve. Small, subcompact-, and compact-sized vehicles would be a good place to start your search.
Transmission?
This is a bit of an old saying, but traditionalists will start on a car with a manual transmission. The "right way" of learning how to drive is to start with the stick and sort of "earn" your right to drive an automatic, but that was then and this is now. Manual transmissions are getting few and far between whenever we look at cars in the upper price ranges. It is rare that you will find a top of the line manual variant. However, we believe the saying still holds some truth, and learning how to drive a stick is an essential skill and an asset. Though, we get what the naysayers are saying, and driving with a clutch in heavy traffic is definitely not a good experience. Your left leg will likely be numb from all the pedal work you need to do unless you're a veteran.
With that being said, an ideal first car should give you the most hassle-free experience. We admit that if you're going to buy a car, it's best to learn to drive stick but end up driving an automatic. Enthusiasts – like us – will say that manual transmissions should never die, but the majority would beg to differ – sadly. Hence our call is to learn stick and buy an automatic. Please don't hate us for this.
Ground Clearance?
There is a reason why the crossover segment and the SUV segment in the Philippines boomed. People were on the lookout for cars that had more ground clearance to tackle almost any bump, ramp, or pothole that they may encounter in the Philippines. Ideally, and going back to our statement, if you want a hassle-free experience, go with a car that has enough ground clearance. So far, we've found that most cars will do fine about 130 mm off the ground not paying attention to other variables like front and rear departure angles and overhang. Closer to 130 mm, you'll find that you may occasionally scrape unless you pass through an area that has really high humps, but that's few and far between.
There are cars, however, that defy their segments. The Kia Picanto has a ground clearance figure of 151 mm. Another car that you expect to be low to the ground but actually has a fair amount of clearance is the Ford Mustang. Unladen it has 137 mm between it and the ground. Comparatively, the Alfa Romeo Giulia as per our testing has a figure of just 100 mm, and driving that around was very nerve-racking, to say the least. So do your research, and find a car that suits where you drive.
It comes with proximity sensors and/or camera(s)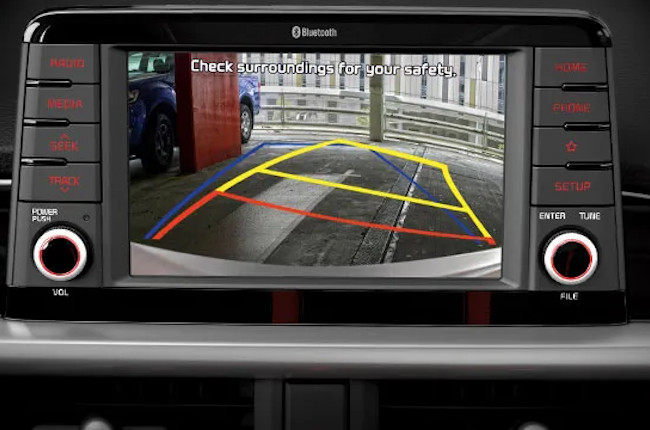 As a first time driver, you don't necessarily need a highly equipped model, but as we said in the previous entry, the ideal first car should give you the most hassle-free experience. Be on the lookout for features like backup or 360-degree cameras, capable infotainment systems, and even parking sensors. These small quality-of-life features help keep you out of trouble, and your car as scratch-free as possible.
Though, we have to mention that these features will come at a premium, and you might find yourself shopping for a car that is quite expensive.
Budget
So after considering all of this, we can safely say that an ideal first car could end up costing you a pretty penny. Make sure to take stock of your finances first before pulling the trigger. Pay in cash for the best possible price because financing has interest rates unless otherwise stated. Though, if you want to spread out the impact on your bank account, a financing plan is also favorable in this regard.
You also don't want to buy a car now and then regret it later, or buy a car now and find out you cannot afford it and you've stretched yourself out too thin. Find out estimates using our car guides. It's a simple way of getting an idea of how much the total or monthly cost of a car will be. Also important is to look at promos and discounts for the model you want to help you afford your dream vehicle.
Also, consider that cars have resale values or trade-in values, and it's helpful to think about other things you need to spend on such as insurance and maintenance costs. There are a lot of things to consider when making a purchase of this magnitude and we cannot stress it enough. You don't want to buy a car and use it for long stretches of time past your preventative maintenance service interval because your budget did not account for this expense.
And finally…
You have to love the car. Again, going back to what we said in the budget section of this article, you don't want to buy a car now and regret it later. This vehicle will stay with you for a long time, and it will stay with you until you replace it or send it off to a new home. Until then you'll grow old with it, and so will your family and friends. Your first car is usually the one that you will remember for years to come, and your experience as a motorist will be much more joyous with a car that you fondly remember. Make a wise decision, and don't forget to check out our reviews for guidance, but the decision is ultimately yours to make.
Latest Features
Manufacturers are leaving the conventional dials in favor of TFT clusters in pursuit of innovation and clean designs.

The Ford Bronco is the perfect blend of style and capability for the Philippines that warrants its entry locally.

The Ranger Raptor is the best it's ever been, so here's what makes the 2023 model so special.
View More Articles