More and more mass-market passenger vehicles these days are coming equipped with active safety technology or advanced driver-assistance features. Every automaker worth their salt invests heavily in developing these lifesaving features to help owners have a more secure driving experience.
In that regard, Toyota Motor has come out with its own driver-assist safety suite called "Toyota Safety Sense." Previously only present in high-end models and variants, the technology has made its way to an increasing number of more affordable models, especially locally.
In the Philippines, Toyota says Safety Sense is currently available on the Camry, Prius, Corolla Altis, Corolla Cross, Fortuner, Land Cruiser, Alphard, RAV4 HEV and GR Yaris. Of course, this list can and will expand in the future as Toyota aims to standardize the feature set for its entire lineup. When that could be is anyone's guess at this point.
So, what is Toyota Safety Sense, and what features does it include? Toyota touts several features as the most significant, including Dynamic Radar Cruise Control (DRCC), Lane Tracing Assist (LTA), Lane Departure Alert (LTA), Automatic High Beam (AHB), and a Pre-collision System (PCS). Let's expand on each of these features and how they keep Toyota vehicles safe. Be warned, TSS is not an autonomous driving system and should not be used as such.
Dynamic Radar Cruise Control (DRCC)
Most car owners today are aware of cruise control and how it works in cars. The feature has been present in many local models for at least a decade, and now it's becoming a standard feature across brand lineups.
Cruise control allows the driver to set their speed and keep it there automatically, allowing them to keep their foot off the accelerator during longer stretches on the highway or otherwise clear roads.
Meanwhile, Dynamic Radar Cruise Control (DRCC)—also referred to by other manufacturers as Adaptive Cruise Control (ACC)—takes things several steps further with the addition of cameras and sensors that absorb and calculate on-road information.
Toyota says DRCC makes driving "safer and easier" as it automatically adjusts the car's speed to adapt to changes in the vehicle directly in front. DRCC keeps and matches the speed of the car ahead, so when that slows down, the driver will feel the brakes automatically apply without further input. It's a nifty feature, but it works best in conjunction with the other features forming part of Safety Sense.
Lane Tracing Assist (LTA)
Lane Tracing Assist (LTA) uses the Safety Sense cameras to monitor lane markings and keep the vehicle inside and at the center of the lane. It works well with DRCC, helping the driver avoid unwanted lane changes by gently applying constant steering inputs when the car drifts out too much.
With LTA, the driver could feel safer knowing that the vehicle will remain in its lane when needed. Of course, Safety Sense is not an autonomous driving feature set, so the driver would still need to keep their hands on the wheel while engaging any features.
Lane Departure Alert (LDA)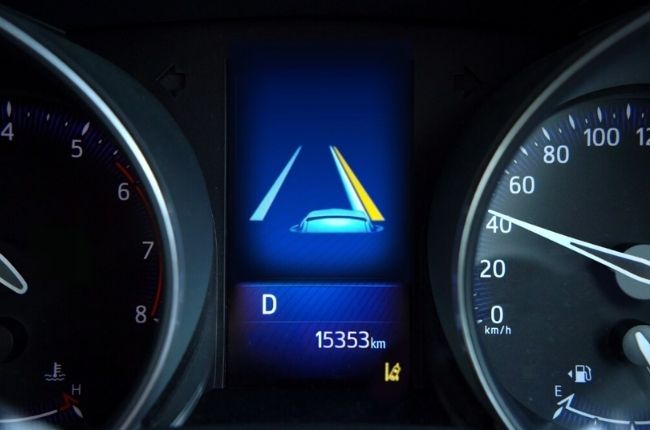 As with LTA, Lane Departure Alert (LDA) is a lane-keeping feature designed to let the driver know when the vehicle is departing its lane. It also uses visible lane markings to determine whether or not the car is still within the lane boundaries.
When the driver unintentionally steers out of the lane, LDA will provide a warning buzzer and a visual notification to alert the driver and hopefully avoid an accident.
Automatic High Beam (AHB)
Nighttime visibility is a significant issue for many drivers. For that reason, TSS comes with Automatic High Beam (AHB), a feature designed to help the driver see better in the dark.
AHB utilizes the vehicle's front-facing camera to detect the headlights and taillights of oncoming vehicles and adjust the lighting system accordingly. The feature automatically turns off the high beam in the presence of an opposite vehicle, eventually switching back when the coast is clear. AHB can help the driver avoid accidents by providing a clear view of potential obstacles, road signs, and pedestrians.
Pre-collision System (PCS)
Toyota's proprietary Pre-collision System (PCS) essentially combines two features: Forward Collision Warning (FCW) and Automatic Emergency Braking (AEB).
PCS can detect the possibility of a frontal collision, alerting the driver with a warning buzzer and encouraging evasive action. In the event that the driver cannot use preventive maneuvers, the brake assist system may engage to slow down the vehicle and even apply the brakes more forcefully to help avoid a crash or slow down the impact.
Conclusion
The features covered form the core of what Toyota Safety Sense does for Toyota vehicles. It's an attractive feature set hat has helped many drivers feel more comfortable and safe inside their cars.
Safety Sense is an evolving technology, and Toyota is constantly improving on it with each new iteration. Down the line, TSS will likely add new features to what is already an impressive selection of active safety and driver-assistance features.
Latest Features
The Nissan LEAF presents the perfect price, technology, and practicality for your first EV purchase and experience.

Will GAC be able to unsettle Honda's ever-present Civic RS? Let's dare to compare!

The Suzuki Ertiga Hybrid presents advanced mild-hybrid technology as well as versatility at a very tempting price point.
View More Articles