The Toyota Avanza – while it isn't the most glamorous, it's functional, affordable, and can seat your whole family. It's not fast, but it is an entry-level MPV that can get you from point A to point B without much fuss.
Toyota Philippines has been doing what they can to refine the Avanza in any way possible, but once you've set your heart on this model, you now have to ask Which Variant to get. In this segment, we have the Toyota Avanza under the microscope for us to give you recommendations if you are dead set on buying one.
There is a certain symmetry when it comes to the Avanza's variant lineup. You get a one basic J variant, two E variants, two G variants, and a Veloz range-topper. A total of six variants, with three manual options and three automatic options. As with all Which Variant articles, the most crucial aspect you need to consider when choosing a trim level is your financial standing, because starving yourself for a car isn't ideal. So buy what you can afford, but also consider what you like.
"J" stands for "Just an Avanza"
The first and most affordable in the lineup is the Toyota Avanza 1.3 J MT. Like its variant designation, it only comes in a manual transmission, which is fine given the P731,000 price tag.
What's not-so-great is the seating for five. As we all know, seven seats are a commodity here in the country, and unless you will be relegating the vehicle to cargo-carrying duties, then you could consider this model. Given other options, though, we cannot deny that you should move up the trim ladder especially if you want seating options.
Other than that, if you're not looking for a lot of seats, and cargo is more important, then this is the model to get. It's just that it's hard to recommend because of the feature-set. No defogger or rear wiper, In a nutshell, it's basic motoring. On that note, you only get 15 cupholders, what a shame.
"E" stands for extra features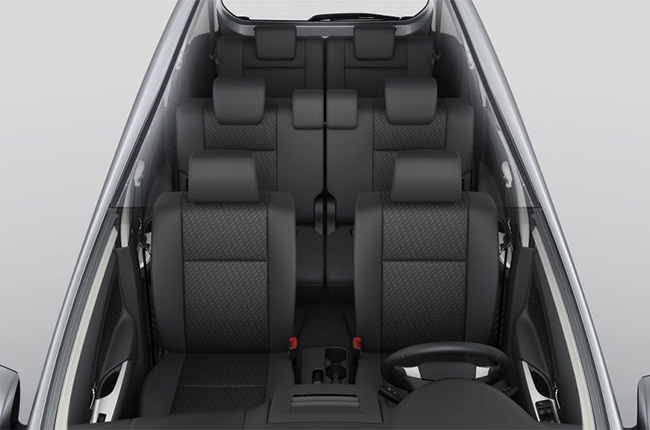 It still has the same 1.3L with 95 hp and 121 Nm of torque that powers the base model, which is enough given that you're not going to be competing in drag races with this thing. In essence, it is basically a spruced up J-variant. It's the complete Avanza experience with seating for seven and automatic transmission, perfect if you expect to be caught in traffic a lot. All automatic variants have a 4-speed whereas the manual transmissions come in a 5-speed flavor. Whether you prefer driving stick or automatic is up to you, but do note that there is a P43,000 price difference between E models. The MT model comes in at P864,000 while the AT variant comes in at P907,000.
Apart from the mentioned, you also get alloy wheels instead of the steel set found in the J. Also up from the J is the number of speakers you get in this unit. The E variant gets four instead of two, but no Bluetooth connectivity still. We'll say this though because it has 17 cupholders – two over the J-variant, it's automatically better. Of course, we're joking, but not because of the two extra cup holders.
"G" stands for great
For the Avanza lineup, this one offers many features and tops out at exactly P1,000,000 for the automatic. You still get the option for manual transmission for only P957,000. You also get a 1.5L engine capable of 103 hp and 136 Nm of torque. It's not big, but it can make a difference when fully loaded. The pattern is established, if you want an automatic transmission, exactly P43,000 will separate you between three and two pedals.
In the G variant, you get more stylish alloy wheels in a 15-inch size. These wheels come in a two-tone finish and make the Avanza more appealing. This is the most-affordable model equipped with a rear spoiler with a high-mount LED brake lamp. There are a few more minor details as well such as the color of the door handles and the chrome in the grille.
Step inside the interior and you get a big step up in terms of infotainment systems. Now, you get a 6.8-inch touch screen infotainment system that has Bluetooth connectivity and smartphone mirroring capabilities. To complement this setup, a set of steering wheel controls can be found on the urethane wrapped unit.
"V" stands for Veloz?
So there is no V variant in the lineup, TMP actually gave the line topper a name. The Veloz variant of the Avanza comes with all the features that you can find in the G variant, but with extra trimmings and visual touches that can entice customers as seen the in its front facia.
Notable inclusions with this model are the smoked chrome in the grille and tailgate garnish. You also get a different look with regard to your speedometer, as well as a leather-trimmed shift knob and steering wheel.
Also note that you can only get this variant in an automatic transmission, so if you want to drive stick, go back to the G variant.
It comes in at P1,065,000, though, and it makes us scratch our heads a bit if we are willing to invest in this model given that it goes for a P65,000 premium over the AT G variant.
Verdict
Well, it's not that hard to crown a winner for us, actually. We do believe that the Avanza is a workhorse, so we cannot knock it too hard knowing that it may cut some corners in order to meet a price point. So crowning winners here was easy given this mindset.
The first runner up to the champion is the E variant in an automatic. If you just want to get the job done while keeping your budget as low as possible, then the P907,000 1.3L-equipped model is for you. If all you need is a car to get you from point A to point B, then just get this one.
The champ is the Avanza 1.5L G variant. While it's no Veloz, it goes for such a pretty number: P1,000,000. Exactly seven digits, for seven seats, features that can be found in the higher Veloz variant, and a well-deserved 17 cup holders.
Get the best deal - Choose multiple dealerships to compare offers!
You can compare quotations simultaneously from multiple Toyota dealerships. Select your preferred dealers from the list below.

Compare quotations from multiple dealerships in minutes.
Check vehicle and color availability.
Find info on special offers and promotions.
100% Hassle-free with no obligation to purchase.
Latest Features
Both the Veloz and Xpander are formidable seven-seaters in their segment and price point. Which one is better?

It has evolved to be something that can be both a workhorse and a lifestyle vehicle.

With many competitors, the Maxus T60 offers you a unique proposition in terms of price, features, and cargo space.
View More Articles