If you're on the hunt for a new car, not only do you have to do some research about the car that you want to buy and the dealer that you want to buy from, you also have to do a bit of hunting for the perfect sales agent.
Luckily, we're here to help. AutoDeal has a selection of top agents that are ready to serve from multiple brands and dealerships. We've assembled a list of 16 agents across the country.
Marianne Dela Vega
Hailing from Suzuki Lipa, Marianne is actually the winner of our AutoDeal Sales Agent of the year in 2020. She was in "deep shock" when the announcement was made. What makes her worthy of such an accomplishment? Well, it's her experience and speed. She's been an agent on AutoDeal for over two years—close to three in 2021. It will only take her about 5 minutes to reply to any inquiries made, which only means good things for customer service.
Dana Sandiko
While we did mention the winner, don't forget the runner-ups for 2020. Dana is an exceptional agent from Toyota Manila Bay. She's been on AutoDeal for just over a year now, but she was able to get the first runner up in our Agent of the Year for 2020. In terms of sales, Dana was able to sell a total of 43 cars to buyers. Buyers praise her responsiveness, informative approach, and great attitude. She's an easy recommendation for her clients, and definitely someone you should contact.
Faith Lim
On team blue in BGC, Faith Lim is part of the Autohub group of brands. She currently works in Ford Global City and has a total of 36 sales on the AutoDeal platform. If you're looking for a Ford, look no further. She's been regarded as an ideal agent, accommodating and reliable. She's also quite quick to reply as well. Customers will only have to wait about 8 minutes to get a reply from her, and that's amazing given that she was able to sell as many as 36 vehicles in a little over a year. On top of that, Faith is working in one of the best dealerships in the country based on our metrics. Ford Global City won the dealer of the year award in 2018 and 2020. The Ford brand itself won the Customer Service Award in 2020. Considering all of these accolades, you'll be well received by the folks at the Blue Oval.
Frances Pendon
Frances works in Mitsubishi Motors Carmona, and she's been regarded as a patient and persevering agent. She's been on the AutoDeal platform for about 2 and a half years now, and in that time she was able to sell 25 units with AutoDeal. Several of her customers state that she went above and beyond to give them a good deal, and some even regarded her as "Kind and beautiful!" Certainly, not a main component of the deal, but it's something still.
Teejay De Grano
Hailing from Honda Makati, Teejay has sold a whopping 37 cars in her over 2-year history with AutoDeal. This agent will reply to you in a flash, as shown by her reply speed that's just shy of 4 minutes. Her customers are so happy with her, that they took the time and effort to write a long paragraph of her great customer service. She's a lovely lady that goes the extra mile for you and will do so fast and with ease. Her clients will also be quick to recommend her to you if you're in the market for a Honda vehicle.
On top of that, she was also quick to state that the potential customers she got from AutoDeal trumped that of their dealer's Facebook page. She was also grateful to be able to go the extra mile for all her clients, being able to provide excellent, and honest service to clients. She states: "Nakakatuwa rin to receive yung incentives from AutoDeal every time may release ako, lagi ko talaga siyang nagagamit."
Abigail Almuete
From Hyundai Dagupan, Abigail Almuete is another recommended agent by us and her clients. Deemed excellent by one of her clients, she's sold a few Hyundai models in her time with AutODeal. Get a quote from her and get a good deal. So far, she's sold quite a few cars from different segments, ranging from the H-100 minibus to something as small as a Reina.
Diane Diala
If you happen to find yourself in Isuzu Alabang, look for Diane Diala, or just shoot her an inquiry on AutoDeal. She has a good response time of just under 4 minutes, and she's successfully served 13 sales in her 2-year stay on AutoDeal. According to her reviews, she's a very accommodating and quick-to-respond agent with full knowledge of her product. She made her customer quite happy, moving them enough to even congratulate her for a job well done.
Cherrie Dela Punta
Cherrie is one of the longest-running agents on AutoDeal. On the platform for over 4 years now, Cherri works for Mazda Alabang and has sold a total of 17 cars with customers from AutoDeal. While she has quite a few sales on the site, she only has a few reviews for herself on her profile. However, she is knowledgeable about Mazda's lineup and is very responsive to customer inquiries.
Kristine Lazaro
An agent from MG Philippines, Kristine has had a total of 50 sales in the past 2 years on AutoDeal. Notably, she's sold quite a few MG ZS and 5 models as seen in her photos with the clients. Several of her reviews have noted that she is a smooth operator, and she's easy to talk to. Quite a few of her clients recommend her, and she doesn't do any sugar-coating according to one review.
We reached out to Kristine, and she was also quick to praise AutoDeal for being a "very reliable and accurate platform." Kristine was also quick to express her gratitude for all the incentives she received.
Rutchell Mae Sumaylo
Chevrolet Cagayan De Oro is where you may find Rutchell Mae Sumaylo. She's one of the more notable agents there with up to 44 sales. She's quite experienced as well, having been on AutoDeal for a little over 4 years. While it may take her a little while to reply, her clients describe her as friendly, supportive, fast, accommodating, and professional—all key traits that let her close deals with ease.
Ferdiliza "Dhang" Juego
Known as Dhang on her Agent Profile, you can catch her in the Geely Dealership in North EDSA. In terms of sales, she's sold 39 Geely units in less than a year. That's a lot more units that some agents make in 2 years' time. If you make an inquiry with her, expect a reply within about 8 minutes. Verified clients have also left their remarks on our website, and their review stated that she is very accommodating, responsive, and excellent. Expect that she will serve you well in your next Geely purchase.
Mary Rose Adriatico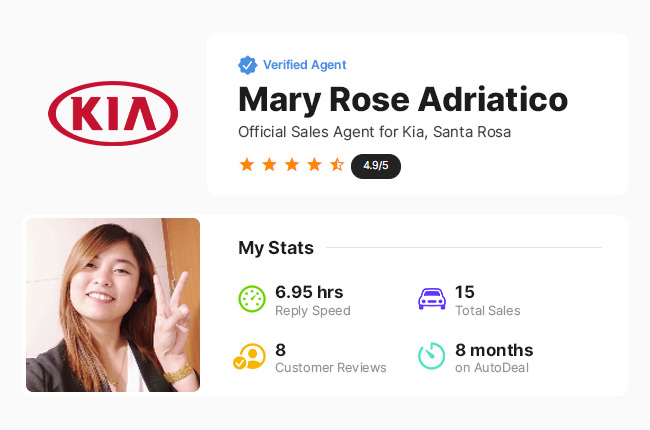 Ms. Adriatico has been with AutoDeal for less than a year, but she's managed to sell 15 cars in her short time as a partner agent. If you're in the market for a Kia vehicle, surely give her a call. After the sale, clients were quick to applaud her performance as a sales agent. She was very accommodating and delivered a quick response. For one client, she never failed to answer their questions, and update them about the processing of their purchase. She's also quite new to the automotive industry, which deserves praise because she's sold about as many cars as some veterans in the industry, at least according to our metrics.
Johnrick Perez
Maxus is known for its great value, and if you find yourself browsing in the showroom for a Maxus vehicle, look for Johnrick. While his sales figures aren't as high as other heavy-hitters in the industry, considering that Maxus will start to gain traction in a few years, we expect his sales figures to get even higher than they are now. The review that he got from one of his clients from the AutoDeal platform stated that he was very helpful and responsive to questions and requests. That's the hallmark of a good agent.
Jonas Anub
When we asked Jonas for a statement, he said that there are quite a few inquiries that come in from Visayas, Mindanao. That's all well and good if you're based there, but Jonas actually works in Chery Bacoor, Cavite. We won't be surprised if he was able to sell to a client all the way down south.
That being said, Jonas was able to sell 11 vehicles in the 9 months he's been with AutoDeal as a verified agent. He's had a few reviews from clients, who've all state that he is an excellent, polite, and accommodating person to deal with.
Sarah Mae Go
Based in Cagayan De Oro, catch Sarah in the Volkswagen showroom in the area, or send her an inquiry. She's relatively new to the AutoDeal platform being verified for a little over a year. She was able to sell a Santana during her time. VW is relatively new to the AutoDeal platform, and Sarah is one of the few to get a head start.
Latest Features
The Nissan LEAF presents the perfect price, technology, and practicality for your first EV purchase and experience.

Will GAC be able to unsettle Honda's ever-present Civic RS? Let's dare to compare!

The Suzuki Ertiga Hybrid presents advanced mild-hybrid technology as well as versatility at a very tempting price point.
View More Articles