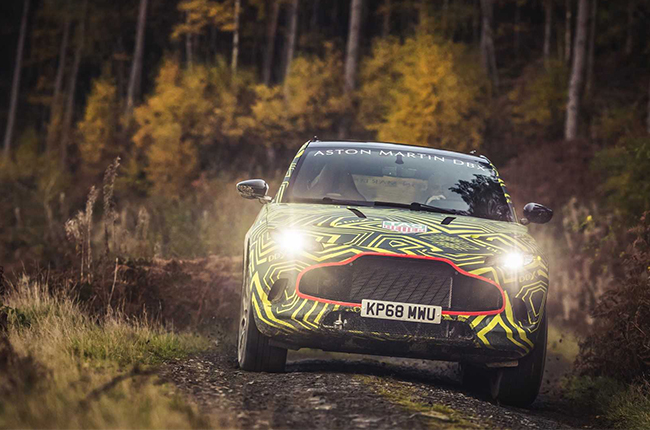 SUVs seem to be the next big thing for luxury performance automakers around the world, and Aston Martin is the latest to announce their first foray into the world of off-road capable vehicles. Called the Aston Martin DBX, and wrapped in full camouflage, this SUV prototype is scheduled for launch in 2019 and has already begun extensive off-road testing in the UK.
The Aston Martin DBX is quite a big departure from the brand that has given us some of the most desirable GT cars and coupes, and its sights are set on taking on the likes of the Lamborghini Urus and Bentley Bentayga.
Borrowing styling cues from the latest generation of Aston Martins, the DBX also has a few doors more than the usual from the brand. From the front, it's immediately recognizable as an Aston Martin, with its big grille and slim headlights. The side gives off a hatchback vibe more than an SUV, which means it's less bulbous and more athletic. The door handles look to be flush with the body and there will be no plastic cladding along the bottom. Rounding off the look is a set of two spoilers in the rear; one for the top and a ducktail. The ducktail looks interesting and is probably the most striking design element of this vehicle, but the camo doesn't do the design full justice, so we'll have to wait and see.
No news about the interior or any real performance specifications, but with their latest partnership with Mercedes-AMG, we can expect technology and powertrains to be sourced from them, similar to the Aston Martin Vantage. As it is a performance SUV, all-wheel drive will obviously be standard. And for it to compete with other fast luxury SUVs in its class, it will need to at least hit 500 hp or more, and the rumor of a V12 twin turbocharged engine option is not far off as it generates a whopping 715 hp. It could also offer the 4.0L V8 from AMG with 503 hp, but the Lamborghini Urus pushes a bit over 600 hp.There a rumor also of some sort of electrification present in the DBX, but whether it works alone or alongside the engine is still up in the air at this point.
Lots of questions but Aston Martin has yet to reveal more details, but rest assured that we'll keep an eye on this Aston Martin. The whole luxury performance SUV segment seems to be heating up, and here's to hoping we see a few of them driving around the Philippines soon.
Latest News
The new model slots in between the T-Cross and T-Roc.

Reports from Japan point to Toyota developing hybrid diesel engines for future models, including the Hilux and Prado.

Toyota has launched the new Land Cruiser 300 globally. The new design features a new platform, suspension, and powertrain options.
View More Articles