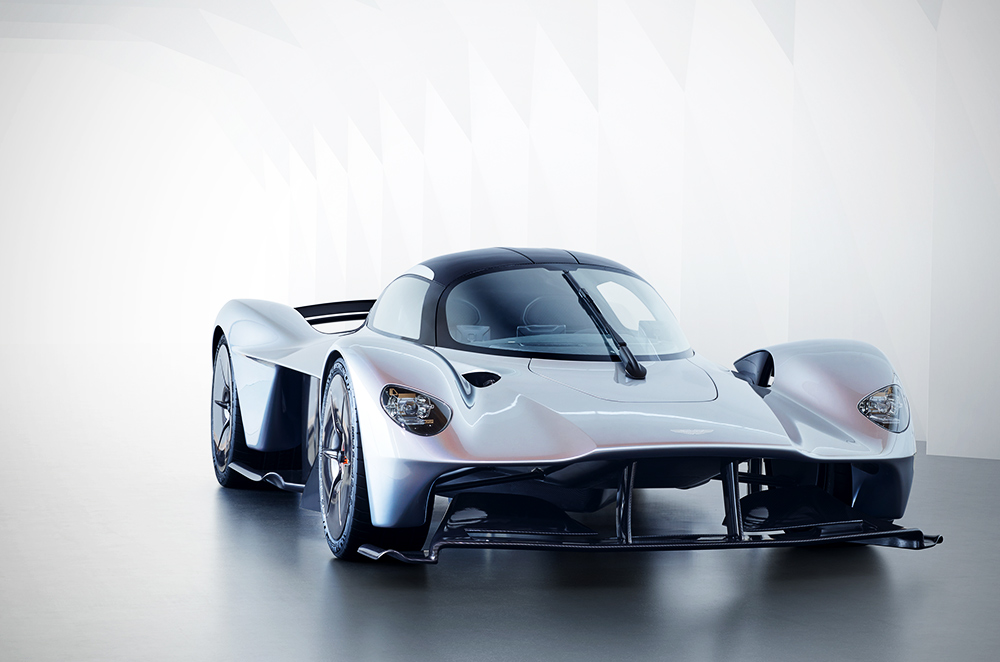 After being revealed over a year ago, the Aston Martin Valkyrie has been undergoing exterior and interior developments under the Red Bull Advanced Technology and the brand itself.
The Valkyrie was designed with aerodynamics in mind, which is obvious on the large full length 'Venturi Tunnels' on the fascia. This design allows more air to flow under the teardrop-shaped cockpit all the way to the rear diffuser, making the car more planted on the ground. The method also eliminated the presence of additional aerodynamic devices that could spoil the simplicity of its design.
Valkyrie's headlights are integrated said to be 30 to 40% lighter than Aston Martin's lightest series-production headlamps. The 'lacewing' emblem then seals the nose of the car in an unconventional way – a chemical etched aluminum badge, which is 30% thinner than human hair.
For the cabin, space is maximized by the seats which are directly mounted on the lower tub of the cockpit. These seats are positioned in a reclined 'feet up' position, which is inspired by Formula 1 and Le Mans Prototype race cars' cockpit. Also standard in the car is a 4-point seatbelt, while a 6-point harness comes optional.
"It's been a tremendous challenge to make the interior packaging work. We've embraced Red Bull Racing's Formula One ethos and approached from a different angle than conventional road car design."
The development team also minimized distraction from inside the cockpit. The steering wheel holds all switchgear and an OLED display screen. As you can notice in the pictures above, the Valkyrie doesn't have side mirrors mounted outside. This is because these mirrors were replaced by 2 monitors now found on the dashboard. This display screen are fed by rear-facing cameras integrated in the car's flanks.
Currently, the team is getting close to completing the Valkyrie. Aston Martin creative director of exterior design Miles Numberger said that they are around 95% on its exterior. Other non-structural bodyworks are still under development. For power, earlier details from the British automaker suggest a V12 engine with a 1:1 power ratio. However, power output remains as a big question mark.
Latest News
The LTO will roll out its e-TOP terminals, for enforcers to log tickets and motorists to settle payments electronically.

Nissan and Renault recently restructured their alliance with new conditions and more plans for future collaboration.

Suzuki's massive investment plan aims to electrify its entire range globally by 2023, along with plans for an EV Jimny.
View More Articles