You probably have read CNN's report about the rapid and dramatic changes the world is facing due to worsening global warming. Spooky, isn't it? The report states that all governments across the planet are left with nothing but to devise their own actions as quickly as possible before 2030 on the calendar. This is when the United Nations believes the planet to reach 1.5 degrees Celsius above pre-industrial levels.
A huge part of the industry responsible for a big chunk of toxic gas emission is the automotive industry. If car manufacturers won't comply, we might suffer a radical change in lifestyle, as temperatures outside, even the weather, might reach a point we could reference from a sci-fi book or movie. Good thing the automotive industry has actually began doing their part. And, to keep up with what's already happening behind the car industry, here's a quick roadmap courtesy of Automotive News Europe.
BMW Group
In a recent article we published, BMW pledged to cling on their diesel engines, as they believe they can still tweak them to pass international regulations. However, this does not mean they aren't doing anything in favor of avoiding the wrath of global warming. In fact, the i3, its first full-electric vehicle (EV), was launched in 2013 – that was despite it being a market flop.
Forget the i3. BMW promised that there are better plans for next year. To avenge the i3's reputation, the German automaker is looking forward to hit the SUV market with the iX3 and they plan to entrust its production in China. The i4 four-door fastback and iNEXT SUV are expected to be introduced in 2021. Meanwhile, 2025 will be a big year, as BMW plans to offer 25 different electrified models.
Daimler
Daimler's way of dealing with the matter is by allotting electric or hybrid alternatives of each models in Mercedes-Benz's 2022 model range. The electric range may include a 48-volt mild hybrid, a high-voltage plug-in, or a full-EV. Meanwhile, Daimler will become an electric-only brand in Europe by 2020, as it plans to phase out all combustion engine cars in the region.
Among the EVs Mercedes-Benz plans to introduce is the EQC crossover, which is its first mainstream battery-powered EV. It is estimated that EVs will total sales share between 15 to 25% by 2025.
Ford
Currently, Ford is offering an electric Focus in Europe although it isn't that much loved by the market. Despite the weak sales, Ford is pushing through with its 2020 wide electrification plan. Part of this is the "Mach 1", all-electric SUV with 480-km range. Apart from that, the American blue oval brand wants to launch 16 full-electric vehicles by 2022 through a joint venture with Chinese company Zotye. All in all, Ford plans to put out 40 earth-friendly vehicles, including plug-in hybrid and mild hybrids.
The Japanese (Honda, Nissan, Toyota, and Mazda)
Japan, over the years, showed dramatic improvements in their technology – especially in their automobiles. Now faced by a global challenge, Japanese automakers are coping with the move quite well. Honda said that by 2025, two-thirds of its fleet will have electrified powertrains. It has already marked the start with the Urban EV small-car unveiled in Germany in 2017. Production will begin in 2020, with a goal to sell 5,000 units of it per year in Europe alone.
Nissan, on the other hand, has been busy developing the Leaf since its introduction in 2010. But, apart this, the company confirmed a full-electric SUV with a 500-km range. It also plans to make an electric luxury sedan based on the Prototype 10 concept car. Nissan ambitions to sell one million EVs and hybrids by 2022, although it is said that the Japanese automaker is not that focused on hybrid technology, as it believes EVs are far better in reducing the company's CO2 emissions.
The Philippines' top automotive brand, Toyota, entered the world-wide competition-slash-unified effort in a rather different manner. Toyota didn't turn to EVs right away; what it did was introduce "self-charging" hybrid range in United Kingdom. Though it was a success, Toyota now ventures further to full-EVs. 2020 will see 10 battery-EVs for Toyota, while 2030 would be the time when the company expects to sell one million full-EVs and 5.5 million plug-in hybrid, mild hybrid, and EVs in total.
Mazda, on its end, currently has an EV but is not globally marketed as of the moment. The company, however, confirms that it's ready to introduce its first EVs in Europe between the end of 2019 and the beginning of 2020, which is expected to account to less than 10% of sales by then. The initial step is to use a new and dedicated EV architectures that are co-developed with Toyota. In the meantime, Mazda is currently in the process of developing a range-extender internal-combustion rotary engine for battery-EVs.
Volkswagen Group
In the process of establishing an e-mobility division, Volkswagen Group closely aims to launch more than 25 full-EVs and at least 20 plug-in hybrids by 2020. And, by 2025, the German group foresees 3-million sales under its full-EV branch that will more likely to come from China. The I.D. family is part of this e-mobility division and utilizes the new MEB platform. It is estimated that 11 million battery-powered cars across all models in its fleet would be based on the platform's first-generation architecture.
Audi has also taken part of this global move with the approaching launch of its e-tron all-electric SUV. Porsche is slated to debut the Taycan full-EV in 2019. In estimation, VW's EV and hybrid cars will carry over a third of its sales by 2025, while Porsche says it would be half on their part basing on the positive sales of the Panamera plug-in hybrid.
Volvo
The Swedish company has expressed their plans in 2017, where they claimed that all of their products will be fully-electric by 2019. With this, Volvo estimates its full-electric sales will make up half of the total sales by 2025. In addition, Electrified performance Volvos will be built under its independent subsidiary Polestar. The first brainchild is the Polestar 2, which is aimed directly to rival the Tesla Model 3 sedan. It's due to come out in 2019, followed by the Polestar 3 full-electric SUV in 2020.
Apart from full-EVs, Volvo is already offering plug-in hybrid versions of the XC90, XC60, S90, S60, V90, and V60. These already accounts to 15% of its sales in Europe alone, and is expected to be brought up to at least 25% by 2025.
South Korean brands Hyundai and Kia
Hyundai is off to a great phase with its electrification plan through the Kona Electric. Reports claim that the amount of the demand on the said model has already surpassed production and is continuously doing so. It's now Hyundai's first overwhelming EV, at least, as far as Hyundai is concerned. However, the Hyundai Kona Electric is not alone, it is accompanied by the Ioniq Electric and Nexo fuel cell SUV.
Its fellow South Korean brand Kia is an active full-electric mass-market brand in Europe with a complete range of electric, plug-in hybrid, and hybrid units. One of its top-leading model is the Niro hybrid variant, which sold almost 30,000 units in the region. Kia sees this potential and has debuted a full-EV Niro in Paris in 2018. Kia plans to have at least 16 green vehicles by 2025.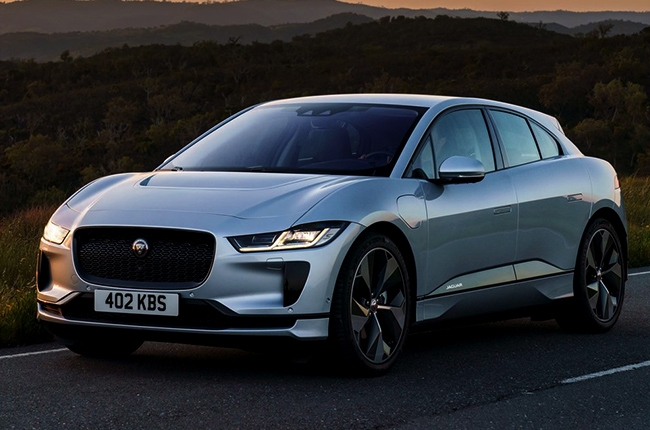 Jaguar Land Rover
Beginning 2020, all Jaguar Land Rover cars that will be launched around that time will have electrified variants, be it a full-EV, plug-in hybrid, or mild hybrid. Most of us already know about the I-Pace e-SUV with 368-km range and it being a direct competitor of Tesla's Model X. But, Automotive News, sourcing various media reports, stated that the British company will re-introduce the XJ sedan as an electric-only vehicle in 2020. Even more so, the refreshed Discovery Sport and Evoque will have plug-in hybrid offshoots beginning 2019.
Source: Automotive News Europe
Latest News
Nissan Philippines has introduced the Kicks e-POWER Sport, which features a body kit and is limited to just 150 units.

Ford Philippines' DSFL aims to provide comprehensive training and experience for increased driver safety and awareness.

Changan Philippines, under Inchcape, is progressing its lineup with two new models, the X7 and the S7 full EV.
View More Articles