Going up to Baguio City will no longer require motorists or tourists testing, travel authority, and medical certificates, however, the Baguio's Local Government Unit (LGU) mandated a new set of protocols for those who wish to enter the City of Pines. Fortunately the requirements have become more laxed compared before.
Requirements for tourists and visitors turned have become more laxed this time as based on the Department of the Interior and Local Government's (DILG) new order and the IATF-EID Resolution 101-2021. In terms of changes, one of the main highlights is that testing, travel authority, and medical certificates are no longer required for those who are planning to climb up to Baguio City.
Now, for those who are planning to visit the City of Pines, travelers must first take note of the following requirements mandated by the City's LGU. Before proceeding, motorists shall first go to the following triages situated along city borders, and they shall be responsible for collecting the requirements mentioned above.
Specifically, triage 1 is at checkpoints, while triage 2 is located at the Central Triage Unit in Baguio Convention Center, where symptomatic travelers will be required to have RT-PCR testing. While symptomatic passengers will undergo mandatory quarantine, the LGU made it clear that mandatory quarantine is not needed for asymptomatic travelers.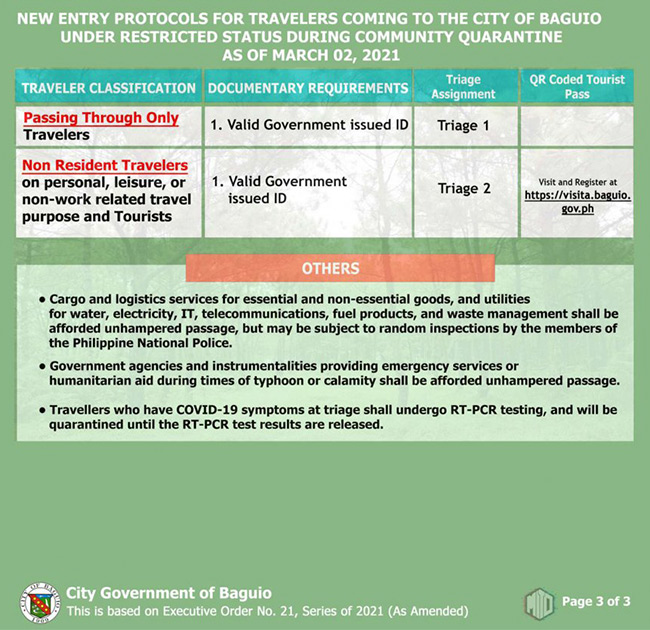 The Baguio City LGU also insists that one valid government-issued ID must be presented at the checkpoint. Travelers are also required to sign up at the 'Visita Baguio' website in order to secure a QR code, facilitating tourists ease of visit to the City of Pines. Travelers with no QR code will not be granted entry to the City.
Also, do take note of the following traveler classifications enumerated above, as some requirements might be exclusive to select groups. Most importantly, the City is also strictly implementing the wearing of face masks and face shields as part of the basic safety protocols being enforced and observed in Baguio, and in the whole country, throughout the pandemic.
Latest News
The hybrid drivetrain makes it more powerful and seeks to be more fuel efficient compared to its turbo counterpart.

We can expect to see better customer service, and more world-class Ford vehicles to come from the Blue Oval brand.

Bigger is better as Honda Philippines updates its Honda Marikina dealership and moves it to a bigger and better location.
View More Articles