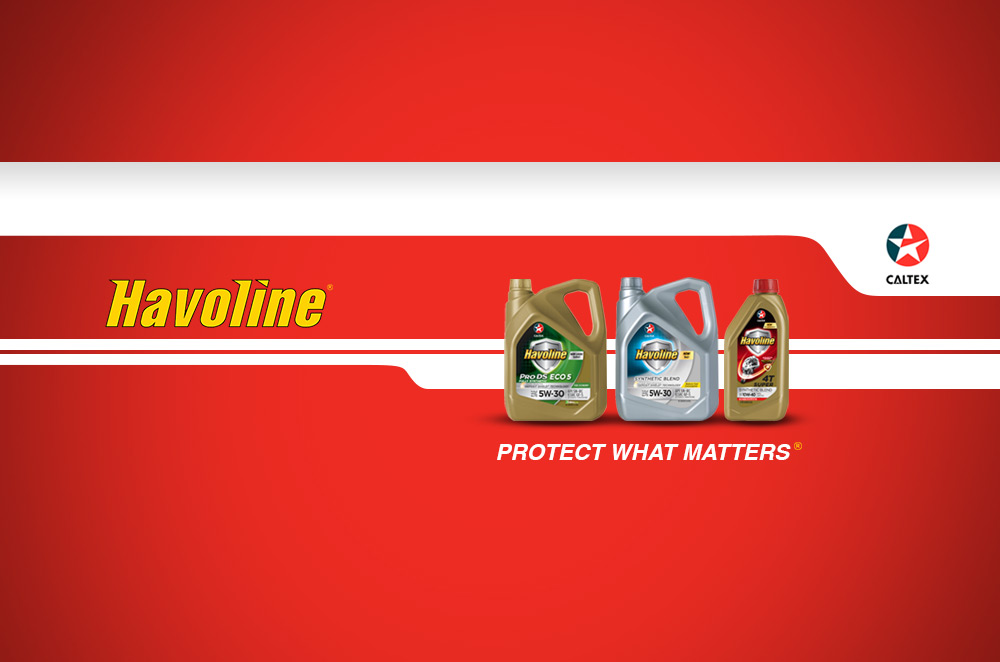 Did you know that Havoline, which happens to be Caltex's own brand of motor oil, has been around since 1904? Neither did we. And on its 111th year of providing quality, high-performance lubricants, they're relaunching the line-up to include 'Deposit Shield Technology'.
This new 'Tech', along with other additives blended into Havoline, is said to protect the engine. It does this by coating the moving parts and shields it from deposits, metal-to-metal contact, corrosive agents, and the extreme temperatures of combustion. According to Caltex, this 'layer of protection' works so hard to keep the engine clean and running smoothly that it protects your investment, your engine's performance, your fuel economy, and the environment.
Yes, they really said that as their '4 Pillars of Protection'.
The new line-up consists of the Havoline ProDS Fully Synthetic ECO 5 SAE 5W-30 and Havoline Synthetic Blend SAE 5W-30 for vehicles, and the Havoline Super 4T Synthetic Blend SAE 10W-40 for bikes.
- Havoline ProDS Fully Synthetic ECO 5 (Retail Price: P2,468.84/4L) is a multi-grade motor oil that promises to improve fuel economy, emissions, and turbocharger protection. It even protects the engine when running on fuels that contain ethanol up to E85, or in our case E10.
- Havoline Synthetic Blend SAE 5W-30 (Retail Price: P1,480.00/4L), on the other hand, has "specifically tailored viscosity characteristics and effective friction modifier that minimize internal engine frictional losses." Whatever that means. All we know is that it helps reduce fuel consumption and is blended with 'Extreme Wear Protection Deposit Shield Technology'.
- Havoline Super 4T Synthetic Blend SAE 10W-40 (Retail Price: P244.00/L) is a high-performance premium oil for 4-stroke motorcycles. It's formulated for "super oxidation control and outstanding wear protection" that should improve power and acceleration.
Aside from these oils, the brand relaunch introduces a new label design that highlights Havoline's brand promise to "Protect What Matters" and its new Deposit Shield Technology, which they hope catches the attention of more loyal customers. The new branding also covers other ancillary products such as coolants, ATFs, and brake fluids.
"Drivers today want to protect what really matters - the investment they made in their vehicles and their performance. Our latest introduction – Havoline with Deposit Shield Technology, provides a proven solution that helps to maintain engine performance, preserves engine life, while maximizing fuel economy," said Michelle Sayat, Chevron Philippines Marketing Manager for Lubricants.
Caltex's line of Havoline Engine Oils is available in select Caltex stations, auto supply stores, and car workshops.
Latest News
It may be a hybrid model but Toyota has put some spring in its step with handling upgrades and a new front look.

Things are looking great for Ford Philippines as it posts great sales figures for 2021 with the Ranger and the Territory cementing themselves as the brand's best sellers.

The new liftback now sports more modern styling and could be a perfect candidate for the Philippine market.
View More Articles