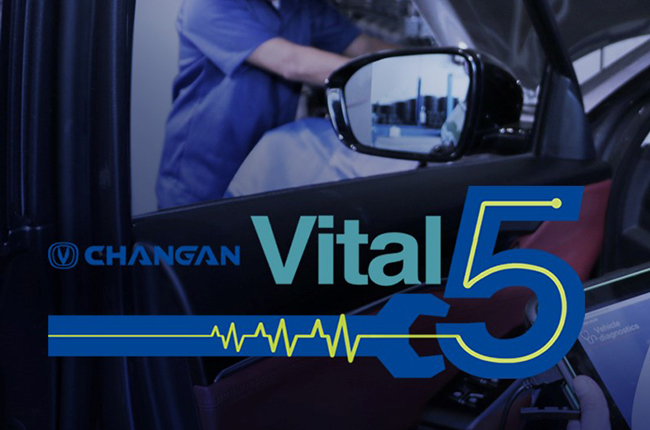 All Changan vehicles now come standard with the brand's Vital 5 After Sales service, which consists of several programs that should make your ownership experience more convenient.
Placing much regard towards its customers' experience, the Chinese automaker has formulated the Changan Vital 5 After-Sales service which covers the vital needs of your vehicle during this 'new normal'. Ms. Ma. Fe Perez-Agudo even affirmed that this after-sales program brings to life Changan's promise of lasting safety for its customers.
First up is the 5-year or 150,000 km warranty, whichever comes first. Coverage automatically starts once your vehicle is handed over to you. Next up, is the 'Changan Fastlane + ASAP60', wherein two certified technicians will work on your vehicle for an hour, if they failed to do so, then it's free. Also, when your vehicle reaches its first year or 20,000 km mileage, preventive maintenance labor is free. The service also covers regular parts, lubes, fluid replacement, as well as vehicle inspection items. Customers only need to get their PMS appointments every 6 months or 10,000 km. whichever comes first.
Third on its program is the '100% Maintenance Parts Availability', which gives owners the assurance and confidence in acquiring its needed mechanicals for their Changan vehicle. If the parts you've requested are not available immediately, then you'd get it free of charge, an industry's first from Changan.
As for its fourth program, the 'Changan Pace-Setter' provides you with a dedicated team that delivers free towing and roadside assistance, wherever you are, whenever you need it. Lastly, the 'CAIA 24/7 Customer Care', where customers are welcome to inquire or book service appointments through the Changan Artificial Intelligence Agent.
We formulated the Vital 5 to give customers more reasons to trust Changan and our network of 33 dealers nationwide.
Latest News
The Department of Energy says that public EV charging stations are now authorized to start implementing charging fees.

The Ford Island Conquest of Ford Philippines will feature the Ranger, Territory, and Everest for interested customers.

Volvo says it is ending diesel engine production in 2024 as part of its commitment to being a climate-neutral company.
View More Articles