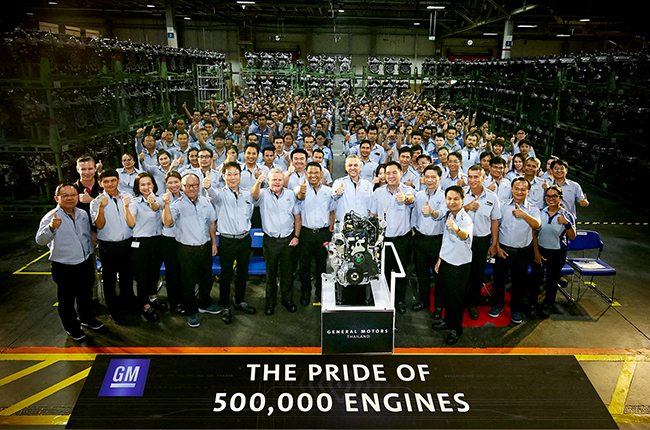 GM Powertrain Thailand, General Motors' (GM) first diesel engine plant in Thailand and Southeast Asia, produced its 500,000th engine, reaching a production milestone since the facility opened in 2011. It is the first GM facility in the world to produce the four-cylinder Duramax turbo-diesel engine, primarily used by Chevrolet.
The Duramax engines serve as the heart of many of the Trailblazer and Colorado units on the road today. The engine itself is one of the most important components that the Rayong district in Thailand produces, which are then used for both the domestic and export markets.
Both the 2.5-liter and 2.8-liter Duramax engines are currently used in the Chevrolet Colorado and Trailblazer. These two engines are the most advanced diesel powertrains in the market, according to GM. The 2.5-liter engines feature a fixed-geometry turbocharger, while the 2.8-liter engine features a variable-geometry turbocharger. Both of these engines feature aluminum cylinder heads, an integrated oil cooler, high-pressure common-rail fuel delivery system for increased output and performance, as well as fuel efficiency and durability. They both feature EGR coolers to comply with emission standards capable of maintaining Euro 5 ratings. For improved noise, vibration, and harshness, both engines feature a balancer shaft and a laminated lower oil pan.
GM Powertrain Thailand is the only GM facility that fully manufacturers the 2.8-liter Duramax engine. Our exports represented over 20 percent of the total production of 80,000 engines of the four-cylinder diesel 2.5-liter and 2.8-liter Duramax engines in 2018. Today we celebrate not only the successful production of the 500,000 Duramax engine by GM Powertrain Thailand, but the teamwork from all of you that has made this possible
The GM Thailand Rayong facility was also recognized for its outstanding efforts for environmental conversation by the Prime Minister at the Prime Minister's Industry Award in 2018. It was one of two companies in Thailand to receive this award. The facility is part of GM's 142 manufacturing and non-manufacturing landfill-free facilities globally.
The GM Powertrain Thailand facility continues to play a key part of GM Thailand's successful growth strategy in the region.
Latest News
Isuzu Philippines Corporation has just previewed an upcoming limited edition of the D-MAX on their social media pages.

According to a report, the updated Toyota GR Yaris will feature 300 hp and an eight-speed automatic transmission.

Nissan unveils the 20-23 concept along with a declaration that it is counting down to an all-electric lineup in Europe.
View More Articles