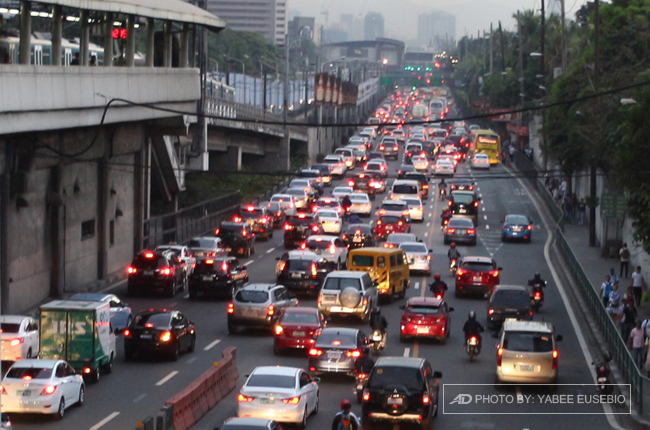 The House of Representatives has passed House Bill 4334 or the Traffic Crisis Act of 2016 today, January 18, 2017. With this, the Department of Transportation (DOTr) secretary will be granted emergency powers to solve the worsening traffic conditions in specific areas in the Philippines.
To recall, several measures have been implemented by the MMDA to help improve the horrendous traffic flow in Metro Manila, such as the Extended No Window Hour Number Coding scheme and the recently disclosed Zipper Lane traffic scheme. However, these are just targetting the problem within Metro Manila only.
In a report by Rappler, the Traffic Crisis Act is said to be limited to metropolitan areas such as Metro Manila, Metro Cebu, Davao City, and other areas in Bulacan, Cavite, and Rizal. Of note, the emergency powers will run for 3 years and will be limited to land transportation only.
On the other hand, the DOTr secretary will act as the 'traffic chief' who will create, implement, and manage the traffic management plan (TMP), which is expected to be completed within 90 days from the act's implementation.
In addition, the traffic chief will also have control over various traffic and transportation agencies such as the Metropolitan Manila Development Authority (MMDA), Philippine National Police-Highway Patrol Group (PNP-HPG), Land Transportation Office (LTO), among others.
Lastly, with the help of the Land Transportation Franchising and Regulatory Board (LTFRB), the traffic chief is also expected to create a 'route rationalization' within 8 months after the bill took effect.
The bill is now up for 2nd reading at the plenary session, which will be passed on to the Senate for review if it receives the final approval of the House of Representatives.
Latest News
In 2024, the Suzuki Swift will get an update, and the concept image was leaked ahead of its official unveiling.

Hyundai Accelerate, in partnership with Pasig City, has admitted four lucky scholars to Don Bosco Makati for training.

Embracing the rugged persona of the Mitsubishi Xpander Cross, the Outdoor Edition has added enhancements for adventure.
View More Articles