Kia invited us to a classroom session with its product specialists in order to get to know more about the new EV6 and have a discussion about living with EVs in the Philippines.
Long Charging Time
Most people are used to going to fuel stations and getting their full range back after a few minutes of waiting at the pump. With that, electric vehicles will require consumers to shift their usage patterns when making the electric switch. However, there are several elements in the EV6 and in most modern electric vehicles today that cut down on long charging times.
Home chargers have come a long way since EVs became popular in other parts of the world. There are high-wattage chargers that will be able to top up a battery to 100 percent in less than a good night's rest. Kia states that charging times from zero percent to full from a wall outlet will take about 34 hours, but that's the slowest speed and the lowest battery percentage possible. The thing is, the EV6's range is hard to finish given most driving applications like going a few hundred kilometers a week. If you get a faster charger that's about 7 kW in output will give you a 20 percent to 80 percent charge in just 11 hours. Kia says that there will also be products that are compatible with the vehicle that promises faster charging times.
Limited Charging Stations
Range anxiety is a real thing for electric vehicles and the problem stems from infrastructure. Luckily, Kia Philippines has the backbone and the assets in order to build an ecosystem for EVs and push electrification forward. At the time of writing, Ayala land has installed 21 fast charging stations at 14 sites across 7 cities in Luzon, with one that's even in Baguio.
The number of stations will grow over time and more will come as time goes by. It may be early now, but we can expect the infrastructure to catch up to the products in the near future.
Limited Range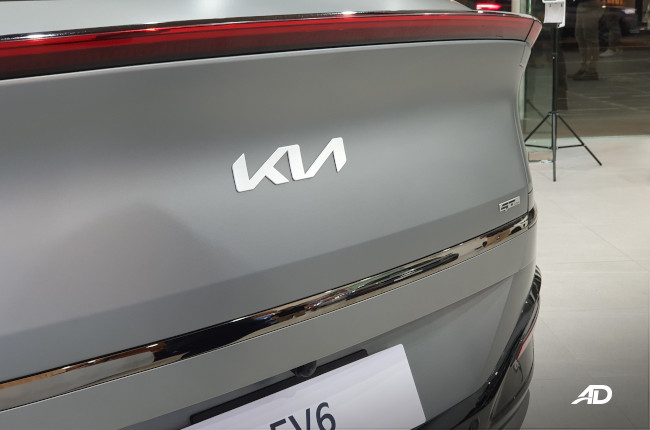 Most gasoline-powered cars, depending on the size of their fuel tank, will have a range of anywhere between 300 kilometers to 500 kilometers. Some cars can go up to 600 kilometers if driven efficiently enough. According to the EPA's tests, however, the EV6 features a tested range of 528 kilometers on a single charge. If you travel about 20 kilometers per day for the entire week, you would only knock about a third of the total rated range.
The total range also takes into account highway use which is quite taxing for electric vehicles. If you consider that regenerative braking is not helping the battery gain back some battery percentage. Kia is confident in the EV6's range, so much so that its product team took it to Baguio themselves and back only topping up at one of the charging stations on the mountain.
High Cost of Maintenance
People may think that electric vehicles are hard to maintain. Most people are used to changing their oil and replacing key wear components over the course of their ownership of a traditional internal combustion vehicle. Of course, EVs still have consumables in their repertoire of wear components, but that's only every once in a while compared to constant oil changes.
Kia states that electric vehicles are cheaper to maintain than modern internal combustion cars since there is no oil to change but only components that are assured to work to a high degree of durability. Kia also stated that the battery of the car will last for its lifetime and the brand will back up its belief with a 7-year battery warranty in addition to a 5-year product warranty as standard with all Kia vehicles.
Safety Concerns
Perhaps the number-one concern during the classroom session was safety, especially with regard to floods and accidents. Batteries are far from the safest things on the planet given current lithium-ion technologies, but Kia assures us that the power pack in the EV6 is protected against the elements and IP66 rated which makes it submersible for a short period of time. For now, the brand cannot reliably state just how the EV6 will fare in tall flood waters, but they assure that the batteries are also protected against shortages thanks to a smart shut-off system.
The battery packs in the EV6 are also resistant to punctures and Kia even touts that the system is smart enough to detect a collision and switch off the power coming from the batteries. To solidify its claims, the EV6 scored a perfect five-star rating with the Euro NCAP and ANCAP, some of the most stringent NCAP testing bodies in the world. Following that, we're also seeing a ton of features related to collision mitigation and autonomous emergency braking added into the mix.
That's great, now when and how much?
We were also fortunate enough to get a bit of a scoop on when we can expect the EV6 and how much it would cost. Kia Philippines told us to expect it in the first quarter of next year, 2023.
Being a cutting-edge product on our side of the world, however, we were told that the price will be around the P4,000,000 mark. This is a rather high price for the time being, but early adoption definitely comes at a price. It's a good thing that much is being done to make electric vehicles feasible and that It's plausible, at least according to Kia Philippines.
Latest News
Changan Philippines has just inaugurated and blessed its new national headquarters in Calamba City, Laguna.

The aim of the new payment scheme is to help lessen traffic on the tollways and to cut down the stops that motorists need to do.

Hyundai presents Night Of Lights, now open to the public with an immersive audio-visual drive-through.
View More Articles