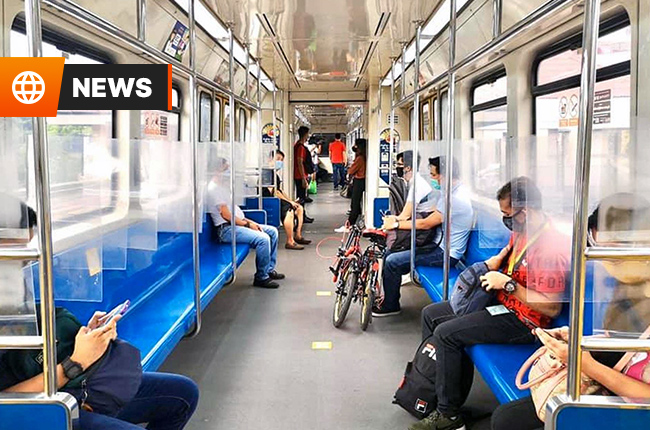 The Department of Transportation (DOTr) has recently announced that it will be conducting random antigen tests on passengers that use the Manila Metro Rail Transit system (MRT) and Light Rail Transit system (LRT) as the country faces a rise in COVID-19 cases especially with the arrival and spread of the new variant.
This was done as part of an order issued by Transportation Secretary Arthur Tugade for rail systems to enforce strict health measures to help prevent the further spread of COVID-19 especially after Metro Manila has been placed under quarantine alert level 3.
The random antigen testing of consenting and volunteering passengers is intended to guide us in the adoption of any further needed measures
Batan continues by stating that "Passengers who volunteer to be tested will be permitted to proceed with their trip after testing, and will be informed of their test results by text message."
Aside from the random testing, the DOTr has also chosen to keep the railway sector at 70% capacity to prevent any bottlenecking or crowding of passengers at stations. In this manner, the government agency hopes that it will reduce the risk of transmission while maintaining a flowing transportation system. However, it is important to note that this still may change as it is still subject to the guidance of the Inter-Agency Task Force for the management of Emerging Infectious Diseases (IATF).
To make sure everything is in check the DOTr will assign train marshals to enforce the health protocols on trains and in stations. Aside from this, the government agency is also requiring all rail personnel to undergo antigen testing with physical reporting limited to 60 percent. Furthermore, it will also verify the vaccination and booster status of all railway personnel to
Latest News
The LTO passed memorandum no. JMT-2023-2399. Engine and chassis stenciling for registration renewal are no longer needed.

SMC Asia Car Distributors Corp has unveiled the BMW 3 Series Touring in three different variants for the Philippines.

The OMODA 5 EV will be coming to the Philippines in the fourth quarter of 2023 along with the OMODA and JAECOO brands.
View More Articles