Sebastian Vettel outpaced his Scuderia Ferrari teammate Kimi Raikkonen to claim the 2017 Formula 1 (F1) Monaco Grand Prix (GP). The duo managed to finish 1st and 2nd, which extends Ferrari's lead in the constructor's championship.
As the race began, it was Raikkonen in the lead after setting a record lap during the qualifying session. Vettel followed closely behind, trading fastest times with his teammate.
Valtteri Bottas of Mercedes-AMG Petronas started in 3rd, but was quickly under pressure from both Red Bull Racing drivers Daniel Ricciardo and Max Verstappen.
Spanish GP winner Lewis Hamilton started down in 14th after a forgettable qualifying season.
The real action in Monaco began on lap 33 as Verstappen dove into the pits to switch to super soft tires. This triggered a slew of pit stops including Bottas, who managed to stay in front of Verstappen. Bottas would finish in 4th, while Verstappen crossed the line in 5th.
Raikkonen followed into the pits a lap later, handing the lead to Vettel. Ricciardo, on the other hand, secured 3rd place all the way to the finish line.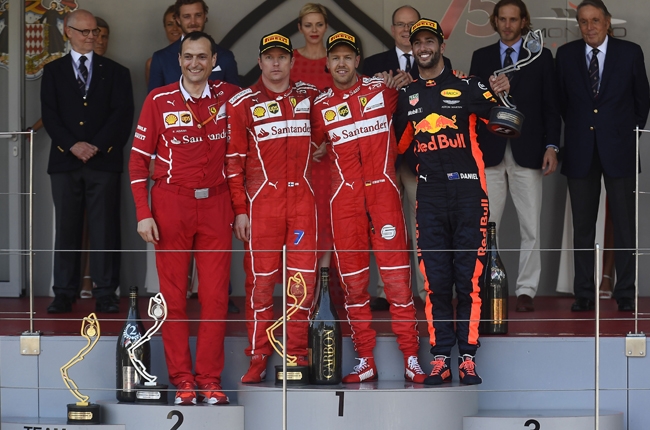 Meanwhile, Vettel was then 20 seconds clear of his teammate when he pitted. Unfortunately for Raikkonen, the huge gap was too much for him to regain the lead. With this win, Vettel extends his lead over Hamilton in the driver's championship, while Ferrari reclaims the top spot in the constructor's championship.
Hamilton was able to work his way up the grid. He even challenged Toro Rosso's Carlos Sainz for 6th during the closing stages of the race. However, the Briton decided not to take any more risks and settled for 7th.
Romain Grosjean of Haas F1 managed to finish 8th. Williams Martini Racing's Felipe Massa, who started in 15th, was able to make his way up to 9th while Haas F1's Kevin Magnussen completed the top 10.
Renault's Jolyon Palmer missed out on the points in 11th while Force India's duo Esteban Ocon and Sergio Perez reached the checkered flag in 12th and 13th, respectively.
The other Renault driver, Nico Hulkenburg, did not cross the finish line due to a gearbox issue while Jenson Button, who made a one-off return to the sport, collided with Sauber's Pascal Wehrlein on the 60th lap. This prompted the safety car to be deployed.
As the safety car went out, more incidents happened as Sauber's Marcus Ericcson and McLaren-Honda's Stoffel Vandoorne both crashed on turn 1.
When the race restarted, Toro Rosso's Daniil Kvyat also retired due to the damage from a late lunge by Perez. William's Lance Stroll retired in the pits later on with brake issues.
The next race of the 2017 Formula 1 season will be on June 11 at the Circuit Gilles Villeneuve in Montreal, Canada.
Latest News
This dealership aims to meet the booming mobility needs of the region.

The Supreme Court lifts the 2016-issued temporary restraining order versus the procurement of 700,000 license plates.

Honoring the Philippines' best in automotive journalism