The Philippine market has long since said goodbye to the Honda Jazz and welcomed its unofficial successor the Honda City Hatchback as a replacement. However, elsewhere in the world, the Honda Jazz also known as the Fit is still going strong, especially in its home country of Japan.
In its home market, the Honda hatchback is already set to get a refresh later this year with the introduction of a new variant: the Honda Fit e:HEV RS. It joins the local line up which consists of the Basic, Home, Luxe, and Crosstar variants. The new RS replaces the Ness spec as the new top-of-the-line model.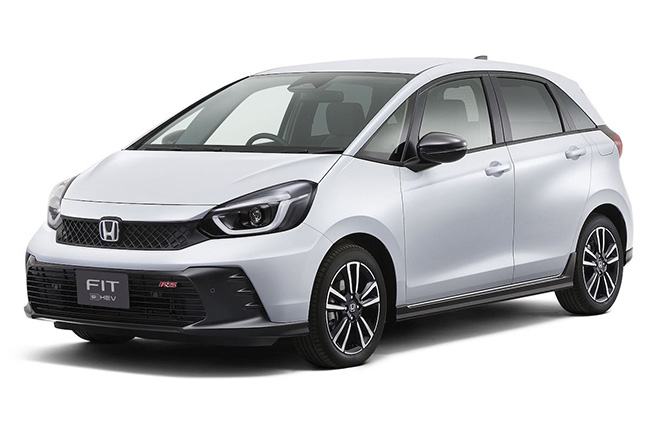 Aside from the badging, the new RS will also come with a few unique design elements to it such as a new sportier mesh grille, front and rear bumpers, a rear spoiler, and a new slate gray pearl paint option that it will share with the Crosstar variant. It will also be available as a front-wheel-drive model only.
Honda Japan has yet to release the official performance figures of the new Jazz RS, however, the Japanese automaker has stated that it will come with increased power output and better accelerator response.
The current version of the Jazz/Fit for the Japanese market is powered by a 1.5-liter hybrid drivetrain that produces 108hp and 253Nm of torque. With the new RS variant, Honda has reportedly changed things up a bit as it can now toggle between three drive modes (Normal, Econ, and Sport). It also comes with a deceleration selector in the paddle-shifter that the vehicle has to control the level of regenerative braking.
In terms of safety, the Jazz/Fit RS now comes with Traffic Jam Assist as standard for all of its variants. This feature combines both adaptive cruise control and lane-keep assist to operate at speeds below 72km/h.
Latest News
Toyota is staying true to its goal of helping the economy recover by making its light commercial vehicle more attainable to smaller-scale businesses.

The hybrid drivetrain makes it more powerful and seeks to be more fuel efficient compared to its turbo counterpart.

We can expect to see better customer service, and more world-class Ford vehicles to come from the Blue Oval brand.
View More Articles