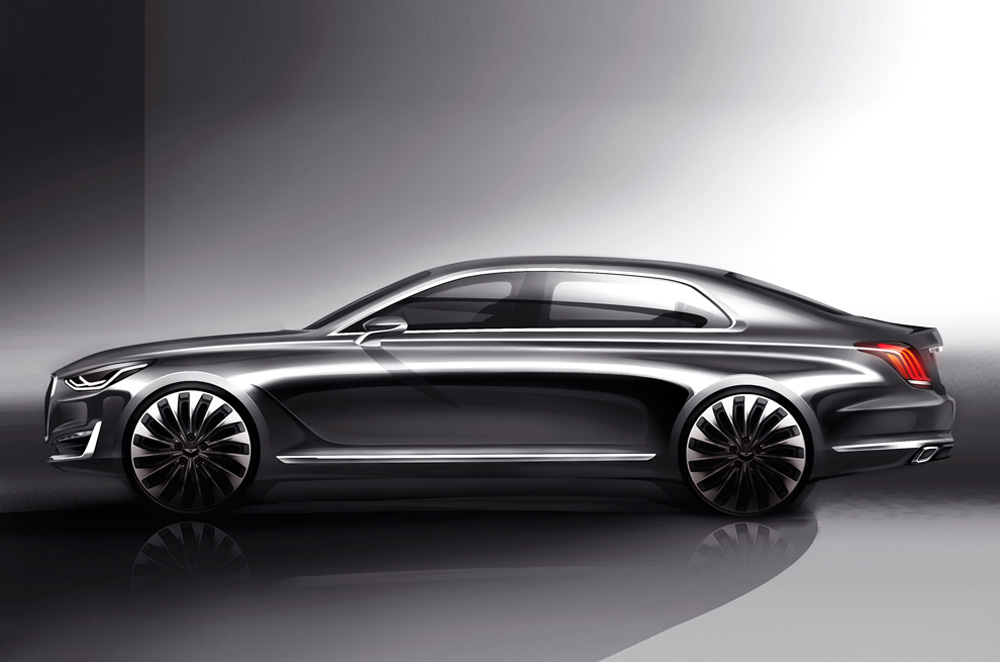 It was not long ago since Hyundai Motor announced the Genesis as a separate global luxury brand. Now, they have unveiled the rendering of the first model in its lineup – the Genesis G90.
The G90 will be the benchmark of the 'human-centered' technology that the brand has been billed for. This new approach by Genesis is expected to not just separate it from its competitors but also define the new direction that the brand aims for.
The G90 is crowned with the new Genesis emblem that symbolizes Hyundai's step up to the luxury segment. Together with its huge front grille and headlamps, the contour from its hood extends up to the rear lamps projecting a sleek and elegant appeal.
Woong-Chul Yang, Head of Hyundai Motor R&D Center and Vice Chairman of Hyundai Motor, said,
Genesis' new large luxury sedan G90 will deliver a concept of 'New Luxury' to our customers. The G90 sits at the pinnacle of the Genesis brand and demonstrates how we apply our human-centered values to give our customer true satisfaction in every aspect of the vehicle ownership experience.
Unfortunately, there's no technical information released yet but the 1st of 6 Genesis models is set to be launched this December in Korea. Until then, all we could do is to wait and guess what this fancy car has to offer.
Latest News
With an award win in the U.S, it's not hard to see how the Hyundai Venue available locally could be a great hit in the making.

From only 77 km in 2016, the railway system will be extended to 1,209 km by 2025.

With over 1,200 units sold, the sales figures reveal that the entry-level automatic has outsold the middle and top trim-level variants.
View More Articles