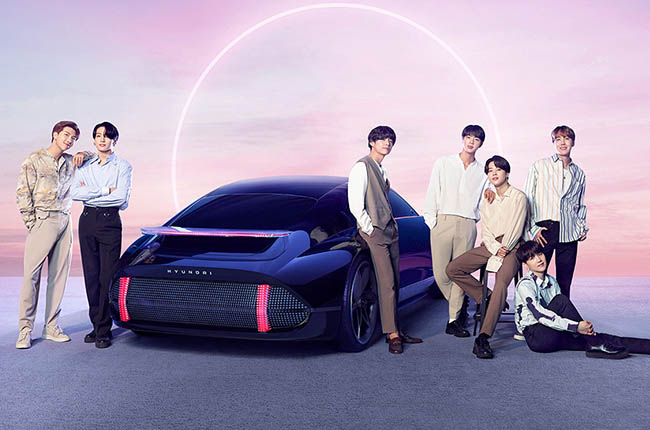 Hyundai Motor Company and the K-pop band BTS have released a new song entitled "IONIQ: I'm On It" as part of the automaker's launch campaign for its new dedicated EV brand "IONIQ". This isn't the first time the K-pop group has collaborated with Hyundai as it has released several singles with the band all with the theme of promoting eco-friendly mobility. The newest single "IONIQ: I'm On It" has already gone live and is available for viewing and listening to on Youtube.
The brand song according to Hyundai gives voice in line with IONIQ's goal to offer customer-centric EV experiences. As IONIQ is the dedicated EV brand for Hyundai it promises to reinforce itself as a clean mobility solution as well as showcase its transformation into a Smart Mobility Provider. The EV brand aims to achieve this with Hyundai's vision of "Progress for Humanity". The brand will also be introducing three new dedicated EV models over the next four years with new and more innovative models to follow. These models will be the IONIQ 5, a mid-size CUV, IONIQ 6, a sedan, and IONIQ 7, a large SUV.
I hope Hyundai and BTS's new collaboration song encourages the band's global fan base as well as our customers to draw their attention to Hyundai's vision for clean mobility, which is being realized through the new IONIQ EV brand
The fun doesn't stop there as fans of the K-pop ground will also have the chance to win a limited edition cassette tape-shaped music player through an online event. The music player will contain two tracks IONIQ: I'm On It and individual messages from each member of the band. To enter the competition just check out Hyundai's global and lifestyle social media sites for further details.
Latest News
Class 1 vehicles are expected to pay P35, class 2 vehicles are expected to pay P69, and class 3 vehicles are expected to pay P104.

Mitsubishi RALLIART claims first place at the 2022 Asia Cross Country Rally on the brand's first attempt.

All that is left now is for the president to sign this and we could see prices of select electric vehicles in the country go down soon.
View More Articles