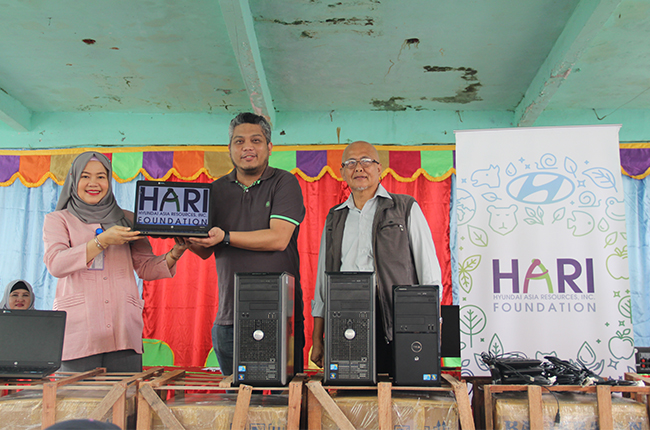 HARI Foundation, Inc. (HFI) the corporate social responsibility arm of Hyundai Asia Resources, Inc. (HARI) has donated 10 boxes of laptop and desktop computers to Marawi City National High School and the City Schools Division of Marawi.
Marawi City still has a long way to go to fully recover from the Battle of Marawi. A battle that put the city under siege for five months, which resulted in a great loss of life and damaged property.
The turnover ceremony was held in front of the National High School's academic community. An unboxing occurred which was witnessed by Ms. Anna Zenaida Unte-Alonto, the Assistant school's division superintendent, City schools division of Marawi and Ministry of basic higher and technical education, Mr. Jon Ramos of HFI and Mr. Lominog Manoga the principal of Marawi City National High School.
HFI's efforts help Marawi recover don't just stop there. It has also donated vans to Gawad Kalinga to act as mobile kitchens or Kusina ng Kalinga vans to help with the rehabilitation of war-torn Marawi.
Through this donation, we reaffirm HFI's advocacy for education as the most effective and long-term way of empowering people and building a better world for all. Driven by our faith in the power of the Filipino's heart and heeding the call of the times, we engage like-minded partners from the government, in this case, our friends from the education sector Marawi, to help in a way that is meaningful to people, especially at the grassroots.
Hyundai believes that investing in education will help with the recovery of the city. Investing in education can help prepare the next generation in the increased demands that emerge after a war. In this manner, not only will the computers help the students currently enrolled but it will also help the students that enroll after them.
Latest News
Kia Philippines clarifies on the capabilities of current battery electric vehicles (BEVs), namely the Kia EV6.

The electrified pickup truck comes with a powerful electric motor, decent range, a great set of features, plus an interesting vehicle and battery warranty.

It's a new application that will help you keep track of your vehicle at all times and help you make sure it is safe.
View More Articles