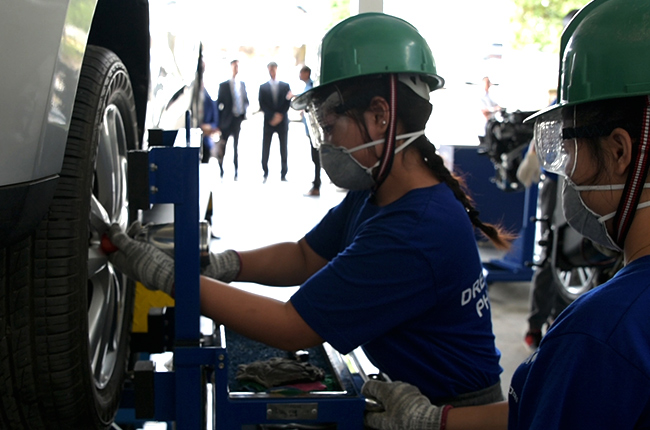 Since its inauguration in April 2018, the Hyundai Dream Centre Philippines (HDCP) now handles its first batch of scholars. Hyundai Asia Resources Inc.'s hope to produce highly-competent technicians with world-class caliber in After Sales service is now in the making – and eight of its 45 scholars, mind you, are females.
In able to produce competitive vehicle maintenance labor force in the automotive industry, HARI lays its heart on generating opportunities for the underprivileged youth. With this said, HDCP offers three TESDA-certified courses, each aiming to develop the scholars' understanding of Hyundai's technology, proper equipment handling, and safety procedures, as well as the best practices in the workplace.
"We are honored by the confidence shown to us by Hyundai Motor Group and Plan International. Their confidence in the quality of our facilities at the HDCP home base, the Hyundai Logistics Center in Laguna, and in the capacity of our training staff challenges us, not only to strengthen our Hyundai service teams, but also to provide a steady flow of world-class automotive technicians capable of energizing the local automotive industry."
She continued, "I am especially proud to see our eight female scholars thrive and excel in the program." Out of the 45 scholars, eight of them are young Filipinas. They are among the first HDCP trainees to take the six-month course and undergo two months of on-the-job training with the Hyundai Dealership Network.
As a perk, all graduates will have the opportunity to secure employment with a Hyundai dealership as Hyundai Certified Technicians or Apprentice Technicians. The HDCP is Hyundai Dream Center's latest partner, after centers in Ghana, Indonesia, Cambodia, and Vietnam.
Latest News
Astara Philippines adds the JMC brand alongside GAC and Peugeot to the list of brands it is distributing in the country.

Hyundai Motor Philippines Inc. is introducing a wider range of payment options for customers with "Hyundai Finance."

Toyota Motor Thailand has launched the Hilux Champ, the brand's simpler and more affordable alternative to the Hilux.
View More Articles