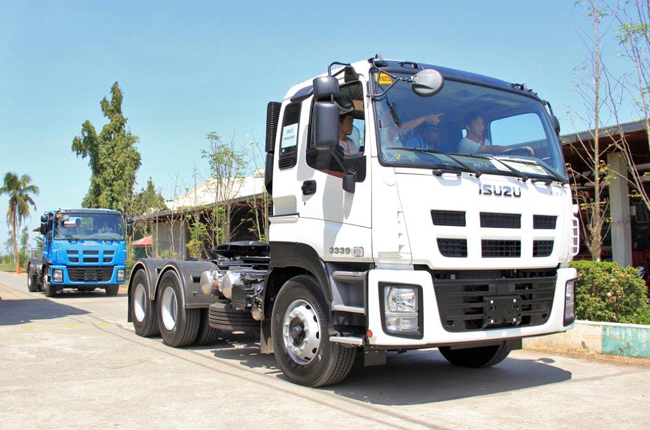 Isuzu Philippines Corporation (IPC) brought out the latest installment of their Truck Training series to Aurora, Isabela. The activity is part of the Japanese brand's efforts of promoting safety and strengthening its presence in areas outside of the National Capital Region (NCR).
The Isuzu Truck Training series featured lessons about the application of Isuzu's 7-speed and 16-speed transmissions. The training also tackled topics such as safe driving techniques and daily vehicle inspection. To help out in the driver training session, IPC brought out the EXR 7-speed transmission, EXZ 16-speed transmission, and the EXR tractor head for hands-on experience.
This free seminar by IPC was attended by companies with fleets of heavy-duty Isuzu trucks in the Isabela and Cagayan region.
At Isuzu Philippines, our commitment to promote road safety is as important as our commitment to customers, which does not end after a purchase. Conducting the Isuzu Truck Training series allows us to pursue our efforts at helping make Philippine roads safer for everybody," said IPC President Hajime Koso.
On the other hand, IPC showcased its wide variety of commercial vehicles (CV) during the brand's Truck Fest held in Santiago, Isabela last March 23 to 26, 2017. Among those in display were the EXR, EXZ heavy-duty trucks, and the CYZ dump truck.
In addition, the NKR, NHR Ivan, and NQR cab and chassis were also on the spotlight. According to IPC, the light-duty N-Series trucks have been the best-selling CVs in their segment for 17 consecutive years.
Latest News
The Tire Importers and Traders Association of the Philippines says that with new technology, a tire can still be safely used after it reaches the 5-year mark.

Traveling around the country is now made easier, however, proper precautions should still be observed, as the virus is still around and the pandemic is still ongoing.

New platforms are being developed for their future EVs.
View More Articles