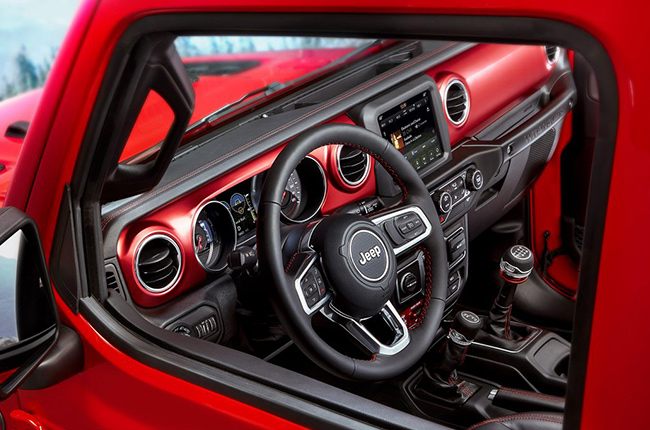 Earlier this month, Jeep released 3 photos of the 2018 Wrangler that's bound to show up at this year's Los Angeles Auto Show. Now, the American SUV-manufacturer decided to update us with 2 new photos, only this time, it's all about the interiors.
As a recap, the 2018 Wrangler boasts a set of fresh-but-still-round headlamps, longer strips on its keystone-shaped grille, and fender parking lights and turn signals. To amplify off-roading experience, the SUV's windshield can now be folded down, doors are removable, while the roof can also be taken off.
So much with the exterior design, Jeep has already revealed what the interior looks like. Starting with the steering wheel, silver accents on the spokes were added to give more premium styling. The cooling vents are now leveled, giving the dashboard a neat and simple appeal. The center cluster, on the other hand, reveals reorganized controls, and a new display screen. Meanwhile, the infotainment cluster receives a mini screen.
To give you a visual comparison, here are the old (top) and the new (bottom) interiors.
Jeep has been thrifty regarding the 2018 Wranglers details, but their exact words were "loaded with more safety features and advanced technology." The American automaker promised to put out more details regarding the Wrangler during its debut at the Los Angeles Auto Show later this month.
Latest News
The next-gen Outlander earns top marks overall but falls short in certain categories.

This will be the fourth model that the automaker will be bringing into the local market soon.

It may be a hybrid model but Toyota has put some spring in its step with handling upgrades and a new front look.
View More Articles