One of the best things to do when in a road trip with friends and/or family is listening to music. However, what if the designated DJ's music doesn't suit your taste? Such a drag, right? Just imagine the horror of riding with listeners of heavy metal music. Not that I hate the genre, but it isn't really a great thing to listen to while suffering from a bad hangover.
In the situation above, you might resolve to just listening to your own music by wearing earphones or headphones. However, that will create a social barrier between you and the front occupants.
Hyundai Motor, along with its sister company Kia Motor, understands the importance of music taste and independent audio space, so they've come up with a solution to this problem – the Separate Sound Zone (SSZ) technology.
It's the newest tech from the South Korean brands, and it aims to allow the passenger to "experience an audio stream tailored to their individual needs, including music, hands-free phone calls, and vehicle alerts." Even better, it will remain headphone-free, which means the passengers will retain their social space wherein they can freely talk to each other.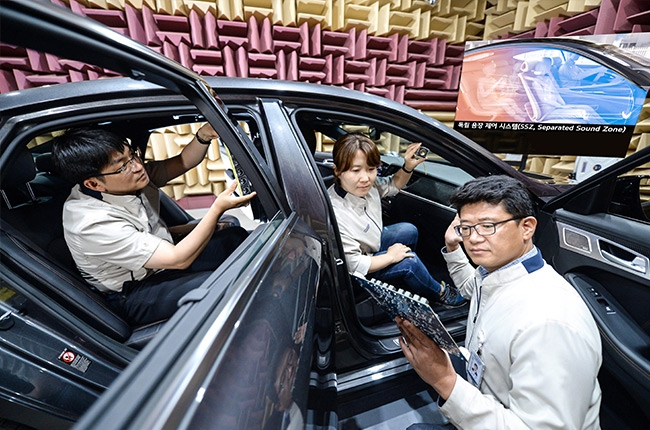 Here's how it works: SSZ technology controls the acoustic fields inside the car through the numerous speakers scattered inside, reducing or increasing the audio levels in each zone. To put it simply, SSZ employs the science of noise-cancelling headphones, without having the physical headphones themselves.
Customers in the autonomous navigation era will demand increasingly customizable entertainment options within their vehicles, which includes technological innovations such as the Separated Sound System.
Music can be sourced via Bluetooth pairing and with that, hands-free calls can also be made by each passengers without going beyond the borders of privacy. Aside from that, the SSZ technology can isolate navigational alerts for the driver, away from the rear passengers. This is practical for those who have a sleeping person at the back seat.
If you're excited with this new tech, you may have to wait a bit more as Hyundai plans to roll out the new system to Hyundai and Kia vehicles within a year or two.
Watch this video below to know how the Separate Sound Zone technology works:
Latest News
With a turbo motor, a character-filled interior, and a smart look, the Tharu lands in the Philippines breaking new ground for VW Philippines.

Subaru is producing a special edition of the WRX called the WRX TR which is set to be unveiled next month on October 7, 2023.

A report suggests that Mazda has greenlit rear-wheel drive, inline-six sedan, thanks to the CX-60 and CX-90 sales.
View More Articles